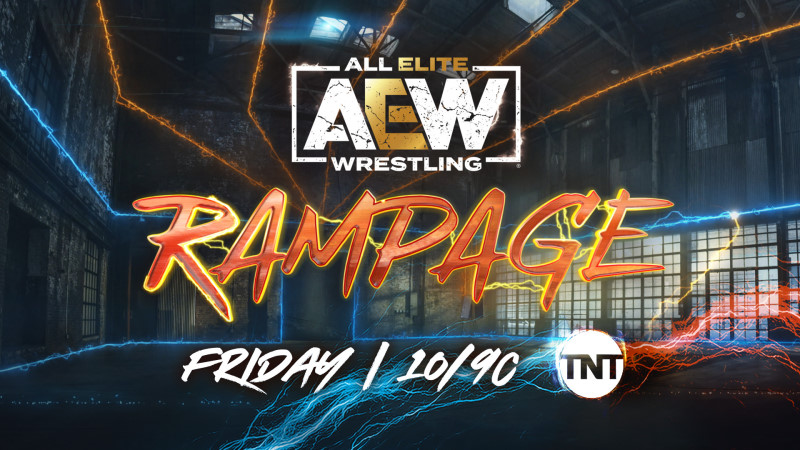 Jim Ross, Chris Jericho, Excalibur, and Tony Schiavone greet audiences at home as The Young Bucks and Aussie Open wait in the ring. Don Callis joins commentary for the opening contest.
Young Bucks Kenny Omega) vs. Aussie Open
Davis and Matt begin the action. The bell rings and the two lock up. Davis delivers a right hand to Matt, then whips him into the corner and tags in Fletcher. Fletcher delivers a chop before Nick tags in and delivers a diving crossbody off the top rope. Nick delivers a tijeras-arm drag combo to Aussie Open, and Davis tags back in. Nick and Davis lock up, but Davis gains the upper hand and delivers a pair of bodyslams to The Jackson brothers. Nick then delivers a dropkick and a gutbuster, and the two men spill to the outside. Davis sends Nick into the ring apron and the barricade while Fletcher does the same to Matt.
Back from the break, Davis delivers a pair of chops to Nick. Fletcher tags in and looks for a crossbody off the middle rope, but Nick meets him on the top and delivers a hurricanrana. Nick makes the hot tag to Matt, who runs in and fires off right hands. He delivers a jumping Sliced Bread, then follows it up with a bodyslam and ascends to the top. Matt delivers an elbow drop and goes for a pin, but Davis kicks out. Nick tags in and The Jackson brothers sandwich Davis between them. Nick then delivers a Swanton Bomb off the top and goes for a pin, but Fletcher breaks the fall. Nick delivers a shoulder to Davis' midsection, then follows it up with a facebuster. He looks to take down Fletcher, but Fletcher catches him and hits him with a Brainbuster. Matt levels him with a dropkick through the middle ropes.
The pair get back in the ring and Davis delivers a right hand. Aussie Open executes an over the shoulder facebuster-cutter combo and Davis goes for a pin, but Nick kicks out. Fletcher tags in and looks to go flying, but Nick catches him with a cutter and tags in Matt. Davis catches him with a lariat, and The Jackson brothers set up for the BTE Trigger. Fletcher ducks it and the pair accidentally hit one another. The lights go out for a second, allowing Fletcher to hit a Tombstone. Aussie Open then delivers a double forearm and follows it up with Coriolis. Fletcher goes for a pin, but Nick breaks the fall. The Jackson brothers then deliver a double superkick and follow it up with the BTE Trigger for the win.
Winners: The Young Bucks
After the match, the lights go out again and when they come back on, The House of Black is surrounding the ring. They prey on The Elite, but the lights go out and when they come back on, they have disappeared.
We head backstage to Best Friends and Lexy Nair. Nair asks them about the Casino Tag Team Battle Royale next week, but before they can really answer, Big Bill comes in out of nowhere and levels them. The Gunns then appear and attack the duo with a pipe.
Back from the break, we see Best Friends being checked on by medical personnel as Danhausen and Orange Cassidy stand by for moral support. Cassidy asks one of the referees who did this, and he tells them it was Big Bill, Lee Moriarty, and The Gunns.
Back at ringside, Toni Storm and Saraya head to the ring, followed by Willow Nightingale.
Toni Storm (w/ Saraya) vs. Willow Nightingale
The bell rings and Storm wastes no time. She pushes Nightingale down to the mat, then delivers a series of stomps and a right hand. Nightingale delivers a shoulder tackle and a pair of lariats, then follows it up with a senton. She delivers a pair of chops, but Storm fires back with one of her own. Nightingale gets Storm up on her shoulders, but Storm escapes and rakes Nightingale's eyes. She delivers a hip attack that sends Nightingale to the outside, then delivers a right hand across her back and tosses her into the barricade.
Back from the break, Nightingale looks for a cannonball in the corner, but Storm moves out of the way. She delivers a hip attack and senton, then goes for a pin but Nightingale kicks out. Nightingale delivers a cannonball and a Death Valley Driver, then goes for a pin but Storm kicks out. She sets up for the Doctor Bomb, but Saraya causes a distraction, allowing Storm to deliver Storm Zero for the win.
Winner: Toni Storm
After the match, Saraya grabs two cans of spray paint from under the ring, but before they can spray Nightingale with an "L", Soh runs down to the ring and makes the save Jamie Hayter and Britt Baker are right behind her, and the pair brawl with Saraya and Storm to the back. Soho then raises Nightingale's head.
We then head to a video of Lexy Nair, Billy Gunn, and The Acclaimed from Wednesday. Nair asks The Acclaimed how they feel about Jeff Jarrett and Jay Lethal being added to the Fatal Four-Way Tag Team Match at "Revolution", and The Acclaimed express their confidence whilst ragging on Jarrett, Lethal, Satnam Singh, and Sonjay Dutt. The four men then appear out of nowhere and attack The Acclaimed and Gunn.
Back at ringside, Lance Archer and Jake "The Snake" Roberts head down. Bryce Saturn is already waiting in the ring.
Lance Archer (w/ Jake Roberts) vs. Bryce Saturn
Saturn charges at Archer, but Archer delivers a back body drop on the ramp. He tosses Saturn in the ring, and the bell rings. He delivers a belly-to-belly suplex, then follows it up with a splash and a boot to Saturm's midsection, then delivers an elbow and a chop. Saturn delivers a pair of forearms, but Archer absorbs them and delivers a crossbody. He hits a vicious lariat for the win.
Winner: Lance Archer
We head to a video from Dustin Rhodes and Keith Lee. Rhodes says he wanted to ask Lee if he would be down to team up to take on Swerve Strickland and Parker Boudreaux. We then head over to Swerve and Boudreaux, who accept the challenge.
Back at ringside, Sammy Guevara and Daniel Garcia head to the ring, followed by Action Andretti.
Sammy Guevara (w/ Daniel Garcia) vs. Action Andretti
The bell rings and Andretti rolls up Guevara. Guevara kicks out and Andretti clotheslines him to the outside. He follows him out there and delivers a chop, then tosses him into the barricade. Andretti delivers a crossbody off the barricade, then delivers a jumping knee. Guevara looks for a Sunset Flip, but Andretti blocks it and reverses it into a Falcon Arrow. Guevara rolls to the outside for a breather, but Andretti follows him out there. Guevara tosses him into the barricade, but Andretti fires back with a suplex and a 450 Splash off the apron.
Back from the break, Andretti looks for a Split Legged Moonsault. Guevara gets his knees up before delivering a modified piledriver. He looks for a shooting star press, but Andretti ducks it and delivers a dropkick. He follows it up with a second kick off the ropes, then gets Guevara up on his shoulders for the GTH. Guevara escapes and the pair go back and forth with elbows before Guevara gains the upper hand and delivers a series of kicks. He charges at Andretti, but Andretti catches him and plants him, then heads out onto the apron. Garcia looks for a cheap shot on Andretti, but Andretti hits him with a kick. He then delivers a springboard senton and a dropkick, then looks for the Split Legged Moonsault. Garcia catches him with a clothesline while the referee is distracted, allowing Guevara to deliver the GTH for the win.
Winner: Sammy Guevara