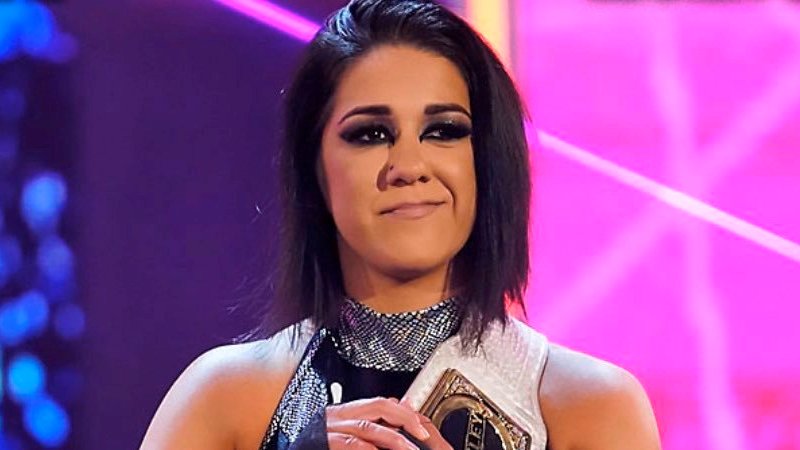 Birth Name – Pamela Rose Martinez
Born – June 15, 1989 in Newark, California, USA
Height – 5′ 6″ (1.68 m)
Major Titles Held: WWE Raw Women's Championship (1), WWE SmackDown Women's Championship (2), NXT Women's Championship (1), WWE Women's Tag Team Championship (1)
Pamela Rose Martinez is an American professional wrestler. She is signed to WWE, where she performs under the ring name Bayley. Prior to her WWE career, Martinez previously wrestled on the independent circuit under the ring name Davina Rose.
Career
Martinez had been attending shows by Big Time Wrestling, a professional wrestling promotion in Northern California, since she was 11. In 2008, she started her professional wrestling career at the age of 18, by attending Big Time Wrestling's training classes by her head trainer Jason Styles, which was one of the reasons why Martinez considered Big Time Wrestling as her home promotion. Rose wrestled for Big Time Wrestling from 2008 to 2012. Between 2011 and 2012, Rose branched out to wrestle for other promotions such as NWA Championship Wrestling from Hollywood, Pro Wrestling Destination and Shine Wrestling.
In October 2010, Rose first met her mentor Serena when they teamed together for a tag team match. In October 2011, Rose made her debut for Shimmer Women Athletes at the tapings of Shimmer Volume 41–44, she became embroiled in Serena's feud with the Canadian Ninjas (Portia Perez and Nicole Matthews). At the tapings, Rose lost all four matches wrestled including her debut match to Mercedes Martinez. In 2012, Rose continued to wrestle for Shimmer and she received her first victory on Volume 48 as she teamed with Mia Yim to defeat Melanie Cruise and Mena Libra; on Volumes 51 and 52, Rose picked up her first two singles victories in Shimmer with wins over Cherry Bomb and Rhia O'Reilly.
In December 2012, it was reported that Martinez had signed with WWE. In January 2013, Martinez made her debut for WWE's developmental territory NXT at a live event, wrestling under a mask. She then adopted the ring name Bayley and made her NXT television debut in a loss to Paige on the March 20 episode.
On June 12, Bayley adopted a new character of a doe-eyed fangirl, then lost to Alicia Fox in the first round of the NXT Women's Championship tournament to crown the inaugural champion. On August 21, Bayley unsuccessfully challenged AJ Lee for the Divas Championship. Bayley got her first win, by teaming with Charlotte against Alicia Fox and Aksana on September 4.
In August 2015, after defeating Charlotte Flair, Bayley defeated Becky Lynch to become the new number one contender for the NXT Women's Championship. On August 22 at NXT TakeOver: Brooklyn, Bayley defeated Sasha Banks to win the NXT Women's Championship for the first time, and after the match she celebrated with Banks, Lynch and Charlotte. In a rematch between the two, contested in the main event at NXT TakeOver: Respect on October 7, in the first ever women's 30-minute Iron Man match in WWE history, Bayley defeated Banks with three falls to two after securing the third fall with three seconds left in the match to retain the championship. Throughout her championship reign, Bayley went on to fend off title contenders such as Alexa Bliss, Eva Marie, Nia Jax and Carmella.
In 2016, at NXT TakeOver: Dallas, Bayley lost the championship to Asuka, ending her reign at 223 days. On the July 27 episode, Bayley asked NXT general manager William Regal for a rematch against Asuka for the NXT Women's Championship at NXT TakeOver: Brooklyn II, which he granted. At the event on August 20, Bayley failed to regain the title, in what was her final match in NXT.
On July 24, at Battleground, Bayley made her WWE main roster and pay-per-view debut in a one-off appearance as Sasha Banks' mystery tag team partner, defeating Charlotte and Dana Brooke. On the August 22 episode of Raw, Bayley made her official main roster debut after being established as part of the brand by Raw general manager Mick Foley.
At Clash of Champions, Bayley was unsuccessful in winning the championship from Charlotte in a triple threat match, which also included Banks. On January 2, 2017, Bayley defeated Jax to become the number one contender for Flair's Raw Women's Championship. She challenged Flair at the Royal Rumble but was unsuccessful in capturing the title. She earned a rematch after she, Cesaro and Sheamus defeated Flair, Gallows and Anderson the next night on Raw, with Bayley pinning Flair. Two weeks later on the February 13 episode, Bayley defeated Flair in the main event to win the Raw Women's Championship after an assist from Banks.
At Fastlane, Bayley retained the title against Charlotte thanks to a distraction from Banks and in turn gave Charlotte her first pay-per-view loss. At WrestleMania 33 in Bayley's WrestleMania debut, she retained the title against Charlotte, Banks and Jax in a fatal four-way elimination match. On April 30, Bayley dropped the title to Bliss at Payback, ending her reign at 76 days. She failed to regain the title in a kendo stick on a pole match at Extreme Rules on June 4. In July 2017, Bayley again became the number one contender for the championship and was slated to face Bliss at SummerSlam on August 20, but she suffered a separated shoulder injury which left her unable to perform.[76] Bayley returned from her injury on the September 18 episode of Raw to help Banks fend off Bliss and Jax. At No Mercy six days later, she lost a fatal five-way match for the Raw Women's Championship.
On January 28, 2018, at the Royal Rumble, Bayley competed in the inaugural women's Royal Rumble match, but was quickly eliminated by her best friend, Banks. A few weeks later, on February 25 at Elimination Chamber, Bayley took part in the first women's Elimination Chamber match, where she was eliminated by Alexa Bliss after Banks pushed her off a pod.
On the WrestleMania 34 kick-off show, Bayley competed in the inaugural WrestleMania Women's Battle Royal, where she got revenge by eliminating Banks, and was the last woman eliminated from the match by its winner, Naomi.
On the March 26 episode of Raw, after weeks of animosity, including Bayley betraying Banks during their matches, Bayley and Banks brawled backstage and had to be separated. The two faced off in mid-April but their match ended in a no-contest after The Riott Squad interfered and attacked them both. Throughout mid-2018, Bayley and Banks continued to attack each other, and were told to attend counselor meetings to help maintain their friendship. In July, the two reconciled and created a tag team, known as "The Boss 'n' Hug Connection".
On February 17, 2019, at the Elimination Chamber, Bayley and Banks won the inaugural WWE Women's Tag Team Championship by lastly eliminating Mandy Rose and Sonya Deville in a tag team Elimination Chamber match. At WrestleMania 35, they lost the titles in a Fatal 4-Way match when Bayley was pinned by Billie Kay ending their reign at 49 days.
During the Superstar Shake-up on April 16, 2019, Bayley was drafted to SmackDown, disbanding her team with Sasha Banks, who remained on Raw.[107] At The Shield's Final Chapter, Bayley teamed with Ember Moon to defeat The Riott Squad.[108]
On May 19, at Money in the Bank, Bayley won the women's Money in the Bank ladder match, granting her a women's championship match at any time of her choosing. Later that night, after Charlotte Flair defeated Becky Lynch to win the SmackDown Women's Championship, Lynch was attacked by Flair and Lacey Evans. Bayley came out to save Lynch and fended off both Flair and Evans. With Flair down, Bayley cashed-in her contract and won the SmackDown Women's Championship for the first time (thus quietly ending her friendship and also quietly disbanded her team with Banks). The win made her the first WWE Women's Grand Slam winner in WWE history.
On the September 2 episode of Raw, Bayley teamed with Raw Women's Champion Becky Lynch to face off against WWE Women's Tag Team Champions Alexa Bliss and Nikki Cross in a tag-team match, which they emerged victorious via disqualification after Bayley's former partner, Sasha Banks, interfered and attacked Lynch. When Banks was ready to hit Lynch with a steel chair, Bayley stopped her, before subsequently assaulting Lynch herself with the chair, thus turning heel for the first time in her WWE career. The following night on SmackDown, Bayley justified her assault on Lynch, explaining that she only helped Banks because of their friendship and still proclaimed she was the same person she'd always been and wouldn't change.
Bayley defended the title against Charlotte Flair two times, first retained at Clash of Champions after she used an exposed turnbuckle as leverage.and then, lost the title at Hell in a Cell, ending her reign at 140 days.
On the October 11 edition of SmackDown, Bayley debuted a new look, having cut off her ponytail and attacked the inflatable tube men during her entrance, then regained the title from Charlotte Flair. After the match, she verbally attacked the fans, solidifying her heel turn.
At Survivor Series, Bayley faced Raw Women's Champion Becky Lynch and NXT Women's Champion Shayna Baszler in a non-title triple threat match to determine the superior women's champion, which Baszler won. On the November 29 episode of SmackDown, she started a feud with Lacey Evans, after Bayley and Banks insulted the women of the SmackDown roster for their loss at Survivor Series, Evans then attacked Banks.
At Royal Rumble on January 26, 2020, she successfully defended the title against Lacey Evans. On the following SmackDown, Bayley claimed that she had beaten every woman on the roster, and Naomi interrupted, taking exception to the claim as Bayley had never beaten her, thus beginning a feud. On the February 14 episode of SmackDown, Bayley retained her title against Carmella using underhanded tactics.
At Super ShowDown, Bayley defeated Naomi to retain the title. On March 8, Bayley surpassed Charlotte Flair's reign of 147 days, thus becoming the longest-reigning SmackDown Women's Champion. On the March 20 episode of SmackDown, Bayley and Banks came to the ring saying that they were going to skip WrestleMania 36 this year, but they were interrupted by Paige, who announced that Bayley would defend her title against Naomi, Lacey Evans, Dana Brooke (who was later removed from the match), Tamina, and Sasha Banks in a six-pack elimination match at WrestleMania 36. At the event, Bayley retained the title after lastly pinning Evans. At Money in the Bank, Bayley retained the title against Tamina after a distraction from Banks.
On the June 5 episode of SmackDown, Bayley and Banks defeated Alexa Bliss and Nikki Cross to win the Women's Tag Team Championship for the second time, which also made Bayley a double champion.
Bayley successfully defended her title twice against Nikki Cross, first at The Horror Show at Extreme Rules, and then on the July 31 episode of SmackDown. She also retained her title against Asuka at SummerSlam. A week later at the Payback pay-per-view, Bayley and Banks defended the WWE Women's Tag Team Championship against the newly formed team of Nia Jax and Shayna Baszler, where they lost the titles.
On the September 4 episode of SmackDown, after Bayley and Banks lost to Jax and Baszler in a rematch, Bayley turned on Banks once again by attacking her in the ring, thus disbanding their team. The previous attack that Bayley did was on June 25, 2018 episode of Raw. At Clash of Champions, Bayley retained her title against Asuka, with Banks attacking her afterwards. On the October 9 episode of SmackDown, Bayley retained against Banks via disqualification, reaching the 365 day mark as champion as of October 11, while also being scheduled to defend the title against Banks at Hell in a Cell, but lost the title to Sasha Banks by submission, thus ending her reign at 380 days. On the October 30 episode of Smackdown, Bayley challenged Banks for a title rematch, which Banks accepted, but a week later on Smackdown, Bayley failed to regain the title.
Personal Life
Martinez cites Randy Savage, The Rock, The Hardy Boyz, Lita, Rey Mysterio, John Cena, Eddie Guerrero, Ivory, Victoria, Bret Hart, Triple H, The Fabulous Moolah, and Trish Stratus as her influences in wrestling. Martinez is engaged to Aaron Solow, whom she met in 2010. She is also an avid collector of pogo sticks. Martinez plans on opening her own wrestling school, once her in-ring career comes to a close.