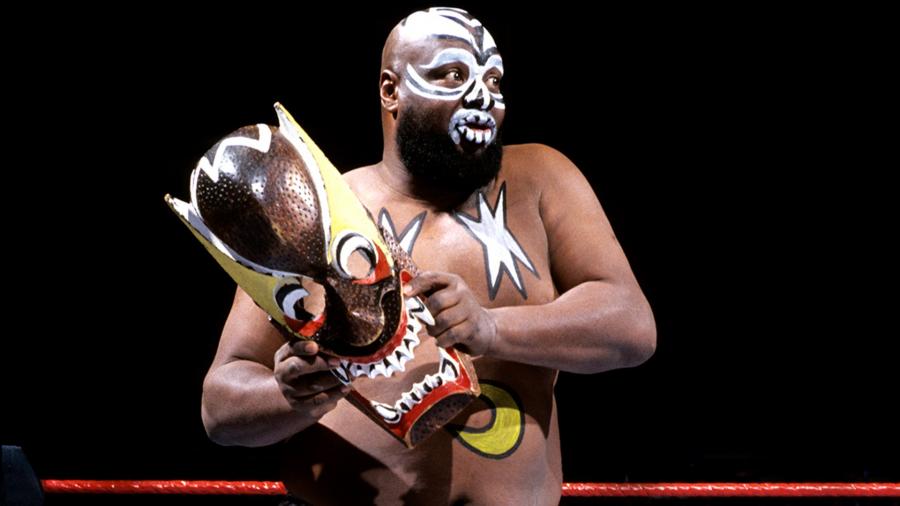 James Harris, best known as Kamala, passed away at 70 on Sunday, August 9, 2020.

Kamala, sometimes spelled Kimala depending on the territory, may have been the most underrated villain of modern times, playing a Savage African warrior from deepest, darkest Uganda, an Incredible Hulk or a Solomon Grundy brought to life, hellbent on domination and destruction until crossing the paths of a Superman like hero who can battle back the fearsome heel.
In Memphis, that hero was Jerry Lawler. In Mid-South it was The Junkyard Dog and sometimes, Andre the Giant. In World Class, it was The Von Erichs. In the WWF, it was Hulk Hogan and The Undertaker. Later, in WCW, on a smaller scale, it was Hogan again.
Harris, of course, was actually from Mississpi, where he grew up the son of sharecroppers who struggled, especially after the death of his father. Harris broke into the business in the late 1970s, working mostly Southeastern territories, including NWA Tri-State and Southeastern Championship Wrestling, where he held the Southeastern Heavyweight Championship as Sugar Bear (sometimes Ugly Bear, sometimes Bad News) Harris.
It was after a tour of Britain and Germany as The Mississippi Mauler, however, that Harris' career was made. Returning from the tour, he visited a Memphis Wrestling event to borrow some ring gear from his friend Dream Machine. A chance meeting with Jerry Lawler that night led to a job offer, a new character and a persona that would define the rest of Harris' pro wrestling career.
When the vignettes aired on WMC-TV in Memphis, they were allegedly from Africa, but in actuality, the first evidence of Kamala's existence was actually filmed in Jerry Jarrett's backyard. Managed by JJ Dillon (although the character would become forever linked to a masked handler, sometimes named Friday and other times named Kim-Schee), Kamala was allegedly the bodyguard of the overthrown Ugandan President Idi Amin. The look of the character, including the facepaint, made of a moon and stars, was inspired by a painting created by famous artist Frank Frazetta.
Harris may have been from the Southeastern U.S., but Kamala, the story goes, was imported back to the United States by Dillon after being discovered during a trip to Africa. Whether either Harris or Dillon have ever even been to Africa remains unknown. What is known however, is that from point on in 1982, Harris and Kamala, in the eyes of the fans, were inseparable, fused forever as one being.
It was to Harris' credit that even decades later, when he would check into hotels for wrestling conventions, fans standing behind him in line wouldn't realize who he was and then would be amazed when they came to the realization that this quiet man was actually the mighty Kamala. It was a complete, shocking separation of church and state, even in a world when kayfabe had been all but obliterated.
Harris played the character perfectly. No one would have expected how athletic he truly was or how good he was in the ring as those things were obscured under the veil of the character, the African savage that carried a spear and wore a tribal mask as he walked barefoot to the ring with a tunic wrapped around his belly before stepping into battle. He played up the idea of a silent but deadly beast, moaning and screaming and making crazy eyes at the camera in the background as his managers – whether it was JJ Dillon, Kevin Sullivan, Skandar Akbar, Reverend Slick, Fred Blassie, The Wizard or Mr. Fuji bellowing into the camera for him.
From the moment Kamala appeared in Memphis, he was a legitimate main eventer as the unstoppable beast, winning the Southern Heavyweight Championship, beating Jerry Lawler and holding the belt for about a month during a time period where Saturdays meant Memphis shut down to watch the live TV show on WMC-TV and Mondays meant they congregated in the Mid-South Coliseum to watch pro wrestling.
From there, Harris made a career across every important territory of the era. He ventured to World Class, a main eventer. He went to Mid-South under Bill Watts (who Harris felt was his favorite boss in pro wrestling) and then had national runs in the WWF several times.
In the WWF, Kamala would main event against Andre the Giant the first time, have a months-long house show program with Hulk Hogan in 1986 and 1987 the second time around before forming a tag team with Sika, the Wild Samoan. Utilizing a big splash off the ropes, Kamala was presented as one of the most dangerous, frightening monsters in a promotion full of them.
On Kamala's third WWF run, would eventually morph into an undercard, comedy character playing off the naive, savage personality of the Kamala persona. The same timing that made him a vicious heel now allowed him to play a lovable, silly character as fans chanted "You are a man" and tried to yell and scream to get Kamala to turn his beaten opponents over on their backs so he could properly pin them.
Later, Kamala would reprise the run with Hogan as a member of Kevin Sullivan's Dungeon of Doom in WCW. In the NWA, he would come in as a challenger for Magnum TA's United States Championship. He would tour All Japan several times and even once challenged Bryan Danielson for the ROH World title on an independent show:
While he headlined in numerous territories, Harris was haunted by a belief that he wasn't paid as much as the white babyfaces he battled, something that especially troubled him during his run against Hulk Hogan, which certainly should have been the biggest money making run of his career. It was something that bothered him so much that he spent time writing about it in his excellent 2014 autobiography Kamala Speaks.
After his WCW run ended in 1996, Kamala would make occasional appearances for the WWF and the USWA in Memphis. He would wrestle on the independents, splitting time between those bookings and working as a trucker. He made a cameo appearance in TNA as part of the Jay Lethal-SoCal Val wedding. He last wrestled in 2010 over a Gathering of the Juggalos weekend promoted by The Insane Clown Posse.
Harris had been dealing with health issues in recent years, specifically a battle with diabetes that led to the amputation of one leg in 2011 and the other a year later. Despite his health issues, he still made occasional appearances at wrestling conventions and was extremely busy as an artist, carving Kamala masks and paintings that he sold online. Harris was also very engaged on Facebook, using the platform to maintain relationships he had built over the course of his relationship.
Undoubtedly, Harris deserved a WWE Hall of Fame induction for his time with the company, something that was likely prevented by his decision to join the concussion-related lawsuit brought against the company. While that prevented Harris and his family from having a well deserved moment on stage where his career was celebrated, the reality is that he was the pro wrestling equivalent of the blue collar working man who went out and did his job to the best of his ability to provide for his family and from start to finish, was never known as anything but a great professional who did his job to get others over. You'd be hard pressed to find someone who performed that role better than Harris, especially within the parameters of his on-screen persona.
Harris was 70 when he passed away.
PLEASE SHARE THIS ARTICLE:

---
(adsbygoogle = window.adsbygoogle || []).push({});
---
LATEST NEWS var numposts = 7;var showpostthumbnails = true;var displaymore = false;var displayseparator = true;var showcommentnum = false;var showpostdate = false;var showpostsummary = true;var numchars = 100;
---