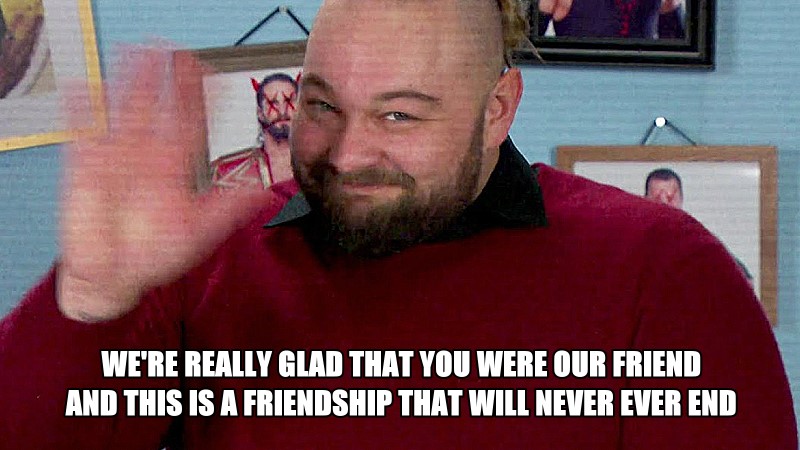 Fireflies Forever – A Look at Bray Wyatt's Life and Wrestling Career – With this special, we at WrestlingAttitude.Com pay tribute to the life and career of one of the most extraordinary figures in the history of modern wrestling. As the lyrics of the Firefly Fun House song went, "We're really glad that you were our friend, and this is a friendship that will never ever end…"
Early Life and Debut in FCW:
Bray Wyatt, born as Windham Lawrence Rotunda on May 23, 1987, was seemingly destined to embrace a wrestling career from a young age. He hailed from a family with deep wrestling roots, including his father Mike Rotunda, his brother-in-law Barry Windham, his grandfather Blackjack Mulligan, his brother Bo Dallas, and his fiancée JoJo Offerman, a former WWE ring announcer, with whom he had two children. Additionally, he had two children from a previous marriage.
Wyatt had a talent for sports across different fields. He attended Hernando High School, where he achieved an impressive victory by winning the State Wrestling Championship in the heavyweight division (275 pounds) during his graduation year in 2005. He later attended the College of the Sequoias, where he excelled in football as an offensive guard, earning second-team All American honors during his sophomore year. Despite this success, he chose to pursue a career in professional wrestling before finishing his degree at Troy University.
In 2009, Bray began his journey in WWE's developmental territory, FCW, which later evolved into the present-day NXT. He initially wrestled under the name Alex Rotundo, later switching to Duke Rotundo. During this time, he teamed up with his brother, Bo Rotundo. Within a short span, they achieved success, becoming FCW Tag Team Champions in under a month. They secured the titles by defeating Justin Angel (who later became Justin Gabriel) & Kris Logan (who eventually became Brian Cage). However, their reign ended in November when they were defeated by The Dude Busters (Caylen Croft & Trent Barretta).
Becoming Husky Harris and The Nexus Era:
In 2010, Bray Wyatt, then known as Husky Harris, participated in the second season of NXT. His mentor was Cody Rhodes. He talked about his wrestling lineage, being the grandson of Blackjack Mulligan and the son of Mike Rotundo. Wyatt made his debut on NXT by teaming up with Cody Rhodes in a match against MVP and Percy Watson. Unfortunately, they lost the match.
During his time on the show, Wyatt took a negative turn by attacking announcer Matt Striker. He was eventually eliminated from the competition in August. Before leaving, he left a lasting impression when he, along with Cody Rhodes, attacked Kaval, sparking a brawl involving MVP and Kofi Kingston.
After leaving NXT, Bray Wyatt, using the name Husky Harris, started wrestling in live events on SmackDown. He and Michael McGillicuty (who later became Curtis Axel, the son of Curt Hennig) had a significant impact when they interfered in a match between John Cena and Wade Barrett at the 2010 Hell in a Cell pay-per-view. They expressed their desire to join Barrett's Nexus group. Despite Barrett's initial rejection, they were eventually accepted as members two weeks later. The Nexus was later taken over by CM Punk in 2011, and their storyline involvement came to an end when Randy Orton attacked McGillicutty and punted Harris in the head. This move effectively wrote them out of the ongoing storyline.
After his stint as Husky Harris, Rotunda returned to FCW in March 2011. Under this persona, he engaged in a feud with Richie Steamboat, who is the son of WWE Hall of Famer Ricky Steamboat. This rivalry escalated throughout the year and eventually culminated in a bullrope match, which Rotunda emerged victorious from. On February 2, 2012, he joined forces with his brother, Bo Rotunda, to capture the FCW Tag Team Championship. They secured the titles by defeating Brad Maddux and Eli Cottonwood. However, their championship reign was short-lived as they dropped the titles on March 15, 2012, to Corey Graves and Jake Carter, the son of wrestling legend Vader.
The Transformation into Bray Wyatt:
In April of 2012, Rotunda underwent a transformation and adopted the persona of Bray Wyatt. He officially debuted this character on July 11, 2012, as part of the revamped NXT brand. Unfortunately, shortly after his debut, he suffered a torn pectoral muscle. Despite the injury, Wyatt remained active on TV, fully embodying his new character. During this time, he conceptualized The Wyatt Family, a group that included Luke Harper and Erik Rowan. The innovative ideas for this gimmick were largely Wyatt's brainchild, and it was designed to evoke a sense of foreboding reminiscent of the movie "Cape Fear." As he developed the concept, Wyatt spent weeks exploring music options in search of the perfect song that would perfectly capture the mood and atmosphere of The Wyatt Family.
During his creative process, Wyatt stumbled upon a track by Mark Crozer, an artist who had been sharing his music on licensing platforms, hoping for a TV placement. The song was titled "Broken Out In Love." The moment Wyatt heard it, he sensed its resonance with his vision and knew it was the perfect fit for The Wyatt Family's theme. He presented the idea to WWE, and they were on board. The track was rebranded as "Live In Fear," and from there, history was made. As The Wyatt Family's presence grew, they began to amass a devoted following among NXT audiences. Fans even embraced a ritual of turning on their cell phone lights when The Wyatts entered the arena, adding to the eerie atmosphere surrounding their appearances.
The Wyatt Family's Dominance:
After a hiatus, Wyatt marked his return to the ring on February 21, 2013. Subsequently, on May 8, 2013, Harper and Rowan clinched the NXT Tag Team Championship by defeating Adrian Neville (Pac) and Oliver Grey. However, their championship reign was short-lived as they dropped the titles to Neville and Corey Graves on the July 17, 2013 episode of NXT, which was taped on June 20th.
Meanwhile, on WWE's Monday Night RAW, enigmatic vignettes began to air, delving into the origins of the Wyatt Family. These eerie videos showcased the trio in haunting backwoods settings, with Rowan sporting a lamb mask and Wyatt seated in a rocking chair. The climactic moment arrived on the July 8th episode of RAW, as the Wyatts made their impactful debut by launching an attack on Kane. Following this, the Wyatts continued their ominous assault on various WWE wrestlers, while Wyatt cryptically invited viewers to "Follow the buzzards."
Wyatt introduced his signature move, known as the "Sister Abigail," which left fans speculating for years about the identity of this enigmatic character and whether she would eventually become part of the Wyatt Family.
During his time in WWE, Wyatt engaged in various high-stakes matches and storylines. Notably, he faced off against Kane in a unique Ring of Fire match at SummerSlam 2013, emerging victorious with assistance from Rowan and Harper. His winning streak continued with a triumph over Kofi Kingston at Battleground.
Intriguingly, Harper and Rowan faced setbacks when they were defeated by Daniel Bryan and CM Punk at Survivor Series. However, Wyatt himself, alongside Rowan and Harper, rebounded by besting Bryan in a handicap match at the TLC pay-per-view. This intense rivalry culminated in a surprising twist as Bryan, after facing Harper and Rowan, was overwhelmed and eventually aligned himself with the Wyatt Family, marking a surprising conclusion to 2013.
After a brief time with the Wyatt Family, Daniel Bryan left the group and returned to his former persona. In early 2014, Bryan began a feud with Bray Wyatt. They faced off at the Royal Rumble, with Wyatt winning the match. Around the same time, a match between Randy Orton and John Cena for the WWE World Heavyweight Championship took place. Wyatt's interference in that match caused Cena's loss and initiated a feud between Cena and Wyatt.
At the Elimination Chamber event, The Wyatt Family emerged victorious in a match against The Shield, consisting of Roman Reigns, Seth Rollins, and Dean Ambrose. In another match later in the event, Wyatt once again interfered to prevent John Cena from winning the WWE World Heavyweight Championship in the Elimination Chamber main event.
Wyatt's focus shifted to trying to expose Cena as a fraud and lead him down a darker path. This led to a series of matches between them on four consecutive pay-per-views. Cena emerged victorious at WrestleMania 30, but Wyatt got the win the following month in a steel cage match at Extreme Rules. However, Cena rebounded with a victory at Payback in a Last Man Standing Match, aided by The Usos who were in his corner to counter the presence of Harper and Rowan with Wyatt.
At the Money in the Bank pay-per-view, John Cena managed to win the vacant WWE World Heavyweight Championship in a Ladder match against a field of competitors including Bray Wyatt, Alberto Del Rio, Cesaro, Kane, Randy Orton, and Roman Reigns.
Following his feud with Chris Jericho, Bray Wyatt's focus shifted to Dean Ambrose. The two clashed in various matches, including a steel cage encounter where Wyatt emerged victorious. The storyline also involved Luke Harper gaining his independence from previous affiliations.
During the Hell in a Cell pay-per-view, Wyatt interfered in a match between Seth Rollins and Dean Ambrose, costing Ambrose the win. This set the stage for a match between Wyatt and Ambrose at Survivor Series, which Wyatt won after Ambrose used a steel chair, resulting in a disqualification. Their rivalry continued, with Wyatt once again defeating Ambrose in a brutal TLC match at the TLC pay-per-view. The feud concluded later that year with Wyatt securing a victory over Ambrose in a Miracle on 34th Street fight on RAW, closing out the year 2014.
As the new year commenced, Wyatt's feud with Ambrose persisted, culminating in an ambulance match on RAW which Wyatt won. Despite an unsuccessful Royal Rumble bid, Wyatt started to refer to himself as the "new Face of Fear." The road to WrestleMania 31 took an intriguing turn as Wyatt challenged The Undertaker by making a dramatic appearance from a casket at Fastlane. The Undertaker accepted the challenge on RAW. Despite Undertaker sustaining a real ankle injury earlier in the day of WrestleMania, they went ahead with their match. In this encounter, Wyatt kicked out of The Undertaker's signature Tombstone move, and The Undertaker reciprocated by kicking out of Wyatt's finishing maneuver, Sister Abigail. However, Wyatt couldn't withstand a second Tombstone, resulting in The Undertaker's victory.
After a hiatus of two months, Wyatt returned to action and triumphed over Ryback at Payback.
Wyatt's involvement in major matches continued as he disrupted the Money in the Bank match by attacking Roman Reigns and costing him the victory. At Battleground, Wyatt managed to defeat Reigns, thanks in part to a hooded individual who ambushed Reigns, allowing Wyatt to execute his finishing move, Sister Abigail, for the win. The hooded figure was revealed to be Luke Harper, marking his reunion with Wyatt.
The story escalated as Reigns and his ally Dean Ambrose faced off against Wyatt and Harper at SummerSlam. Ambrose's Dirty Deeds and Reigns' spear combination led to a victory for their team, pinning Wyatt.
A notable episode of RAW on August 24th saw a rematch between the two teams. This time, a new member was introduced: Braun Strowman, who made his debut by aligning himself with Wyatt and Harper. Their alliance led to a showdown at Payback, where Wyatt, Harper, and Strowman defeated Reigns, Ambrose, and an unexpected partner, Chris Jericho. Strowman's submission hold put Jericho to sleep, securing the victory.
The rivalry between Reigns and Wyatt reached new heights as they battled in a Hell in a Cell Match at the corresponding pay-per-view event. Reigns emerged triumphant by spearing Wyatt and getting the pinfall victory. Notably, another Hell in a Cell Match on the same card saw Brock Lesnar defeat The Undertaker. Post-match, the entire Wyatt Family, including Bray Wyatt, Erick Rowan, Luke Harper, and Braun Strowman, attacked The Undertaker and carried him away.
The subsequent night, Wyatt openly expressed his desire to claim The Undertaker's soul. An attempt by Kane to retaliate against The Wyatt Family was thwarted as they managed to overpower him and carry him away. However, in a reversal of fortune, The Undertaker and Kane joined forces to face Bray Wyatt and Luke Harper at Survivor Series. The match concluded with The Undertaker and Kane emerging victorious over their adversaries.
Concluding 2015, The Wyatt Family faced off against The ECW Originals (comprising The Dudley Boyz, Rhyno, & Tommy Dreamer) at the TLC pay-per-view.
However, none of The Wyatt Family members managed to secure victory in the 2016 Royal Rumble. At Roadblock, Brock Lesnar overcame Bray Wyatt and Luke Harper in a 2-on-1 handicap match.
On April 13th, Bray Wyatt suffered a right calf injury during a match against Roman Reigns on a European tour. He returned on June 20th, during which The Wyatts encountered The New Day. Following an invitation, The New Day visited The Wyatt Family compound the subsequent week, sparking anticipation for their eventual match at Battleground, which ultimately saw The Wyatt Family prevailing.
In the 2016 draft, Wyatt and Rowan transitioned to SmackDown, while Strowman moved to RAW. On the August 16th episode of SmackDown, Wyatt distanced himself from Rowan after Rowan's loss to Ambrose.
Bray Wyatt subsequently challenged Randy Orton to a match at Backlash. Prior to the bout, Wyatt attacked Orton, rendering him unfit to compete. Consequently, Wyatt faced Kane in a No Holds Barred Match, which Kane won with Orton's interference. Orton then challenged Wyatt to a match at No Mercy, but Wyatt emerged victorious with the assistance of Luke Harper's return.
At Survivor Series, Team SmackDown (AJ Styles, Bray Wyatt, Dean Ambrose, Randy Orton, and Shane McMahon) bested Team RAW (Braun Strowman, Chris Jericho, Kevin Owens, Roman Reigns, and Seth Rollins). Wyatt's contribution included hitting Sister Abigail on Reigns, leaving him and Orton as the remaining survivors. Subsequently, Orton and Wyatt paired up to clinch the SmackDown Tag Team Championship by defeating Rhyno and Heath Slater. They successfully defended the titles against various teams, culminating in a four-corner match that American Alpha (Chad Gable and Jason Jordan) won, ending the year.
Bray Wyatt kicked off 2017 in a significant manner by securing the WWE Championship at Elimination Chamber, triumphing over John Cena, AJ Styles, The Miz, Dean Ambrose, and Baron Corbin.
Orton initially claimed he wouldn't challenge Bray Wyatt for the championship at WrestleMania 33, but his actions spoke otherwise as he incinerated the Wyatt compound, including Sister Abigail's grave. This feud concluded with Orton defeating Wyatt at WrestleMania 33. Subsequently, Wyatt was transferred to the RAW brand through the Superstar Shakeup and engaged Orton in a House of Horrors match. This match involved alliances, with Harper siding with Orton and Rowan aligning with Wyatt. Wyatt triumphed over Orton in a cinematic contest at Payback.
At Extreme Rules, Wyatt fell short in a Fatal 5-Way Extreme Match featuring Finn Balor, Roman Reigns, Seth Rollins, and the victor, Samoa Joe. Wyatt managed to defeat Seth Rollins at Great Balls of Fire but was defeated by "The Demon" Finn Balor at both SummerSlam and No Mercy. Despite a scheduled rematch at TLC, Wyatt was removed from the card due to health concerns.
In November, Wyatt returned to commence a rivalry with "Woken" Matt Hardy.
During the 2018 Royal Rumble, both Wyatt and Hardy eliminated each other. Wyatt then suffered a loss to Hardy at Elimination Chamber. In a match called the Ultimate Deletion on the March 19th episode of RAW, Hardy emerged victorious when he threw Wyatt into the Lake of Reincarnation. Wyatt, however, returned at WrestleMania 34, aiding Hardy in winning the Andre the Giant Memorial Battle Royal. Their collaboration continued as they clinched the RAW Tag Team Titles at The Greatest Royal Rumble, defeating Sheamus and Cesaro. Unfortunately, they later lost the titles to Bo Dallas and Curtis Axel at Extreme Rules.
The Firefly Fun House and The Fiend:
Bray Wyatt's WWE comeback in April 2019 introduced "The Firefly Fun House," initially appearing as an innocently entertaining segment that gradually revealed darker undertones. By July, Wyatt underwent a transformation, adopting a horror mask and adopting the moniker "The Fiend." He incorporated the Mandible Claw as his signature finishing move. The Fiend's first major target was Seth Rollins, whom he attacked during The Clash of Champions event.
Their subsequent clash at Hell in a Cell was surrounded by a unique red lighting setup in the arena and around the ring. The match took an unexpected turn when it was stopped due to Rollins using a sledgehammer. This decision was met with strong disapproval from the live audience and sparked discussions regarding the unconventional creative direction taken with Wyatt's character.
Wyatt's drafting to SmackDown marked a significant shift, and in response, Rollins burned down the Firefly Fun House. In a dramatic turn of events, The Fiend faced Rollins once again, this time at Crown Jewel in a Falls Count Anywhere Match that was deemed to be unstoppable for any reason. The Fiend emerged victorious, capturing the Universal Championship, which subsequently became part of the SmackDown brand. Following this triumph, The Fiend introduced a new championship belt to represent his character.
In 2020, The Fiend continued his dominance, successfully retaining The Universal Championship against Daniel Bryan at Survivor Series and defeating The Miz at TLC.
At the beginning of the year, Bray Wyatt faced Daniel Bryan in a Strap Match at the Royal Rumble, emerging as the victor. However, his title reign was short-lived as he lost the championship to Goldberg at Super Showdown in a surprisingly brief three-minute match.
As the COVID-19 pandemic began impacting live events, wrestling adapted to a new environment without live crowds. In one of the most unique matches of the year, Bray Wyatt faced John Cena in a Firefly Fun House Match. This cinematic match, which took place at WrestleMania 36, was a departure from traditional in-ring contests and added a creative and surreal dimension to their rivalry.
Later in 2020, Bray Wyatt faced Braun Strowman in a bid to reclaim the Universal Championship. Their encounter at Money in the Bank ended with Wyatt coming up short in his quest. However, he made a return to his original persona and engaged in a non-title Wyatt Swamp Match against Strowman at The Horror Show at Extreme Rules. This match, presented in a cinematic format, added a unique and eerie element to their rivalry.
The culmination of their feud came at SummerSlam, where The Fiend succeeded in defeating Braun Strowman, thus regaining the Universal Championship. Yet, the aftermath of the match took an unexpected turn. Following the victory, Roman Reigns made a dramatic return to WWE and attacked both Wyatt and Strowman. This led to the formation of a Triple Threat Match involving The Fiend, Reigns, and Strowman, with Reigns ultimately securing the victory by pinning Strowman to become the new Universal Champion.
The Fiend, Alexa Bliss and the Surprising Release:
In September, The Fiend forged a connection with Alexa Bliss, and this partnership added a new layer to his character. Following this, Wyatt was drafted back to the RAW brand in October.
The storyline between The Fiend and Randy Orton took a dramatic turn at the TLC pay-per-view, where Orton emerged victorious in a Firefly Inferno Match by setting The Fiend on fire.
Despite the shocking conclusion at TLC, The Fiend made a surprising return in 2021 at Fastlane, attacking Randy Orton. The two clashed again at WrestleMania 37, with Orton managing to defeat The Fiend after Bliss appeared and played a pivotal role in the outcome. The subsequent night on WWE programming, Bliss declared her independence from The Fiend, leading to a Firefly FunHouse segment where Wyatt hinted at seeking a fresh start.
However, Wyatt's presence on TV became scarce, and on July 31st, 2021, WWE announced his release from the company, marking the end of his long association with the wrestling organization.
After Bray Wyatt's unexpected release from WWE, there was a lot of speculation about the reasons behind it. Some rumors suggested that he might have had difficulties working with the company, while others thought he might have been unhappy with how his character was being portrayed. There were reports that the creative aspects of his character were mostly his own ideas, but that there were challenges in bringing them to life.
Amidst these rumors, there were also whispers about potential health issues that could have affected his ability to wrestle. After leaving WWE, there were speculations that he might pursue opportunities in the independent wrestling circuit or even join AEW, a competing wrestling promotion.
Overall, Bray Wyatt's release led to various rumors and discussions about his departure and what his future in wrestling might hold.
Return to WWE:
Following his return to WWE in September 2022, Bray Wyatt's comeback was eagerly anticipated by fans. The anticipation was fueled by a viral campaign that involved QR codes appearing on weekly TV shows, which fans scanned in hopes of uncovering clues about his return. His official return took place on October 10 during the Extreme Rules event, marking his reentry into WWE programming.
Shortly after his return, Wyatt delivered a heartfelt promo on SmackDown where he expressed gratitude to the fans for their unwavering support during his challenging times. However, his return was met with intrigue as a masked character named Uncle Howdy, portrayed by Bo Dallas, emerged on the October 28 episode of SmackDown. Initially appearing to aid Wyatt against an attack by LA Knight, Uncle Howdy's intentions took a darker turn as he attacked Wyatt himself two weeks later.
The storyline between Wyatt and Uncle Howdy culminated in a match at the 2023 Royal Rumble, known as the Mountain Dew Pitch Black Match, where Wyatt emerged victorious against LA Knight. Another significant moment in Wyatt's return journey occurred at the WWE Raw 30th anniversary show in January 2023. During a segment involving Bray Wyatt, LA Knight, and The Undertaker, the legendary Undertaker endorsed Wyatt, which many fans interpreted as a symbolic passing of the torch from one unique character to another.
Bray Wyatt's Mysterious TV Absence Culminates in Unexpected Passing:
In late February, Bray Wyatt once again vanished from television screens, raising questions among fans and the wrestling community. Speculation emerged that he might be facing a severe health issue, with rumors circulating that he had contracted COVID-19, which exacerbated a pre-existing heart condition. Despite initial positive reports about his recovery progress and potential return, the tragic news emerged on August 24, 2023, that Wyatt had suffered a heart attack and had passed away.
The August 25th episode of WWE Friday Night SmackDown was dedicated to honoring the memory of Bray Wyatt, as well as paying tribute to the late Terry Funk, who had also recently passed away. The tribute segment was attended by a range of WWE Superstars, including those who were originally scheduled for the show and even those who were no longer part of the company. The overwhelming display of support for Wyatt, both on SmackDown and across social media platforms, underscored the deep affection and respect that people had for him.
Bray Wyatt's passing has left a profound void in the hearts of his family, friends, and fans. Nevertheless, the resounding outpouring of love and the enduring impact he made during his wrestling career are testaments to the fact that his legacy will remain alive forever. Wyatt's contributions to the world of professional wrestling have etched his name in history, ensuring that he will always be remembered and celebrated.
Thank you Bray Wyatt
Fireflies Forever – A Look at Bray Wyatt's Life and Wrestling Career