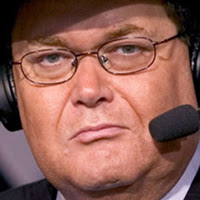 Jim Ross spoke to Sports Illustrated's "Extra Mustard" section about a number of pro wrestling topics, mostly surrounding NJPW. Here are some of the highlights:

Kenny Omega's talent:
"Kenny keeps striving to get better. He doesn't put himself in a comfort zone for long, which is unlike a lot of guys you see on American television, who have the same basic structure for all their matches on television. I don't know if you're doing your best effort or if you're being a real pro if you're having the same basic match every Monday or Tuesday night on television. I don't see Kenny Omega having the same match every week, and I call a lot of his matches on AXS TV's New Japan. Granted, there are some high-profile matches that we're able to bring the fans on Friday nights, but Omega is continually going out and tweaking his game, trying new things, and refining what he's doing. It's a good time to follow a guy like Kenny, who, some day, will be a WWE guy. There's no doubt. I'm glad that he came back to New Japan for another year, and I would think that after he stars at Wrestle Kingdom in 2018, then he very well could be the most coveted free agent that WWE has tried to sign in years."
Kazuchika Okada and Hiroshi Tanahashi:
"Okada and Tanahashi have great skill levels. They would be main event guys in anybody's territory, even WWE. They're both skilled enough to be a main eventer in that company or anywhere else. You just have a feel for greatness, and when I first called Steamboat-Flair back in '89, and Rock-Austin in WWE, there is just a feel for how it looks, the texture of it, the buzz it creates for the audience, and those guys have that."
Prediction on Brock Lesnar vs. Goldberg:
"Lesnar will go over with his finish, the F5. If they use their head, make sure Paul Heyman is involved in the game-planning, and get an agent like Michael Hayes or Pat Patterson or someone like that, then there is no excuse that they can't give you ten quality minutes, bell-to-bell. There is no reason that two guys of that stature, earning that kind of money, can't give ten kicka– minutes of pro wrestling content. I firmly believe it's possible."
---
GET EVERY NEWS 24/7 FOLLOWING US ON YOUR FAVORITE SOCIAL MEDIA. WE ARE ON FACEBOOK, TWITTER AND G+!
---