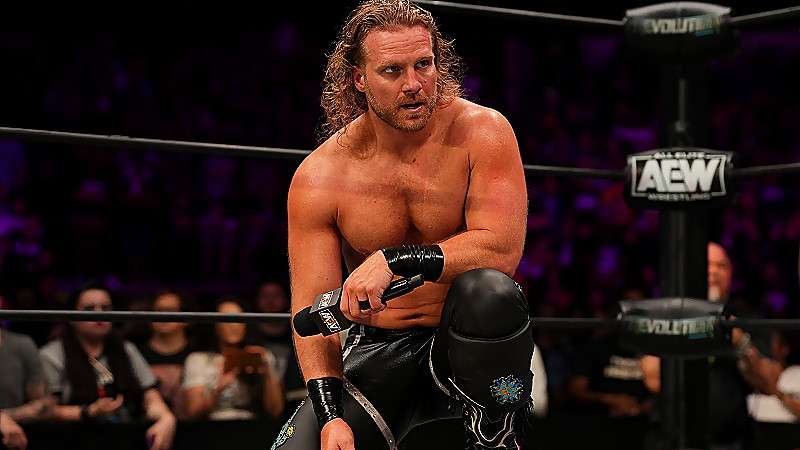 Clearing Up Adam Page Being Advised Against Attending AEW Collision – Recapping the situation involving CM Punk and "Hangman" Adam Page, it appears that Page's involvement in last Saturday's AEW Collision event was a topic of confusion. Initially, he was reported to have been sent to the show to deliver a pre-taped backstage promo, intended to promote this week's Dynamite. However, it was later revealed that Page was not actually scheduled for Collision.
In a parallel situation, wrestler Ryan Nemeth was also informed that he couldn't access backstage at Collision events. This policy is rumored to stem from CM Punk's preference not to have certain individuals present at shows he's involved in.
Following Saturday's AEW Collision, CM Punk directed a comment towards Hangman Adam Page, which was reportedly followed by an apology. Page was instructed to conduct the pre-taped segment off-site.
According to PWInsider, their sources clarify that Page was not "removed" from the Collision event. Rather, the decision to relocate the promo stemmed from logistical considerations and was unrelated to CM Punk.
The report suggests that the speculation about Punk's comments influencing the promo's relocation may have been fueled by individuals seeking to undermine Punk.
Given that Page resides in the Greensboro area where Collision was held, his involvement didn't necessitate extensive travel; he wasn't sent home after recording the pre-tape.
PWInsider's report confirms the previous accounts of Punk's apology, though it remains uncertain if Page responded to the apology.
Here are the latest news related to the subject:
Clearing Up Adam Page Being Advised Against Attending AEW Collision