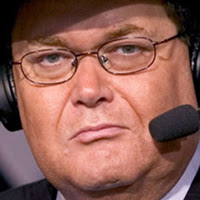 On his blog, Jim Ross discussed the Superstar Shakeup that will be happening on WWE TV this weekend. You can see his comments below:
I'd like to see Luke Harper move to RAW and get a chance to contribute in a more significant way. He's skilled, motivated/hungry and can have an effective wrestling match with anyone on the roster. Just believe that there is something there with Harper.

Curious to see how the tag teams shake out as well as WWE has done a nice job of restocking their tag team shelves and the reshuffling of the deck might present some compelling matchups that many of us haven't thought of at this time.

Will Miz/Maryse move to RAW as if they seem to be 'this close' to moving up yet another level on any show that they appear. The Miz has worked hard to get better in the ring and he's succeeded plus adding his lovely wife Maryse to the equation has worked well in my view.

Every WWE talent should consider looking at this 'Shakeup' as the opportunity to hit the reset button in virtually all phases of their professional life. The smarter talents will do something to improve their game daily. Something. Daily.
---
GET EVERY NEWS 24/7 FOLLOWING US ON YOUR FAVORITE SOCIAL MEDIA. WE ARE ON FACEBOOK, TWITTER AND G+!
---