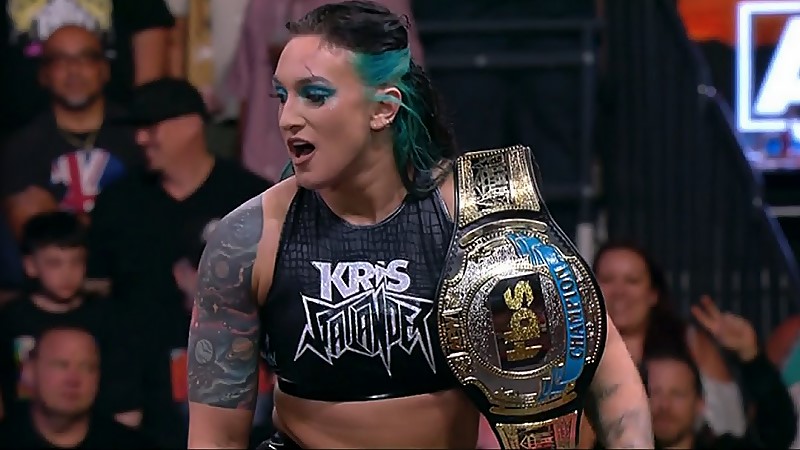 Kris Statlander Discusses AEW Return – As noted, Kris Statlander made her surprising return at AEW Double or Nothing 2023, where she confronted Jade Cargill and faced her in an impromptu match for the TBS Championship. Statlander scored the victory and won the title. In doing so, she handed Cargill her first loss in a singles match.
During the AEW Double or Nothing media scrum, Statlander was asked about the timetable for her recovery after being sidelined with a torn ACL since September 2022. She noted that it was a long process, as expected. She detailed how having a long road back gave ger time to prepare mentally, and the champion stated that her remarkable return made it all worth it.
"The timetable went about as expected. I had mentioned it was six to eight months of recovery, but people were forgetting it was six to eight months post-op. It's a very long process, it takes a long time for these types of injuries to heal. It gives you a lot of time to mentally prepare the comeback and do something as crazy as this. A lot of ups and downs on a recovery like this, a lot of self-doubt, but then you get moments like this and nights like tonight and it makes it all worth it," Statlander said.
When questioned as to whether she was worried about going from 0 to 100 by coming back from the injury and winning the title, Statlander described how she hasn't been public about it, but she has been getting ready to come back. She made it clear that she wanted to make her return special, and she also stated that she wouldn't jump off the deep end if she didn't feel ready.
"Maybe, but with the type of preparation that I've done, I was very quiet about this one around. If you guys had only seen the things that I have been doing leading up to today, you'd be like, 'she's been ready for this.' I know I kept it under wraps, but I really wanted my return to be a special moment. Not just for me, but for every body else. It is just jumping off into the deep end, but I wouldn't do it if I didn't feel prepared for it," Statlander said.
Statlander also highlighted her mental preparation for her comeback. She noted that, having endured a major injury before, she had an easier journey. The champion described how she bounced back after she was initially upset when she found out about the injury, as she was determined to work hard to get where she wanted to go.
"This time, it was a lot easier of a journey, having gone through it before. Originally, we thought it was an ACL and a meniscus tear, but it was just an ACL. What that means with recovery is that I was in my leg brace walking around two days after surgery, not on crutches. With a meniscus tear, you would not be able to do that. Mentally, I felt like the progress was a lot more upward (trajectory). It was a lot easier because I had been through this, and I remember we thought maybe it was a hyper-extension, and then I got the MRI, got the results, and I cried for three hours straight. I told myself I did not want to go through this again, I wouldn't wish this on my worst enemy. I cried it out, got myself together, and told myself, 'I just have to come back from this.' Not that it's not a big deal, but if you want something and work hard for it, it will payoff," she said.
When asked whether the second recovery was easier than the torn ACL she suffered in 2020. She described how she was miserable the whole time, and when she was getting ready to come back this time, she questioned how she'd top her previous return. Statlander made it clear that she struggled with not being able to be an active part of the roster while she was sidelined, and she felt loved once she returned.
"I was miserable the whole time. I went through it once, and it was a totally different world because it was during COVID, we didn't have any fans. 'I already came back coming out of the claw machine, how am I going to top that?' There was a lot of thinking about that, 'what could I do to top that?' This did a pretty good job. There was a lot of misery because of how much I love being here and being on the road and being part of something. It really sucks when you can't do something you love and having it taken away from you. I would be here as much as I could just to be part of it and support everyone. At first, I felt I was in the way, 'why did I even bother to come here? I can't do anything.' Everyone was like, 'No, we love you, we want you here.' Now, seeing everyone backstage and the reaction, 'Wow, they do love me.' It's very special. Even when it's sad, there is always light at the end of the tunnel," Statlander said.
Kris Statlander Discusses AEW Return