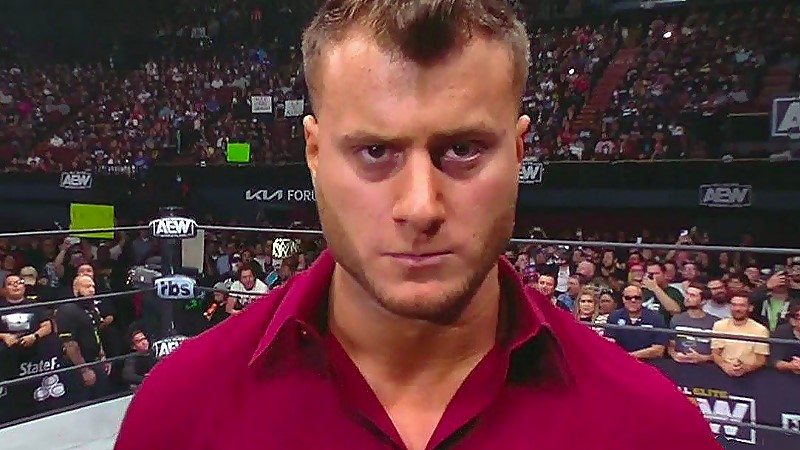 MJF Once Again Teases Leaving AEW – MJF has often been linked to WWE, and he has openly teased leaving AEW and signing there with multiple comments about the bidding war of 2024.
During the AEW Double or Nothing post-show media scrum, MJF was asked how he could take the next step and become one of the best the wrestling business has ever seen. He responded by stating that he's already there. MJF claimed that he'd already be a Hall of Famer. He then noted that when he teases taking his ball and going home, everyone thinks he's talking about WWE. The champion explained that WWE's Nick Khan and Triple H might want him to work for their company, but he's somewhat bored with wrestling and the lack of respect from fans. MJF then stated that when he ways he could take his ball and go home, he means potentially retiring. For now, he stated that he wants someone to step up and put him out of his misery.
"I'm dead serious. If I literally retire today, this is not hyperbole, I've had one of the best professional wrestling runs in the history of the business, that's a fact. Best oratory exhibitions, best Iron Man match, best singles dog collar match, tonight I had the best four-way. Also, some of the best rivalries in the history of the sport; Cody Rhodes, Wardlow, CM Punk, Danielson, and that's just to name a few. I'm pretty sure if I called it quits, I've had a Hall of Fame career, which is why, quite frankly, when I say 'take my ball and go home,' earmuffs Tony, everybody thinks I'm talking about WWE. Now, does Nick Khan want me to work in his company? Sure. Does Triple H want me to work in his company? Sure. [Looking at Tony], calm down, it's fine, or maybe it's not, but I'm kind of bored of this sport and I'm bored of the lack of respect from professional wrestling fans, so when I say 'take my ball and go home,' I mean literally, just hang it up, and fuck up the lineage of this title. Frankly, I don't know if anybody is worthy of beating me for this thing. Now, I'm not just going to hand it away, why would I do that? I earned this thing. Please, by all means, take it off of me, somebody put me out of my misery. Until then, we'll see what happens," MJF said.
At AEW Double or Nothing, MJF defeated Darby Allin, Sammy Guevara, and "Jungle Boy" Jack Perry to retain the AEW World Championship.
Stay tuned to WrestlingAttitude, WA.Com On Twitter and Google News for more.
MJF Once Again Teases Leaving AEW