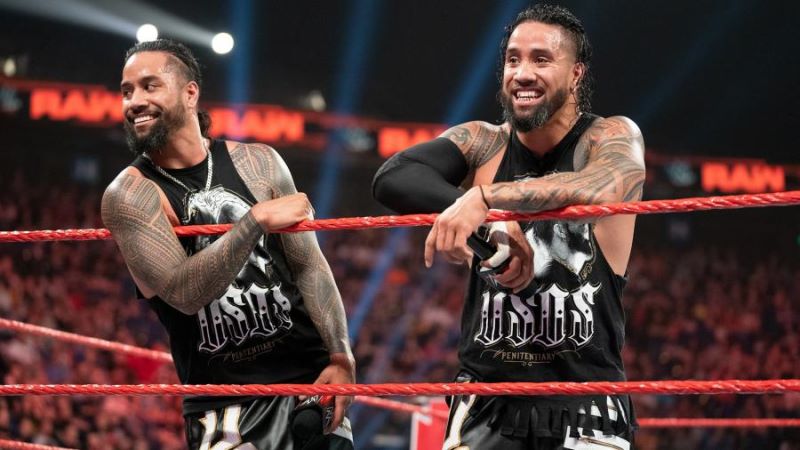 Potential Spoiler On The Usos' Status For WWE Elimination Chamber – It looks like The Usos will be showing up at next Saturday's WWE Elimination Chamber after all.
Roman Reigns will defend the Undisputed WWE Universal Title against Sami Zayn in the main event of the show. On Friday's SmackDown, The Usos retained the Tag Team Titles over Braun Strowman and Ricochet, but there is still tension between Jey Uso and the rest of The Bloodline.
After the match, Zayn and Jey had a backstage segment where they did a fist bump. Reigns, who wasn't on the show, told Paul Heyman to tell Jimmy Uso that The Usos should stay at home next week and not be at SmackDown or the Chamber PLE to get a different perspective by watching the show on TV. This implied that he saw the segment between Jey and Zayn.
The belief had been that due to his DUI history, Jimmy would not be allowed to go to Montreal, Canada, and would miss the show.
While speaking on Wrestling Observer Radio, Dave Meltzer noted he was told that Jimmy is cleared to go to Canada and could be on the show with his brother.
As previously reported, WWE is planning to do Zayn and Kevin Owens challenging The Usos for the Tag Team Titles at WrestleMania Goes Hollywood.
Bryan Alvarez: "I don't think Jimmy can get into Canada, but maybe Jey is going to show up."
Meltzer: "I was told they're okay."
Alvarez: "Jimmy can too?"
Meltzer: "I will check again, but when it first came up, I said like are they cleared for Canada? and I was told they're both cleared."
Alvarez: "Well, one way or another, they're not supposed to be there."
Meltzer: "I don't know if it's a swerve, or a storyline."
Alvarez: "Well, I'm sure they're going to show up to set something up whatever they're doing with Sami at WrestleMania and Kevin. I mean Kevin hasn't been around so you know he's going to show up to make a trumpet return to save Sami at the end. I guess it just depends on how they get to it."
Potential Spoiler On The Usos' Status For WWE Elimination Chamber