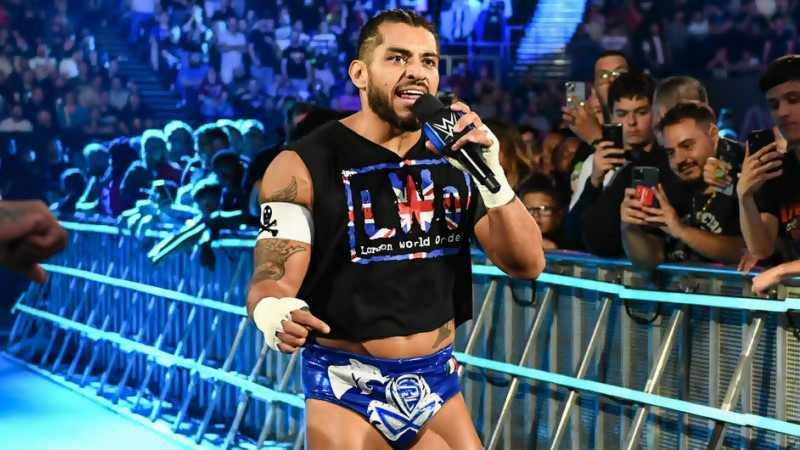 Santos Escobar on a Potential Match with Rey Mysterio – Santos Escobar recently offered insights into the possibility of a match against Rey Mysterio, shedding light on the circumstances surrounding their potential clash for the WWE United States Title.
Escobar earned a shot at the WWE United States Title after his victory over Rey Mysterio on the July 28 edition of WWE SmackDown. However, Escobar's hopes were dashed as he fell victim to an attack by Austin Theory, preventing him from receiving his title opportunity.
In a surprising turn of events, Rey Mysterio replaced Escobar and managed to secure the US Title by defeating Austin Theory on the August 11 episode of WWE SmackDown.
During an appearance on Babyfaces radio, Santos Escobar was posed with the question of whether he would be willing to step into the ring with Rey Mysterio, with the championship on the line. Escobar's response to the potential matchup remains undisclosed, leaving fans curious about his thoughts on a potential showdown with the legendary Rey Mysterio for the WWE United States Title.
"Absolutely, yes. We already went at it just to get an opportunity at this title. Now that he holds the title, the one thing I know for sure is that he will give me an opportunity when the time comes. I'm not ready to compete right now because of Austin Theory, and before I go for the title, I would like to repay Austin in kind," said Escobar.
Earlier in the interview, Escobar noted that he is not cleared, which stems from Theory's attack on his knee.
"I'm not cleared to compete right now as it is, because of Austin Theory, but trust me, my mind, my heart are strong. I'm a strong willed person. I will comeback. When I comeback, I will come back full steam," he said.
Santos Escobar on a Potential Match with Rey Mysterio