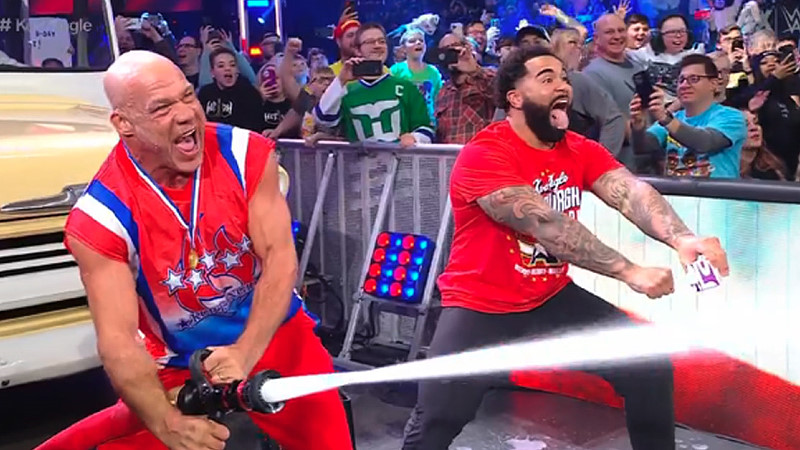 Kurt Angle Says Comparisons With Gable Steveson Are Unfair – At NXT Great American Bash 2023, Gable Steveson made his debut against Baron Corbin in a match that ended in a no-contest.
As an Olympic gold medalist, Steveson's debut garnered attention and comparisons to legendary wrestler Kurt Angle, who also had an Olympic background. During the match, the crowd in Texas chanted "You're not Angle," highlighting the comparisons between the two wrestlers.
On the latest episode of the Kurt Angle Show podcast, Angle offered his thoughts on Gable Steveson's debut, expressing that it may be unfair to expect Steveson to live up to the standards set by Angle at this early stage in his pro wrestling career. Angle believes that WWE might be attempting to portray Steveson as a heel by having him mock Angle, thus using the comparisons to create a storyline dynamic.
"Well, I feel badly for him because he's being compared to me at this point in time. He hasn't even barely started, so I don't know how his future is going to be. I know he's really talented, really athletic. I'm not sure how he is as far as entertainment-wise, but as far as in the ring, I heard he's really good. But no, I don't think it's a fair assessment to compare him to me right now. I think down the line, you can do that. This is crazy, but people have been coming to me and telling me, 'Hey, he wrestled Baron Corbin at NXT, and the fans were boobing the heck out of him. Then he pulled his straps down, and the fans got even more pissed.'
"You know what? I think that's something WWE is actually doing," Angle continued. "They want to make him a heel. So they're gonna have them copy and mimic me. That's what this is, I believe. I think they're gonna have him copy and mimic me so he can piss the fans off. So that he starts out as a heel because it's easier to be a heel starting out than it is a babyface. So I think that I think they're the ones that actually told him to do this stuff. I really believe that, and I think WWE is brilliant for doing it."
Kurt Angle Says Comparisons With Gable Steveson Are Unfair