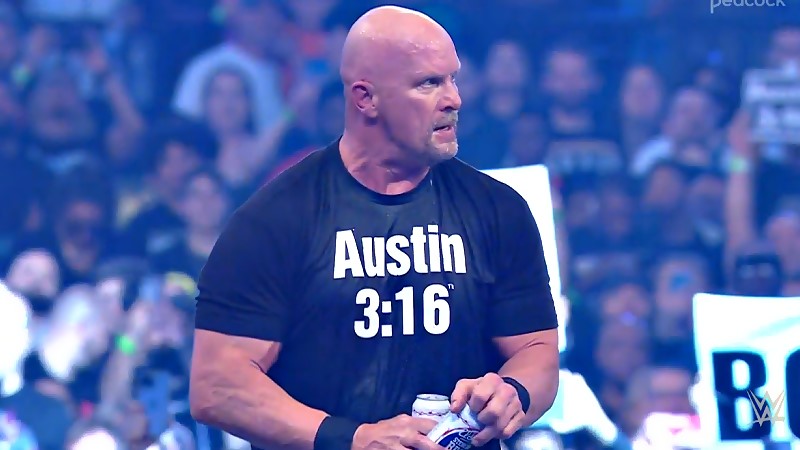 Steve Austin Addresses Rumors Of WWE In-Ring Return – In a video from his home gym on Saturday, Stone Cold Steve Austin noted that people have been asking him if the workout videos he's been posting are because he's training for an event.
Austin said people can speculate what they want, but the reason he's been working out is because he got tired of "looking like sh*t."
People have been speculating, 'Hey Steve, what are you doing? What are you training for? Are you training for an event?' Speculate what you want for. I just simply looked in the mirror and realized I look like sht, so I called my diet coach up. And my macros are currently, give or take, roughly around 2650 calories, 300-320 grams of protein, 150 grams of carbs on a regular day, will spike at 420 on a load up. I still drink beer on Friday nights. Get three Broken Skull IPAs, and that's pretty much it. I'm probably, as far as body weight goes, sub-232, the leanest I've been in forever. Anyway, that's the bottom line, I'm out. I just got tired of looking like — when I looked in the mirror, I looked like sht. I got tired of looking like sh*t, so I'm taking actions to do something about it. I gotta go. Catch you down the road.
Fightful reported earlier this week that, following the retirement of Vince McMahon, WWE's new regime has made an offer for Austin to wrestle another match. It's not clear if that potential match would be at WrestleMania 39, an event in Saudi Arabia, or somewhere else.
Dave Meltzer confirmed that "there is smoke to that fire" and there are discussions happening for Austin to wrestle another match in WWE.
At WrestleMania 38 this April, Austin returned to the ring for his first match in nearly 20 years. Austin defeated Kevin Owens in a no holds barred match in the main event of night one of WrestleMania 38. The match wasn't officially announced in advance, with WWE instead promoting it as a KO Show segment and teasing that Austin could get physical.
Steve Austin Addresses Rumors Of WWE In-Ring Return