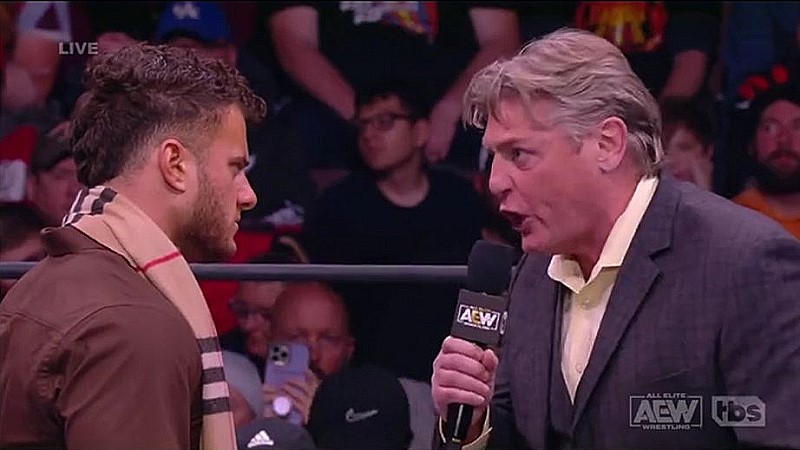 MJF Debuts New AEW World Championship – Turns On Regal – After being absent from last week's edition of AEW Dynamite, AEW World Champion MJF finally showed face on Wednesday's edition of the show.
MJF started by critiquing the look of the current AEW World Title, noting that the belt looked bad. MJF then went on to reveal a new version of the belt that boasts a Burberry leather strap.
MJF won the title back at the Full Gear pay-per-view earlier this month after defeating Jon Moxley.
The news wouldn't stop there though, as MJF started to go on a speech about how much he respects and appreciates William Regal, the man who helped him win the title at Full Gear. After it seemed like he was concluding his promo, MJF punched Regal in the neck with Regal's signature Brass Knuckles. Before dashing off into the crowd, MJF told Regal he was stupid for making a deal with the devil.
Regal was taken out of the ring in a stretcher after the attack. Shortly after, cameras backstage showed Regal being taken out of the arena in an Ambulance alongside Bryan Danielson.
Below are related clips + a recap of the segment from our live coverage.
William Regal makes his way to the ring first as he introduces the new AEW World Champion, MJF. He says not too long ago Regal sent him an email after The Firm had attacked him. It said that it had become clear MJF had grown weak, but he saw potential in MJF to be the greatest villain in his time and he has lots to learn. Regal told MJF that he wanted to help him, and he shouldn't grab the diamond ring, he had to grab the brass one.
After that they met a lot and MJF claims that Regal is a genius so he was happy to listen when it came to using the brass knuckles. MJF says Regal didn't just want him to beat Jon Moxley, he wanted him to leave an emotional scar so he wouldn't forget the day. MJF says he kinda respects The Firm, they saw a weakness and attacked, but even if h had resentment, does he seem the type to chase someone down? The Champion says that takes effort, and that is for poors. 
He says when he became AEW World Champion he wanted to make change, and that's why when he looks at the title he wants to gag in his mouth as it is tacky and reminds him of the people who held it previously. He says they were all talented, but none of them are on his level. MJF reveals this version of the title is garbage, and he throws it away. Regal then reveals the new AEW World Championship which has the Burberry patern on the leather. He calls it the Triple B – The Big Burberry Belt, which MJF says is the most prestigious title in wrestling because he is holding it. 
MJF says he deserves to be champion more than fake tough guys like Eddie Kingston, who he claims will never be World Champion. Guys like Ricky Starks, or fake wrestlers like Bryan Danielson. MJF says Danielson couldn't wrestle out of a paper bag, and he tells Regal he means no offense. MJF sends a message to the roster, saying they will never know what it is like to be on top, as he will be champion until the bidding war of 2024, where he will use the title as a bargaining chip. MJF then says to Regal that come January 2024 he doesn't know if a wrestling company will win as he is sick of looking at wrestling fans, maybe Hollywood wins. 
He hears people moan claiming he's a coward, boring, and only talks, but he thinks that's great because everyone will be tuning in to see if he will be beaten. MJF says he will defend Triple B rarely, and will wrestle rarely as he is a special attraction, people will have to buy a PPV to see him most of the time. He claims that his title run will make Bruno Sammartino roll in his grave. He then puts over Regal for everything he does and thanks him, but he then uses the knuckle dusters to knock him out from behind. He says Regal made a deal with the devil, and he leaves him with the same words he left him seven years ago…the game has changed, and MJF only hires top class athletes and when he's one of them he can send him his stuff.
MJF leaves and Danielson sprints down to the ring to check on his mentor as the doctors get into the ring. Regal is stretchered out from the ring.
After a commercial, we see Regal being taken out of the arena in an Ambulance alongside Bryan Danielson.
MJF Debuts New AEW World Championship – Turns On Regal