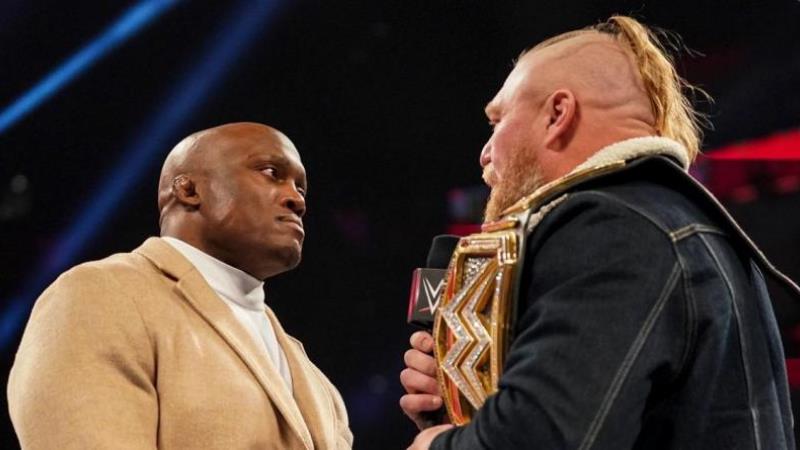 Bobby Lashley Destroys Brock Lesnar To Open WWE RAW – Tonight's WWE RAW got off to a hot start, without wasting any time on opening credits as the show cut directly to Bobby Lashley already in the ring!
Already talking, we joined Lashley mid-sentence as he demanded Brock Lesnar come out and face him like a man after his vicious attack from last week.
We didn't hear from Lesnar however as he was barely to the ring as Lashley pounced and the two kicked off into a massive brawl including an unbelievable spear from Lashley on Lesnar.
With assorted members of the WWE locker room working to shove Lashley away from Lesnar including unlikely alliances of heels and faces the likes of Johnny Gargano, Chad Gable and Mustafa Ali amongst others, all trying to get Bobby to stop the attack.
Lashley went on drive Lesnar through the commentary desk not once but twice before eventually retreating up the ramp.
HERE WE GO!#WWERaw pic.twitter.com/dAQeBg6xMH

— WWE (@WWE) October 18, 2022
🚨 WE ARE LIVE! 🚨

AND WE'RE KICKING THINGS OFF WITH THE BEAST AND BOBBY LASHLEY

Switch over to BT Sport 1 NOW for #WWERAW pic.twitter.com/VSbbESaty3

— WWE on BT Sport (@btsportwwe) October 18, 2022
The Beast Incarnate @BrockLesnar just got WRECKED by The All Mighty @fightbobby on #WWERaw! pic.twitter.com/G3qipobW8c

— WWE (@WWE) October 18, 2022
We have chaos on #WWERaw!@fightbobby pic.twitter.com/qIZTxB6gtB

— WWE on FOX (@WWEonFOX) October 18, 2022
THIS IS HOW THE SHOW KICKED OFF 🤯@fightbobby@brocklesnar#WWERaw pic.twitter.com/0yIfbT5Gss

— WWE on BT Sport (@btsportwwe) October 18, 2022
BOBBY JUST MANHANDLED BROCK LESNAR 🙃🙃🙃@fightbobby#WWERaw pic.twitter.com/GGT4n5THct

— WWE on BT Sport (@btsportwwe) October 18, 2022
Bobby Lashley ladies and gentlemen 👏@fightbobby#WWERaw pic.twitter.com/LVnLFB30cr

— WWE on BT Sport (@btsportwwe) October 18, 2022
Bobby Lashley Destroys Brock Lesnar To Open WWE RAW