It's that time of year again, Raw Vs Smackdown. The event that is held every year on the last Sunday before thanksgiving. The second longest running pay per view event in history, behind another of the WWE's big names, Wrestlemania. For those of you who aren't necessarily in the know, since 2016s brand split, this yearly event has had one major focus, that has been WAR. Between Smackdown and Raw. Today we're going to be doing a preview of the event and talking about some of the big match ups that are going to take place! So if you're ready, grab onto the Reigns, we'll get this thing on the road… Sorry, bad joke!
For me, Survivor Series is one of the best pay per views of the year, reason being it is super unpredictable. In an industry where you KNOW there's a script, that makes for some interesting prospective outcomes of matches and storylines. If you're a betting man like myself, there are definitely some great odds to take advantage of in situations like this, so if you haven't already, you've got a few days left to grab a good welcome bonus for a betting site, something like the betmgm sportsbook bonus or one of the many other bonuses offered. So make sure to get in on the action on some of these matches, make it a little bit more interesting eh?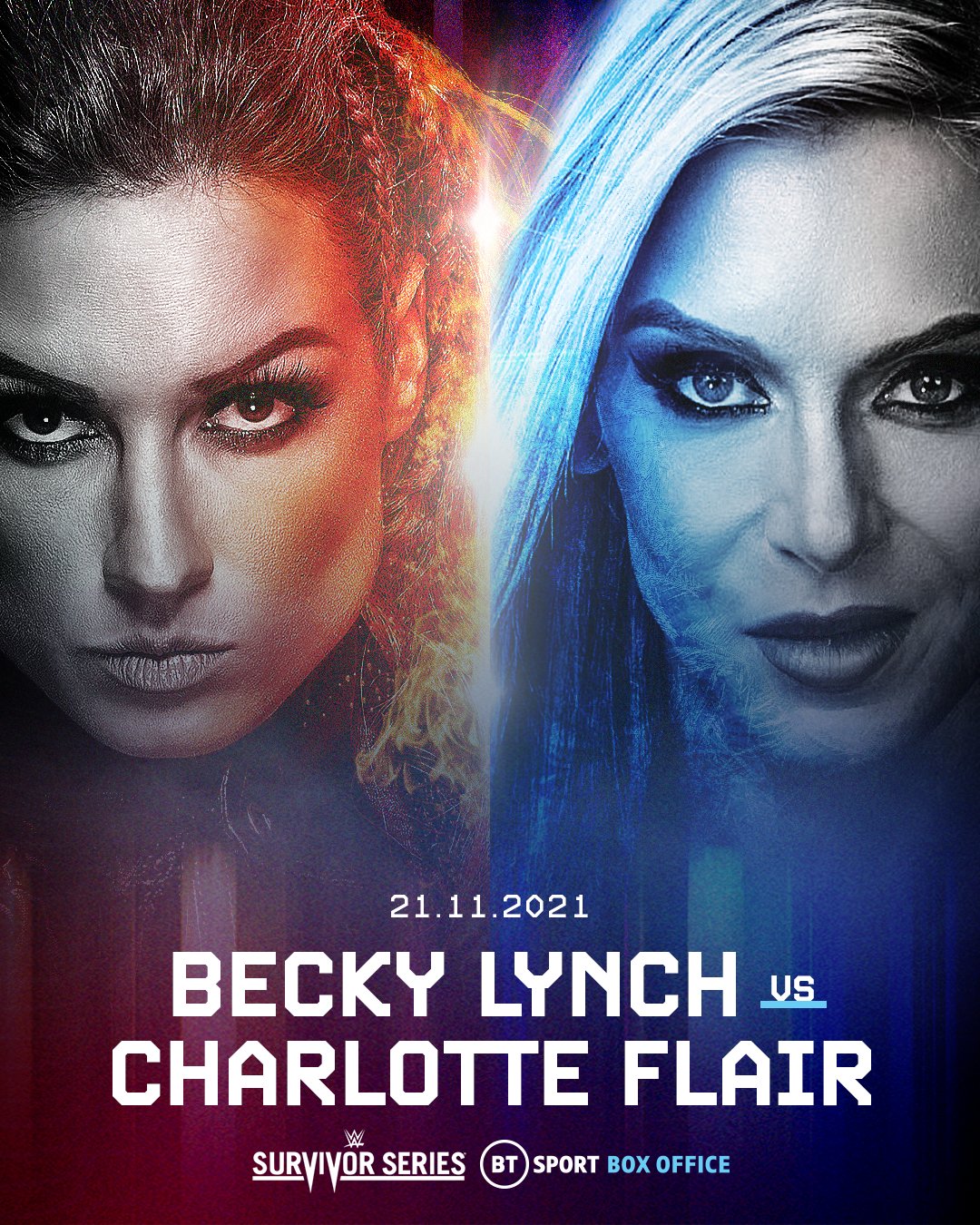 RAW Women's Champion Becky Lynch -400 (1/4) vs. SmackDown Women's Champion Charlotte Flair +250 (5/2)
With that being said, time to get into some of the big matches we'll get to feast our eyes on, starting with the WWE RAW Womens Champion, Becky Lynch Vs the WWE Smack Down Womens Champion Charlotte Flair. In terms of female wrestlers, the names don't get much bigger than these two. Both have been a big part of the WWE's main roster since back in 2015. More than six years on from their WWE RAW debut and the pair really have done it all in the business, I don't think anybody could argue that they're both absolutely guaranteed to be in the Hall of Fame in the future.
They've had their run-ins in the past, of course they have, they both want to be THE name people think of when it comes to womens wrestling, right? Cast your mind back to SummerSlam 2018, Becky Lynch hit Flair with a heel kick shortly after her Smack Down title win. This was the move that launched Lynch to stardom. Fast forward to WrestleMania 35 (2019) and Lynch became the double Women's Champion, after beating Ronda Rousey and The Queen in the main event.
It has been a couple of years since Lynch and Flair last wrestled however, October 14th 2019 on WWE RAW, where Lynch beat Flair by pinfall in a normal singles match, they have however had their run ins, most recently in October, so you'd better believe there's some bad blood between these two and Flair will almost certainly want to get her revenge after the loss she suffered to Lynch. This is one of those matches for me that's going to be too tough to call, where do you even put your money here? They're both HUGE names, but who is more marketable? Based on that I'd go with Lynch, but there's always the shout for a redemption arc where Lynch loses then goes through it all to get back to the top, making fans respect her even more right?
WWE Champion Big E +300 (3/1) vs. WWE Universal Champion Roman Reigns -500 (1/5)
NEXT! The big one for a lot of people, WWE Champion Big E Vs Universal Champion Roman Reigns. I think it's safe to say for this one, that Roman Reigns wins. But why is that? Well, if you look at it like a popularity contest for example, I genuinely believe that outside of regular WWE viewers, most people wouldn't even know who Big E is, BUT. Roman Reigns is a household name at this point, is he as big as people like The Rock, or Stone Cold from when I was younger.
While it's no secret that Roman Reigns isn't the 'cleanest' fighter, by which I mean he hasn't exactly won all of his matches fair and square, he has only lost THREE matches, THREE, since Survivor Series 2019. But, winning matches means nothing if they're against proverbial nobodies right? Well it's a good job he's beaten Edge, Finn Balor, John Cena and Brock Lesnar in that time isn't it? Look, don't take this the wrong way, Big E is a great wrestler but he's still fairly new to the game in comparison, this for me is the ONLY guaranteed outcome of the entire show. Reigns wins.
That's going to do it for this one! We're creeping EVER CLOSER to Survivor Series 2021 and I am incredibly excited for it, how about you? What matches are you looking forward to? Is there anything you wish they had on the card that hasn't been included? Not long to go! Take care everybody and enjoy the show!