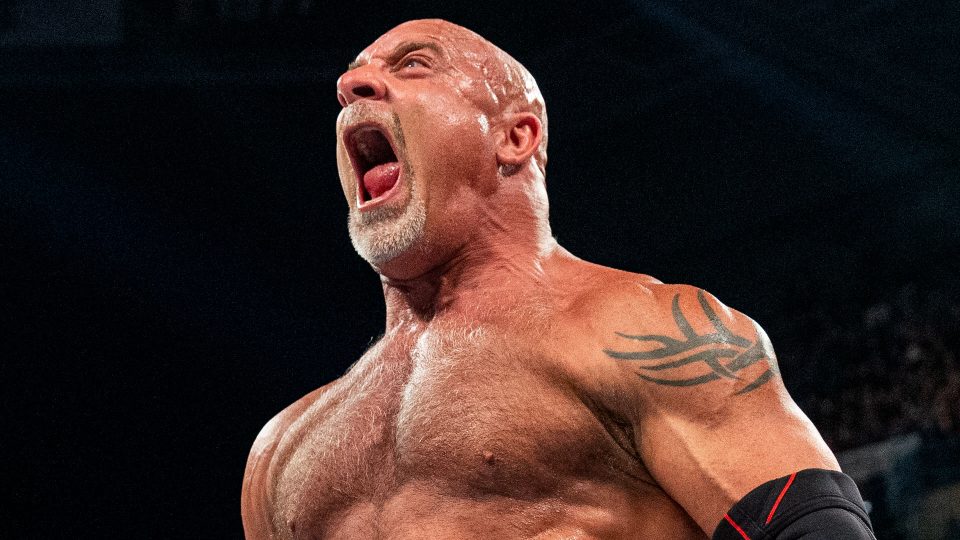 There is no denying that most people that become professional athletes are incredibly athletically skilled. That means they are not only unique in their excellence at a specific sport but can pick up other games at a high level as well.
Given the short lifespan of an NFL career, it may not come as a surprise that many players try their hand at other sports in their 30s and onward.
One of the strange bets that people can place within sports betting is that a player who performs in the NFL may one day become a pro wrestling superstar.
Below is a list of seven former NFL players who went on to become pro wrestling stars.
1. Bill Goldberg
When Bill Goldberg called it quits on his wrestling career, he had already won the WWE World Title, WCW Title, and the WWE Universal Championship title. At that time, in 2018, he was the only man to achieve such a feat.
Most people think of wrestling when they hear the name Bill Goldberg, but they do not realize that he got his start in professional sports as an NFL star. He was a defensive tackle for Georgia before the Los Angeles Rams picked him in the NFL Draft in 1990.
Goldberg played for the Atlanta Falcons from 1992 to 1994, starting a single game and only managing 14 total NFL appearances. His football career did not pan out the way he may have expected, as a pelvis injury cut his time in the sport short.
2. Brian Pillman
Brian Pilllman played as a nose tackle at the University of Miami, managing to get a nomination to the second-team All-American. He did not get a draft spot in the NFL, but he did make it to the Cincinnati Bengals, his hometown team, through free agency.
Pillman may not have been the best player in the NFL, but he was decent enough to get game time for both the Bengals and the Buffalo Bills. He even played in the CFL for some time, appearing for the Calgary Stampeders in 1986.
Where Pillman shone was in the wrestling ring, becoming a hugely popular superstar in WCW and WWE. One of his strengths was versatility, as Pillman was equally adept at playing the heel or the baby-faced good guy.
3. Lex Luger
Another wrestling legend, Lex Luger, also got his start with the NFL. Luger played for the Miami Hurricanes in college before playing in Montreal for some years. Then he got a chance with the Green Bay Packers, where he spent the 1982 season on the injured reserve list.
Luger knew he was never going to make it as an NFL player, which is why he left the sport after a brief stint in the USFL. He then found professional wrestling and became a huge star of WCW. Luger won the WCW World Championship twice and even wrestled in the WWE for some time.
4. Hacksaw Jim Duggan
Jim Duggan played football at SMU before signing for the Atlanta Falcons in the NFL. While he had a lot of talent on the football field, Duggan suffered a series of knee injuries that curtailed his chances at a lengthy career in the sport.
Luckily for Duggan, he went to college with Fritz Von Erich and Ted Di Biase, who helped him get a chance in the pro wrestling ring. Eventually, he got the nickname Hacksaw Jim Duggan and became one of the most popular and beloved wrestlers of his generation.
Duggan is one of the NFL-turned-professional-wrestling superstars who made it all the way into the WWE Hall of Fame, getting an induction in 2011.
5. Ron Simmons
Ron Simmons is not only unique for playing both football and wrestling at a high level, but for being so good at both sports that he is a double hall of fame inductee. Not only is Simmons in the WWE Hall of Fame, but he is also a College Football Hall of Fame member.
Simmons played for Florida State and was a two-time All-American while coming ninth in the Heisman Trophy contest of 1979. He did manage two seasons in the NFL as well, playing for the Cleveland Browns in 1981 and 1982.
After spending some time in the USFL, Simmons found his place in professional wrestling. He went on to become the first African-American world champion in the WCW, along with winning three WWE tag team titles.
6. Monty Brown
Monty Brown spent four years with the Buffalo Bills and was on the team when they played in the Super Bowl in 1994. He also spent time with the New England Patriots, starting as a linebacker.
After an ankle injury cut his NFL career short, Brown moved on to professional wrestling. He began his wrestling career with TNA Impact Wrestling but was so impressive that he was quickly snapped up by the WWE.
Brown was later known as Marcus Cor Von in the wrestling ring, getting a placement in the ECW competition. Unfortunately, he did not have the best of wrestling careers and retired from pro wrestling a year after joining ECW.
7. Vader
Big Van Vader, who died in 2018, was a legendary wrestler beloved by fans of the AWA, WCW, and WWE. He also had a significant following in Japan thanks to his wrestling exploits and is likely to get a posthumous induction into the WWE Hall of Fame at some stage.
What some of his fans may not even know is that Big Van Vader also played professional football. He was a center for the University of Colorado and entered the NFL with the Los Angeles Rams in 1978 through the NFL Draft.
Unfortunately, Vader did not have much of an NFL career, as he suffered a serious patella injury and had to retire from pro football.
Is Your Favorite Player a Dual Sport Athlete?
Sometimes you fall in love with an athlete the first time you watch them play a game. Perhaps they make a great play, perform valiantly throughout the contest, or help their team to an unlikely victory.
If you follow the NFL, you may have been surprised to learn that many of its superstars go on to have respectable careers in other sports.
The above seven players were not only outstanding in their heyday in the NFL, but they made a successful transition to pro wrestling. That shows their incredible athletic prowess, along with their tenacity to pick up another sport and reach such a high level.