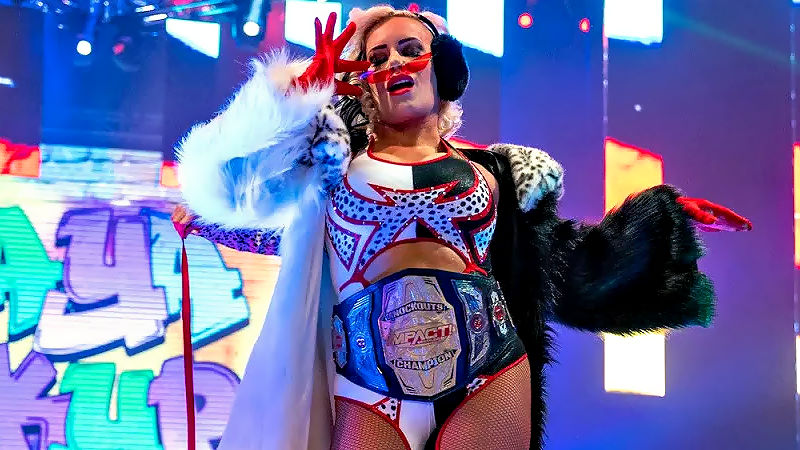 Taya Valkyrie, the longest reigning Impact Wrestling Knockouts Champion in history, officially reported to the WWE Performance Center today to begin training under her NXT contract., PWInsider.com has confirmed.
Valkyrie debuted for Impact Wrestling in 2017 and evolved into one of the top and most important female personalities for the promotion over the last several years. In her final appearance for the company this past January, she revealed that she had Bravo shot to protect her friend Rosemary from marrying him, not realizing Rosemary, a Demon in storyline, was using him to get to his virgin blood. She was then apprehended and taken away by police after an emotional final scene with Rosemary. At the time, Tommy Dreamer commented that she might be looking at two years with an option for a third at Stamford Correctional.
After training under Lance Storm, Valkyrie broke out in Mexico for AAA. She then had a long run for Lucha Underground before making her way to Impact, where she became a cornerstone of the Knockouts division. From a character standpoint, she is absolutely excellent and if NXT creative has her continue on with the same persona, she will absolutely stand out as unique and that's not even considering how strong she is inside the ring.
Taya Valkyrie is married to WWE RAW Superstar John Morrison, who she had an incredible on-screen partnership with in both Impact Wrestling and Lucha Underground so that is something WWE could always tap into down the line as well.
Regarding the new WWE Performance Center Class that reported for training today, F4Wonline.com reports that around 30 men and women are included in the class.
WWE is expected to officially announce the new Performance Center Class any time this week, possibly tomorrow afternoon.
Stay tuned for updates. Below is the updated list of confirmed names that reported for training today:
* Taya Valkyrie – 37 years old, longest-reigning Impact Knockouts Champion in history, married to John Morrison
* Parker Boudreaux – 18 year old college football star, compared to a young Brock Lesnar
* Bronson Rechsteiner – 23 year old former football player, son of Rick Steiner
* Angela Arnold – known as AQA, trained by WWE Hall of Famer Booker T
* Christian Brigham – known as Christian Casanova
* Anthony Henry – 36 year old former EVOLVE star
* Christian Hubble – known as Blake Christian
* Karissa Rivera – second generation talent, daughter of Steve King. Appeared on RAW as Bobby Lashley's "ex-wife" once
* Zoey Stark – formerly known as Lacey Ryan, recently debuted on NXT TV and worked the Dusty Rhodes Tag Team Classic
* Cora Jade – formerly known as Elayna Black, recently debuted on NXT TV in the Dusty Rhodes Tag Team Classic
* Gigi Dolin – formerly known as Priscilla Kelly, recently debuted on NXT TV in the Dusty Rhodes Tag Team Classic
Rumored names expected to be confirmed for this WWE Performance Center Class this week include LA Knight (now working NXT but not confirmed for this specific class, fka Eli Drake), Harlem Bravado, and Sareee.
Stay tuned for more.