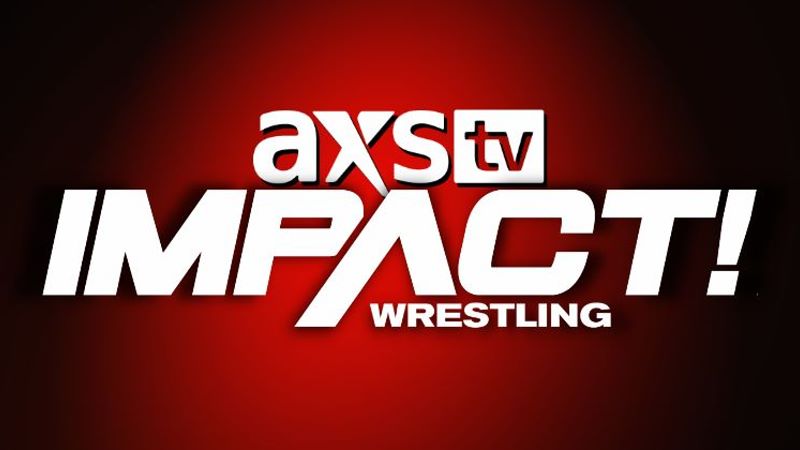 Josh Mathews and Madison Rayne welcome fans to Impact Wrestling! We kick things off with a Turning Point rematch!
Moose vs. Willie Mack (No Disqualification Match)
Willie Mack charges towards Moose and takes him down on the mat. Mack runs the ropes to land a forearm and big boot in the corner. He follows it with a senton, which leads their brawl towards the outside. Mack throws Moose into the ring post. Moose turns it around by throwing Mack over the barricade. Moose goes for the same attack again and again. He calls for the cameraperson to zoom up on him. He sends a direct message to the retaining Impact World Champion, Rich Swann, as the referee checks on Mack.
Both men make their way back into the ring. Mack rocks Moose with a powerful forearm. Mack makes a rookie mistake by turning his back on Moose as he catches him with a dropkick. Moose smooshed his boot into Mack's face. Moose launches Mack across the ring towards the turnbuckles. Mack moves out of the way in time before Moose goes for the same move again. Now, both men go back and forth with forearm strikes. Mack takes the lead with five straight shots. Moose counters with a pump kick. Moose runs towards the ropes. Mack catches him with a Samoan Drop and a standing moonsault. Mack goes for a cover. Moose kicks out at 2. Mack catches Moose with a big sidewalk slam. He misses his chance to land the Six-Star Frog Splash. He rises to his feet quickly. Moose lands his Lights Out finisher. Moose climbs on top of Mack and clubs him with a series of punches. It's deja vu as this match ends the same way it did on Saturday. Moose wins the match by referee stoppage.
Winner: Moose
Josh Mathews and Madison Rayne run through what's still to come on tonight's show.
At the Treehouse:The Rascalz are not ready to say goodbye to their clubhouse. They reminisce about all the fun times they had there including Wentz's date with Gail Kim, Moose choking the life out of Trey Miguel. The lights go dark before we go to commercial.
Backstage: The Deaners come to Sherlock Tommy Dreamer on the gun they found in Johnny Swinger's fanny pack this past Saturday at Turning Point.
We head back to the ring for the next action-packed match!
Suicide vs. Gio
The match between both men starts off well and sportsmanlike. We see both of them lockup. All of a sudden, Eric Young, with his new ally, Joe Doering, comes down to the ring and takes out both opponents. The referee calls for this match to end in a no contest.
Winner: No Contest
Post-Match: Eric Young gets right down to it by saying that he and Doering are now in control.
Backstage: Gia Miller interviews the now two-time Knockouts Champion, Deonna Purrazzo, and Kimber Lee. Purrazzo says their plan is coming along perfectly. Lee informs everyone that she is recovering just fine after Su Yung's attack last week. Both women will team in the Knockouts Tag Team Tournament. Following that, a message from Yung appears on the mirror that reads, "next week ur time haz come."
Backstage: Heath is excited to schedule an appointment to follow up on his injury. The closer he is to being cleared, the closer he is to get a contract with Impact. Rhino leaves the room to give Heath his privacy while he calls the doctor. Rhino runs right into Eric Young and Joe Doering. He controls these two vicious men for their heinous attacks since Saturday. Both Young and Doering stomp away on Rhino. Heath opens the door to figure out what's all the commotion about outside. They come into the room and shut the door.
Brian Myers vs. Crazzy Steve
Crazzy Steve plummets Brian Myers into the corner as the match begins. After stepping out of the ring, Myers comes in aggressively with a back elbow before being hung up in an Upside Down on the ropes. Both men trade shots on the apron. Myers bites Steve's head before the commercial break.
Back from the break, Myers slams Steve on the mat with a powerful suplex. He goes for a cover, and Steve kicks out at 2. Steve lands face-first into the mat after getting tripped by a toehold. Myers locks Steve up with a front facelock. Steve gets back into it by landing a few shots towards Myers' midsection. Myers locks Steve once more with a sleeper hold. Steve breaks free and flies in with an uppercut/senton combination in the corner. Steve looks for a cover on Myers. Myers kicks out at 2. Steve gets both of Myers' arms locked up. Myers barely gets his foot on the bottom rope for a rope break. Myers catches Steve off guard with his lethal clothesline. He goes for the final pin and wins the match.
Winner: Brian Myers
Next, the Impact Plus Moment of the Week is shown. It's Gail Kim & Madison Rayne versus Brooke & Tara for Knockouts Tag Team Championships from 2011.
Backstage: Dreamer brings Johnny Swinger into questioning. After Swinger pulls out a gun, Dreamer is calling him to go to Wrestlers Court next week!
We head back to the ring to get ready for the opening match for the Knockouts Tag Team Tournament!
Knockouts Tag Team Tournament Opener: Alisha Edwards & Tenille Dashwood (w/Kaleb With A "K") vs. Havok & Nevaeh
Nevaeh and Alisha Edwards start the match with some trash talking. Nevaeh rolls Alisha through with a takedown. Both women make their way back to a vertical base. Nevaeh hooks the outside leg with a 1 count. Alisha tags in Tenille Dashwood. Tenille smashes Nevaeh face-first into the top turnbuckle. She drags Nevaeh over to get her picture taken by Kaleb. Tenille pushes Nevaeh into her Dashwood Boogie. Nevaeh crawls over to tag in Havok. Alisha comes in, too.
Alisha tries to throw some punches into Havok. Havok doesn't bat an eye. Alisha sends Havok off with a wheelbarrow/flatliner combination. Havok is stunned. She tags Nevaeh back in. Nevaeh comes in quickly to land a backbreaker on Alisha before tagging Havok back in. Alisha takes a move out of Tenille's playbook, the Spotlight (low basement dropkick) on Havok. Havok looks to put Alisha in a tombstone piledriver. Tenille breaks that up. Havok and Nevaeh send Alisha crashing into the mat with a wheelbarrow/cutter combination. Havok & Nevaeh have advanced towards the semi-finals.
Winners: Havok & Nevaeh
Backstage: Jordynne Grace is talking to who could be her tag team partner on the phone. We'll see who that is next week!
Up next, two powerhouses will duke it out all for a wad of cash, although Fallah Bahh doesn't have it anymore.
Hernandez vs. Fallah Bahh
Both men crash into each other. Neither man falls down. Fallah Bahh goes for a wicked crossbody that sends Hernandez down. Hernandez goes flying over the top rope and drops Bahh on the outside. Back in the ring now, both men exchange stiff chops. Bahh takes it to Hernandez with a huge body smash in the corner. Bahh goes for a cover. He gets a near-fall at 2. Hernandez catches Bahh with a back elbow. He heads to the top to land a diving splash. Hernandez goes for a pin and wins the match.
Winner: Hernandez
Backstage: Scott D'Amore feels bad that TJP lost his match with Rohit Raju for the X-Division Championship last week. He apologizes for the heavy stipulation that TJP cannot challenge for it anymore. But, he does hint that maybe a different persona of his can…
After the commercial break, we see a recap video showing the Good Brothers victorious won on Saturday for the Impact World Tag Team Championships.
Backstage: The Good Brothers are sitting with Scott D'Amore chatting about merchandise. Ethan Page barges into the room. He wants a rematch. The Good Brothers think they should see how much he wants this rematch. So, they are going to find Page, a "phenomenal" opponent. If he wins, The North will get a rematch for the titles.
Rascalz (Wentz & Dez) vs. Trey Miguel & Rich Swann
Trey Miguel and Wentz kick things off. Both men give each other a fist bump before Wentz pushes Trey into the corner. Back in the middle, Trey does the same thing to Wentz. Trey keeps a sturdy lock on Wentz's wrist. Wentz rolls through with a lockup. Both men roll out and restart the match. Now, it becomes a test of strength. Trey jumps up on the top rope and flies over. Both men crash with double dropkicks. Rich Swann and Dez make their way into the ring now.
Both men lockup. Dez sends Swann halfway across the ring with a dragon arm drag. Dez rolls off the back of Swann, who catches him with a roundhouse kick to the side of Dez's face. Swann tags in Trey. Dez sends Trey towards his corner to get a tag in from Wentz. Wentz climbs on top of Trey with a bronco buster right before the commercial break.
Back from the final break of the broadcast, Wentz lands a springboard back elbow on Trey. Wentz looks for a cover. Trey kicks out at 2. Dez makes a quick appearance with an uppercut in the corner before tagging in Wentz again. Trey hits a colorful combination before Wentz counters with a DDT. Trey gets a tag in from Trey. Swann lands a superkick, then a Rolling Thunder on Dez. Swann gets a near-fall out of 2. Swann flies on top of Wentz with a senton. Swann gets another 2 count. In the center of the ring, all four men exchange quadruple superkicks.
Trey lands a low kick in the corner. He and Wentz meet up on the ropes. Dez comes in a backbreaker on Trey. Swann flies in with a frog splash on Dez. Swann goes for a cover. Dez kicks out at 2. Dez and Wentz exchange a superkick and a knee strike on the World Champion. Swann finishes the match with a quick back kick on Dez to pick up the win for him and Trey.
Winners: Rich Swann & Trey Miguel
Post-Match: All four men gather together with tears streaming down their faces. Each man hangs their jackets up on the ropes before they head up the ramp.
In the back, Rich Swann comes in for one more big hug. Out of nowhere, Ken Shamrock throws a trashcan at all four men. Sami Callihan makes his way in and warns Swann that he is going to face "The World's Most Dangerous Man" next week.
From all of us here, we wish the Rascalz nothing but the very best in their future endeavors. Their gimmick will forever live on!
We go to credits.