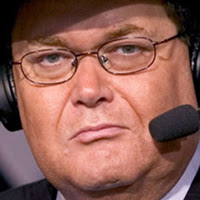 On today's episode of the 'Ross Report' podcast, Jim Ross opened up the show to discuss a few topics. His guest for this episode is former WWE star Pete Gas, and you can listen to the podcast in its entirety at this link.
On Adam Cole Going to WWE in April:
My guess is that Adam Cole is going to the WWE in April, that is the word on the street. That has been kind of a bad secret for quite some time. Nonetheless, they had a hell of a wrestling match, and Adam Cole did everything that a true pro should do by passing the torch. Adam Cole doing what he did—doing the honors, ensured that Christopher Daniels beat somebody to become the Ring of Honor champion, and that means the line of succession continues where the man that faces Christopher Daniels guarantees that Daniels would do the right thing, and the new champion, whoever that might be, whenever it may be, would have beat somebody, so great show from Vegas. I have been told by the FiteAPP folks that it set records of the Ring of Honor pay per views on the app, so congratulations are in order. One hell of a wrestling show and am really proud of your effort.
On Lesnar Becoming Champion at WrestleMania:
I really believe that Brock Lesnar is going to win the Universal title from Bill Goldberg at WrestleMania and then I think Lesnar will hold the title until he loses it to Roman Reigns, which I suggest it be at the WrestleMania in New Orleans in 2018. It's the last year of Lesnar's contract. I think that he would be more than willing to work a few more dates if the schedule is manageable. If the old theory is in place, he has to defend the title 30 days. I see that being doable, so I would have Lesnar put the big shine on the Universal title and be the champion for a year until WrestleMania the following year in New Orleans—ironically, the same place he made WrestleMania history by becoming the first man to defeat the Undertaker at WrestleMania in New Orleans, which then he falls prey to Roman Reigns who becomes the new champion.
On Last Night's Monday Night Raw:
My takeaway from Monday Night Raw is this. I was shocked that Brock Lesnar was on the show. I didn't even know he was going to be on it. I didn't understand why that was not made public after segment one; I don't think we saw him after that. Paul Heyman, who did a great promo says that Bill Goldberg was not here. I'm not blaming Paul but I might not want to let everyone know that; just for the hell of it, why even address it? I thought Shawn Michaels showing up, which I did enjoy that surprise, it's a different ballgame than comparing that to Brock. Shawn is not working at WrestleMania, he's not wrestling anymore, but Brock has a main event match there, so I think you should advertise one of your main eventers being there. I thought that segment was really good with Reigns and Shawn Michaels. I like that Reigns is getting a little edgy. I believe that Reigns screws Taker and wins at WrestleMania. He's a star, he's a red hot son of a bi**h. The business involving Stephanie McMahon, Mick Foley, and Triple H was really well done, very dramatic. That kind of promo is money. There is so much talking on television that is not money, but that was money. It was really well done, and finally, we saw a babyface side of Seth Rollins that we had been waiting for for quite some time. He has to change a few things that he does, but he can be a huge babyface. By getting his a** handed to him last night, it reinforces to me that he is going to go over at WrestleMania, as he should. Rollins should win at WrestleMania. Reigns should win at WrestleMania, and we know that Kevin Owens is going to win at WrestleMania. They told me that this show is going to be 6 hours, my gosh.
On the Impact Wrestling Announce Team:
We have to have a better effort in the announce booth at Impact Wrestling. We have to have a better effort. We need more continuity and cohesion. Too much noise, too much. I didn't say I didn't like; everybody in the booth I like, so I'm not looking to piss on somebody's Cheerios, or throw anyone under the bus, and I damn sure don't want anyone's job—let's get that one straight. I'm just saying, as an old producer of talent. I thought that the booth for Impact Wrestling was a bit too busy and it took away from what I was seeing, and again, the more you perpetuate, and one line of thought audibly, and the other I am seeing visually, there has got to be some level of disconnect; there's gotta be.
---
GET EVERY NEWS 24/7 FOLLOWING US ON YOUR FAVORITE SOCIAL MEDIA. WE ARE ON FACEBOOK, TWITTER AND G+!
---