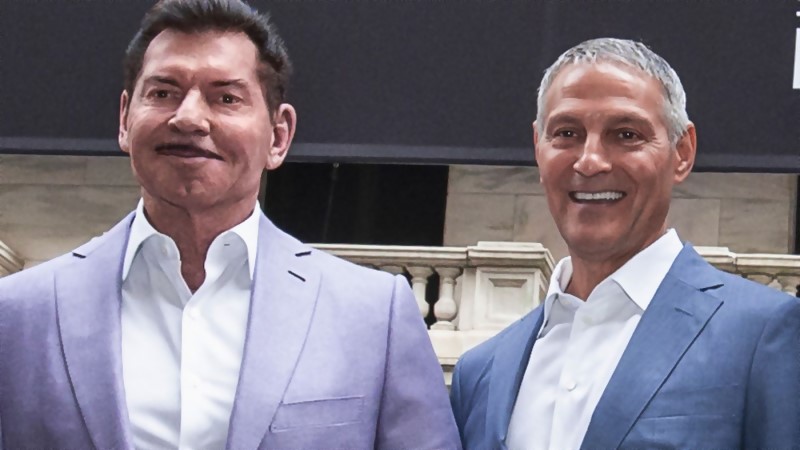 Ari Emanuel Behind Keeping Vince McMahon Away from Creative – Vince McMahon and Endevor's CEO Ari Emanuel initially conveyed the message that it was Ari who had expressed a desire for McMahon to continue his involvement with WWE after Endeavor's acquisition of the company to merge it with the UFC and form the TKO Holdings Group. However, plans have taken a different turn.
As reported earlier, there is a prevailing belief among WWE talent that Triple H has assumed a prominent role in creative decisions, and it is suggested that Endeavor has bestowed upon him significant creative authority. Consequently, Vince McMahon's involvement in creative aspects has significantly diminished, with WWE sources emphasizing that McMahon is not presently engaged in creative matters.
Recently, Ari Emanuel addressed the state of affairs at Bloomberg's Screentime conference, attributing the decline in TKO's value to various factors. These factors include Saudi Arabia's investment in the PFL, reports indicating NBCU's withdrawal from the bidding for Raw's rights, and the ongoing federal investigation into Vince McMahon's hush money scandal.
Dave Meltzer, during a segment on Wrestling Observer Radio, highlighted that it was Ari Emanuel who made the decision to distance Vince McMahon from the creative aspects of WWE.
Meltzer: "Well, he's out of creative. I mean, it's a big story because Ari Emanuel, when they were on the verge of closing the deal, and had actually closed the deal in April, went around and did media rounds. 'Vince will be in charge of the company, and if I and Vince have a disagreement, it goes the way Vince wants because Vince is the guy.' So then the deal went through. It only really went through about a month ago, and already, Vince is out of creative because of Ari Emanuel. So this is a really interesting thing because it is the first time that….Vince is now in the position that his father was in '84 when his father had run the company for years and years and years, and he was just an employee of Vince Jr. Vincent Kennedy McMahon was the guy making all the decisions, and now, Vince was in fact overruled, even though when he merged the company he was told this would not happen. It did happen. It's a really interesting thing and that statement when Ari Emanuel was talking about the reasons the stock is down, and he mentioned Vince's name. It is very interesting. I think what is going to happen. But Vince's power's clearly marginalized. There's no way around that."
Bryan Alvarez: "So what was his argument to take Vince out of power?"
Meltzer: "I don't know what the argument was. He made the call. That's all."
Alvarez: "I had heard it was something to the effect of someone should when someone is hired, they should do their job. And, of course, since Hunter's job is that he's in charge of creative, he should do his job and not have somebody else overruling his job. So, I mean, it sounds good to me. I'm glad the guy's out.
Meltzer: "Well, I mean, it's going to be. I mean, it's going to make more sense. It's not going to be torn up. I mean, they still may tear some stuff up late, but it's not going to be anywhere near the level that it had been for all those years. I mean, because it happened far less when Vince wasn't around. Then, when Vince came back, it came back to happening. And it's not happening. It's not going to be happening to the same degree because it's going to be [Paul[ Levesque's vision and not compromised by Vince vision, which is often very different. So it's going to be a Levesque product, which, you know, that's a good thing. I mean, I think he's done a great job in that role."
Stay tuned to WrestlingAttitude, WA.Com On Twitter and Google News for more.
Ari Emanuel Behind Keeping Vince McMahon Away from Creative