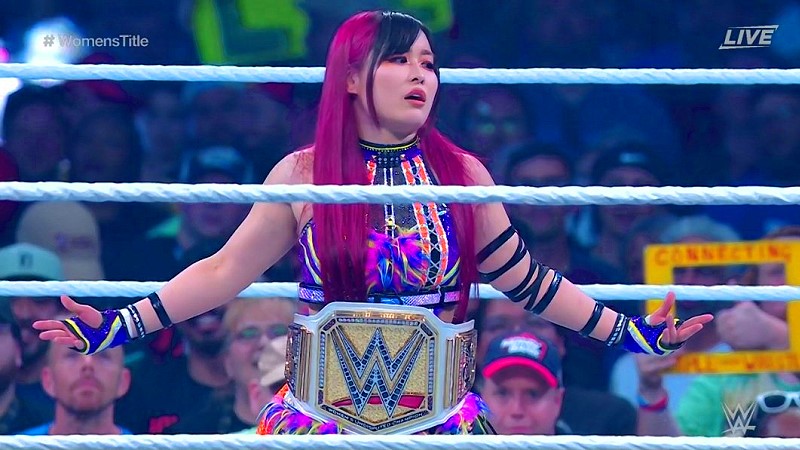 IYO SKY Wins WWE Women's Title At SummerSlam – Bianca Belair achieved a thrilling victory at WWE SummerSlam by capturing the WWE Women's Championship in a triple threat match against Asuka and Charlotte Flair. However, her title reign was short-lived as IYO SKY made a swift and unexpected move by cashing in her Money in the Bank briefcase just moments after Belair's victory to become the new champion.
During the triple threat match, Bianca Belair had to overcome a knee injury that briefly forced her out of the competition. Showing incredible determination, she returned to the ring, and in a surprising turn of events, Asuka interfered by spitting mist into Charlotte's face while the latter had Belair locked in the Figure Eight submission. Taking advantage of the situation, Belair managed to cradle Asuka for the victory and claimed the Women's Championship.
However, the celebration was short-lived when SKY and Bayley rushed to the scene with the Money in the Bank briefcase. They attacked Charlotte, Asuka, and Belair with the case, targeting Belair's injured knee. Capitalizing on the weakened state of the new champion, SKY cashed in her briefcase and, after delivering a moonsault from the top rope, pinned Belair to become the new WWE Women's Champion.
This shocking turn of events left the WWE Universe in awe and anticipation of what's to come in the women's division. The landscape of the WWE Women's Championship has shifted dramatically, and fans are eagerly awaiting how Bianca Belair and the new champion, IYO SKY, will shape the future of the title.
Despite her recent ACL surgery, Dakota Kai surprised everyone by joining her Damage CTRL stablemates in the ring to celebrate SKY's championship victory at SummerSlam. The moment was particularly special as it marked the one-year anniversary since Damage CTRL was formed at SummerSlam 2022.
Prior to SummerSlam, Asuka held the WWE Women's Championship, having won it by defeating Bianca Belair in May. However, SKY's well-timed cash-in and impressive victory changed the landscape of the women's division and added a new chapter to the ongoing rivalry between Asuka and Belair.
The return of Dakota Kai and the triumph of IYO SKY have undoubtedly injected new excitement and intrigue into the WWE Women's Championship scene. As the story unfolds, fans are eagerly anticipating the future matchups and developments within the Damage CTRL stable and the rest of the women's roster.
#WomensTitle on the line at #SummerSlam … who ya got?! pic.twitter.com/Ujo592xMWG

— WWE (@WWE) August 6, 2023
Who has the advantage in this intense #WomensTitle encounter at #SummerSlam? pic.twitter.com/8LluckPEHJ

— WWE (@WWE) August 6, 2023
WHAT. A. MOMENT.#WomensTitle #SummerSlam pic.twitter.com/PHauV0b7Zr

— WWE (@WWE) August 6, 2023
SHE'S CASHING IN!!!#SummerSlam pic.twitter.com/aIOhDp11rn

— WWE (@WWE) August 6, 2023
IYO SKY IS YOUR NEW WWE WOMEN'S CHAMPION!!!@Iyo_SkyWWE cashed in her #MITB contract at #SummerSlam and we have a Damage CTRL celebration live in Detroit! pic.twitter.com/CQgHeqxrew

— WWE (@WWE) August 6, 2023
La secuencia entera en la que Bianca Belair le gana a Asuka el cinturón y, poco después, canjea IYO SKY. Frenesí. #SummerSlam pic.twitter.com/LO2WixLCXU

— LuigiWrestling (@LuigiWrestling) August 6, 2023
Qué momento para IYO SKY. Una de las mejores luchadoras de todo el planeta tiene su merecido. Qué ganas de que tenga un buen reinado. #SummerSlam pic.twitter.com/aGQBCO59TS

— LuigiWrestling (@LuigiWrestling) August 6, 2023
Hace un año, IYO SKY y Dakota Kai volvían a WWE junto a Bayley para formar Damage CTRL. Un año después, sobreponiéndose a un bookeo difícil, Damage CTRL tiene oro.

Tremendo. #SummerSlam pic.twitter.com/O24CzADQUr

— LuigiWrestling (@LuigiWrestling) August 6, 2023
Stay tuned to WrestlingAttitude, WA.Com On Twitter and Google News for more.
IYO SKY Wins WWE Women's Title At SummerSlam