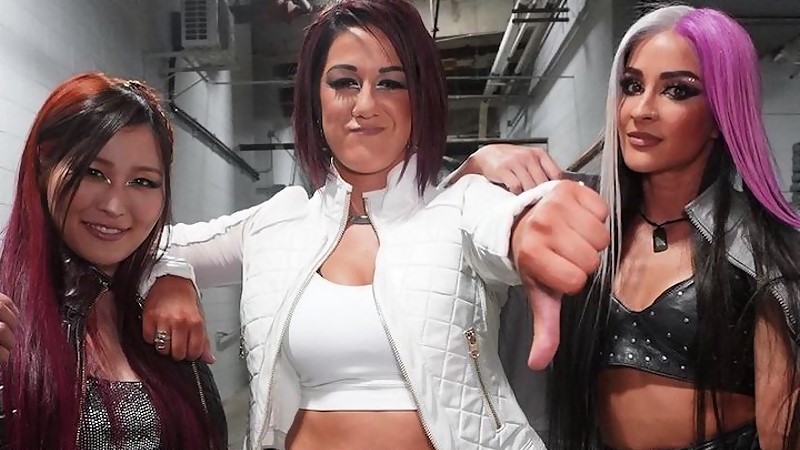 Bayley Says Damage CTRL Still has A Lot Left To Do – Speaking with Alex McCarthy of Inside The Ropes at a media event ahead of WWE Money in the Bank, Bayley was asked to describe how proud she was of Damage CTRL. She made it clear that she's very proud of the group, and they still have a lot left to do.
"I'm so proud. I'm so proud of us. I'm so proud of them. They've been former two-time Women's Tag Team Champions. They've been at WrestleMania, wrestling Trish Stratus and Lita. IYO is in her first-ever Money in the Bank match. They have just impressed me, and I hope the whole world sees how much potential they still have, and we have a lot left to do," Bayley said.
Bayley went on to describe how she, Kai, and SKY have been wrestling for the same amount of time, so rather than her teaching them new things, the group was based around her leading the way, as she already had established herself on the main roster. She also stated that she learns from Kai and SKY every day.
"Dakota, IYO, and I have all wrestled the same amount of time, like 15 years each, which gives us 45 years of experience altogether. So it's not like I'm teaching them anything new. It's kind of like I was in the door already, and I was like, 'Come on, guys, let's go.' It was just one of those things, but I learn from them every single day," Bayley said.
Kai went down with a torn ACL in May, while tension between SKY and Bayley has been building over the last several weeks on WWE TV.
At WWE Money in the Bank, Bayley competed in the Women's Money in the Bank Ladder Match, and IYO SKY emerged victorious.
Bayley Says Damage CTRL Still has A Lot Left To Do