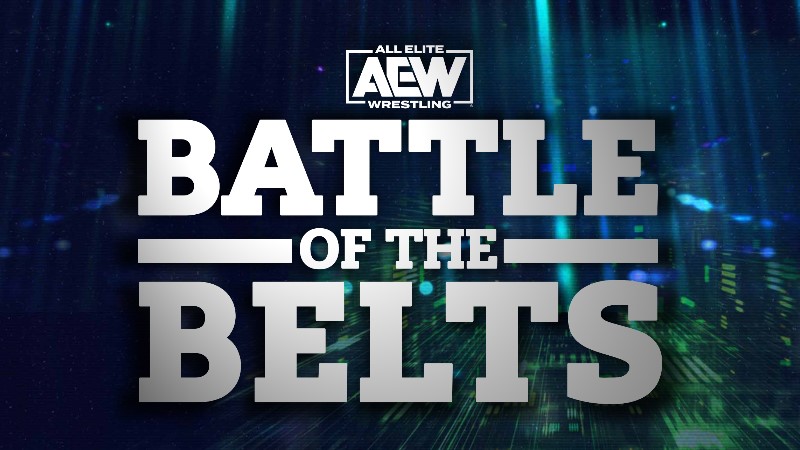 AEW Battle Of The Belts VI – Jim Ross, Tony Schiavone, and Excalibur greet audiences at home as Orange Cassidy and Best Friends head to the ring. La Faccion Ingobernable follows.
AEW International Championship Match
Orange Cassidy vs. Dralistico
Dralistico was joined ringside by his brother, Rush, and others. Cassidy appeared with Best Friends at his side.
It took a few moments, but they broke into fast action until OC took a break to cool off on the floor. Cassidy walked the ropes and did an arm drag with one hand in his pocket.
Everyone who came to the ring with both Dralistico and OC, they all ended up brawling with each other to the back because Jose shoved Cassidy off the top rope at one point. It was down to one on one action between Dralistico and Cassidy. The program cut to a short commercial break from here.
When they were back from break, we saw OC hit Dralistico with cross body press and a Michinoku Driver II for two. The crowd started chanting for Cassidy a bit later. Jose was still at ringside, by the way. Dralistico used a springboard codebreaker on Cassidy for two.
OC reversed a suplex into jawbreaker to tip the match in his favor. The two would start fighting on the top ropes next. Dralistico nailed Cassidy with a big headbutt before taking him down with a wild hurracanrana from one rope to the other, launching Cassidy into the ring. He'd lock OC in La Mistica but couldn't get Cassidy to tap. The crowd chanted more for Cassidy. Cassidy went for the Beach Break but Dralistico reversed it into a Canadian Destroyer for two.
On the floor, Cassidy did the Orange Punch to take out Jose. He'd do the same to Dralistico in the ring moments later, cracking him with a loud Orange Punch that laid Dralistico out for the win. Cassidy retains.
Winner: Orange Cassidy
– Malaki Black appeared on screen afterwards. He said he thought Cassidy quite talented, but he could tell that losing to House was eating him alive. He said that was good, because the House of Black wasn't done with him just yet. Buddy Murphy appeared and said that if they put their titles on the line, why doesn't Cassidy put his title on the line in a match. 
– A promo package for Jay White aired next. It covered what happened between him and Ricky Starks on the latest episode of Dynamite.
Back from the break, we head backstage to Mark Briscoe and Lexy Nair. Nair asks Briscoe how he's holding up after his match with Samoa Joe at "Supercard of Honor", and Briscoe says he's not going anywhere. He says The Lucha Brothers will get the job done before Jay Lethal walks in. He asks Briscoe how long he's known him and says everyone loves him. He asks why they aren't working together since they've known each other for twenty years and Briscoe says he's not sure. He shakes Lethal's hand before Jeff Jarrett, Sonjay Dutt, and Satnam Singh walk in and laugh.
Back at ringside, Billie Starkz heads down. Jade Cargill, Leila Grey, and "Smart" Mark Sterling follow.
Jade Cargill (c) vs. Billie Starkz for the TBS Championship
The bell rings and Starkz slaps Cargill. Cargill responds with a chop and a backbreaker, then follows it up with a Fallaway Slam. Starkz looks to roll up Cargill, but Cargill prevents her from doing so and tosses her out of the ring.
Back from the break, Cargill sends Starkz crashing into the mat. Cargill sets up for Jaded, but Starkz escapes with a hurricanrana and follows it up with a boot that sends Cargill to the outside. She delivers a dropkick to the back of her head, but Cargill fires back with a back elbow and tosses Starkz back into the ring. Starkz delivers a kick, but Cargill whips her into the corner. She charges at her, but Starkz ducks out of the way and Cargill collides with the ring post. Starkz delivers a flatliner and ascends to the top, then looks for a Senton Bomb. Cargill gets her knees up and sets up for Jaded, but Starkz escapes. Cargill then delivers a pump kick and Jaded for the win.
Winner (and still): Jade Cargill
As Cargill celebrates hitting 55-0, Taya Valkyrie's music hits and she heads down. Cargill meets Valkyrie, and Valkyrie attacks her. She gets her in the ring and sets up for Road to Valhalla, but Cargill escapes and retreats alongside Grey and Sterling.
We head backstage to Alex Abrahantes. He barges into The Elite's locker room and asks Brandon Cutler for an update on The Elite. Cutler says he and Michael Nakazawa are the only men in the dressing room. He calls Blackpool Combat Club bullies and asks what you do when the people who stand up to bullies are gone. He says you stand up to them yourself. Nakazawa chimes in and says no more.
When the show returned from commercial break, The Lucha Bros. and QT Marshall & Will Hobbes spoke with Mark Henry ahead of the match. Pentagon said the Lucha Bros were the best tag team in the world.
ROH Tag Team Championship Match: The Lucha Bros. (c) vs. Powerhouse Hobbes & QT Marshall
ROH's Caprice Coleman joined the AEW commentary team for this match. 
Fans chanted for Pentagon before action got underway. Penta did CIERO MIEDO in Marshall's face a few times. The crowd chanted "Q-T SUCKS!" They sounded like they enjoyed booing him. The two had another wobbly exchange before Marshall tagged out to Hobbes, who quickly ate a foot in the face from Rey Fenix on the opposite side of the ring. When Hobbes went for a lariat, he missed and decked Marshall, knocking him to the floor. Fenix caught him with a suicide somersault Denton through the ropes.
The crowd got behind the Lucha Bros. later in this, as Hobbes and Marshall took the upper hand and put the boots to Fenix. More chants of "Q-T SUCKS!" broke out.
Fenix nailed Marshall with a super kick and tagged out. Penta and Hobbes traded chops. Marshall and Hobbes then took Penta out with a double shoulder block before the match went to commercials.
Marshall and Hobbes were in control until the commercial break was over. Penta hit an enzuigiri kick but Marshall got involved and neutralized Penta for a moment. Later, Penta laid Marshall out with a sling blade before putting Hobbes down with a backstabber before finally tagging out to Fenix.
Fenix came in and cleaned house. Huge rolling savate kick in the corner before an assisted springboard hurracanrana. He and Penta worked in some double-team offense to try and put Marshall away. Fenix landed a splash onto Marshall but Hobbes broke up the count. Marshall did a handspring kick and would later take Penta out with a Diamond Cutter. Fenix reappeared with a Code Red. Everyone was sold like they were KO'd for a few moments.
Penta and Hobbes got into it when the guys were back to their feet. They traded hard shots. The Lucha Bros would gang up on Hobbes and take him down before a super-assisted splash on Hobbes and a Canadian Destroyer on Marshall. Fenix only earned a two-count. Hobbes powered up and took the Lucha Bros out with huge lariats.
Fenix rebounded and caught Marshall with a ricochet kick to take Marshall out. The QTV people started jumping up and down, and they'd take Alex Abrahantes out on the floor. Marshall misted Fenix and pinned him with his foot on the ropes but Fenix counted out again. He'd finally score the win with a hurracanrana on Marshall for the win. The Lucha Bros. retain their titles.
Winners: The Lucha Bros.
We go to credits.