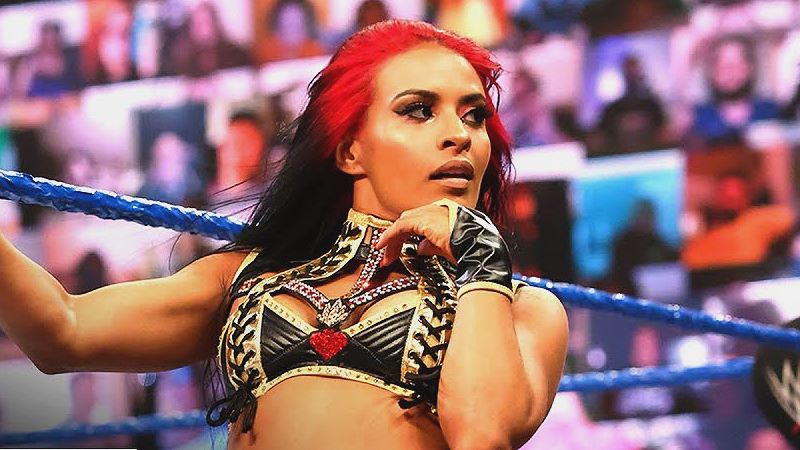 Zelina Vega was sidelined for several months because of a ruptured breast implant in 2022.
During a recent appearance on Anna Faris Is Unqualified, Zelina Vega spoke about why she was absent from WWE for several months in 2022. After asking if she preferred to be called Thea (her given name) or Zelina (her ring name), Zelina said that either one was fine. She then shared that she had surgery and was sidelined for several months, so she had to get used to hearing 'Zelina' when she came back.
"I'm used to hearing Thea, but as of more recently — I had a surgery in May [2022]. So from May to October I was gone and in recovery, so I hadn't heard Zelina in a while. Now I'm hearing it again and I'm like, "Oh, OK.'
Faris asked if she was injured in the ring, and Zelina shared how she ruptured a breast implant taking a suplex.
"And honestly, it never happens off of some cool move or some crazy flip I did outside of the ring, it's always the littlest thing and that's how you get injured. Knock on wood, I actually hadn't had any serious injuries until that point and it wasn't even really that bad. It's — this is silly, but one of my best friends and I were in a match and she had given me this move called a Northern Lights suplex. Basically she flips me over her backwards and her shoulder when into my chest and I ruptured an implant. But me of course, looking on the bright side, I was like 'well, they are ten years old anyway' and I kinda wanted them bigger anyway, so it ended up working out."
PWInsider originally reported Zelina Vega was sidelined in May due to "an in-ring injury that required surgery." Her last match until that point was a loss to Bianca Belair on the April 11, 2022 episode of WWE RAW. Vega made her televised return on October 7 as an ally of Legado del Fantasma, and competed in her first match since the injury on December 2, 2022.
Zelina Vega Ruptured Breast Implant