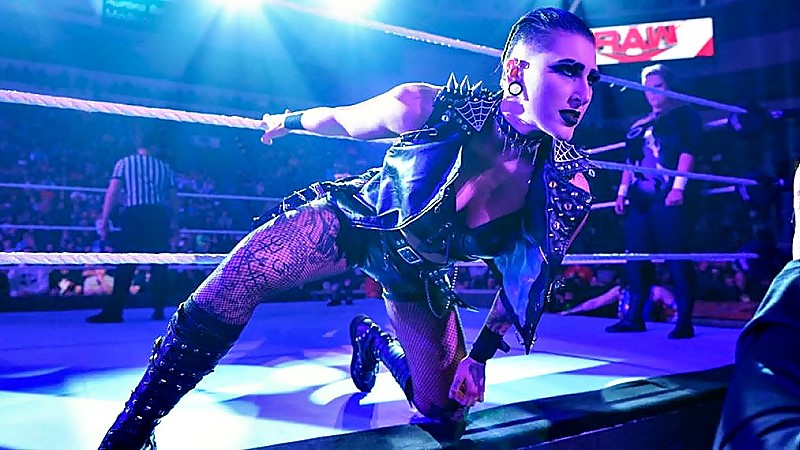 Rhea Ripley Wins WWE Royal Rumble 2023 – Tonight's WWE Royal Rumble Premium Live Event featured the 30-Woman Royal Rumble Match. The match came down to Ripley, Liv Morgan and Asuka with her new gimmick.
Asuka spit her mist but Ripley ducked, and Morgan was blinded. Ripley eliminated Asuka, then fought with Morgan until eliminating her for the win. Ripley entered the match at #1, while Morgan entered at #2.
The biggest surprises and returns in the match were Chelsea Green, Natalya, Piper Niven coming out and no longer using the Doudrop name, Michelle McCool, and Nia Jax, who entered at #30. WWE NXT was represented by Zoey Stark, Indi Hartwell, and NXT Women's Champion Roxanne Perez.
Ripley has now earned a title shot at WrestleMania 39, but that match has not been confirmed as of this writing.
Below are the orders from tonight's Women's Royal Rumble Match, along with photos and videos:
ENTRANTS:
1. Rhea Ripley
2. Liv Morgan
3. Dana Brooke
4. Emma
5. Shayna Baszler
6. Bayley
7. "B-Fab" Briana Brandy
8. WWE NXT Women's Champion Roxanne Perez
9. WWE Women's Tag Team Champion Dakota Kai
10. WWE Women's Tag Team Champion IYO SKY
11. Natalya
12. Candice LeRae
13. Zoey Stark
14. Xia Li
15. Becky Lynch
16. Tegan Nox
17. Asuka
18. Piper Niven
19. Tamina Snuka
20. Chelsea Green
21. Zelina Vega
22. Raquel Rodriguez
23. Mia Yim
24. Lacey Evans
25. Michelle McCool
26. Indi Hartwell
27. Sonya Deville
28. Shotzi
29. Nikki Cross
30. Nia Jax
ELIMINATIONS:
1. "B-Fab" Briana Brandy, by Rhea Ripley
2. Dana Brooke, by Damage CTRL
3. Emma, by Dakota Kai
4. Roxanne Perez, by Damage CTRL
5. Natalya, by Damage CTRL
6. Shayna Baszler, by Damage CTRL
7. Candice LeRae, by IYO SKY
8. Tegan Nox, by Asuka
9. Chelsea Green, by Rhea Ripley
10. Dakota Kai, by Becky Lynch
11. IYO SKY, by Becky Lynch
12. Becky Lynch, by Bayley
13. Bayley, by Liv Morgan
14. Xia Li, by Zelina Vega
15. Tamina Snuka, by Michelle McCool
16. Zoey Stark, by Sonya Deville
17. Zelina Vega, by Lacey Evans
18. Indi Hartwell, by Sonya Deville
19. Nia Jax, by 10 other Superstars
20. Lacey Evans, by Raquel Rodriguez
21. Sonya Deville, by Asuka
22. Michelle McCool, by Rhea Ripley
23. Shotzi, by Mia Yim
24. Mia Yim, by Piper Niven
25. Piper Niven, by Raquel Rodriguez
26. Raquel Rodriguez, by Rhea Ripley
27. Nikki Cross, by Liv Morgan
28. Asuka, by Rhea Ripley
29. Liv Morgan, by Rhea Ripley
Winner: Rhea Ripley
1️⃣: @RheaRipley_WWE #RoyalRumble pic.twitter.com/usLa1l3ZqC

— WWE (@WWE) January 29, 2023
2️⃣: @YaOnlyLivvOnce #RoyalRumble pic.twitter.com/lJ8BW6IrwD

— WWE (@WWE) January 29, 2023
3️⃣: @DanaBrookeWWE #RoyalRumble pic.twitter.com/9hzzwObYzV

— WWE (@WWE) January 29, 2023
4️⃣: @EmmaWWE #RoyalRumble pic.twitter.com/AnsPBNcUlW

— WWE (@WWE) January 29, 2023
5️⃣: @QoSBaszler #RoyalRumble pic.twitter.com/suawytBszz

— WWE (@WWE) January 29, 2023
The champ is at #RoyalRumble 🙌 https://t.co/cYRoGxTn8i

— WWE NXT (@WWENXT) January 29, 2023
1️⃣0️⃣: @Iyo_SkyWWE #RoyalRumble pic.twitter.com/1PJWirTRdZ

— WWE (@WWE) January 29, 2023
1️⃣1️⃣: @NatbyNature #RoyalRumble pic.twitter.com/oj8cXz2rue

— WWE (@WWE) January 29, 2023
1️⃣2️⃣: @CandiceLeRae #RoyalRumble pic.twitter.com/Xar7AsuoIu

— WWE (@WWE) January 29, 2023
1️⃣3️⃣: @ZoeyStarkWWE #RoyalRumble pic.twitter.com/8U6gThbJsu

— WWE (@WWE) January 29, 2023
1️⃣4️⃣: @XiaWWE #RoyalRumble pic.twitter.com/6YbYMhOQlE

— WWE (@WWE) January 29, 2023
1️⃣5️⃣: @BeckyLynchWWE #RoyalRumble pic.twitter.com/3rtKXd1DYa

— WWE (@WWE) January 29, 2023
1️⃣6️⃣: @TeganNoxWWE #RoyalRumble pic.twitter.com/IXa6QBglNG

— WWE (@WWE) January 29, 2023
1️⃣7️⃣: @WWEAsuka #RoyalRumble pic.twitter.com/qMtgHZxGud

— WWE (@WWE) January 29, 2023
Take a look at @WWEAsuka! 😲

All competitors in the Women's #RoyalRumble Match have taken notice. pic.twitter.com/QS87HfXrPX

— WWE (@WWE) January 29, 2023
1️⃣8️⃣: Piper Niven #RoyalRumble pic.twitter.com/V3bTh3z7Wy

— WWE (@WWE) January 29, 2023
1️⃣9️⃣: @TaminaSnuka #RoyalRumble pic.twitter.com/Ghw5iTG1vc

— WWE (@WWE) January 29, 2023
2️⃣0️⃣: @ImChelseaGreen #RoyalRumble pic.twitter.com/iEbOsoMGNh

— WWE (@WWE) January 29, 2023
.@ZelinaVegaWWE lends her voice and personality to the Real Time Commentary Feature as a Color Commentator. Listen to her hype up the crowd when @StreetFighter 6 launches on June 2, 2023! pic.twitter.com/m5kqBalmW5

— WWE (@WWE) January 29, 2023
2️⃣0️⃣: @ImChelseaGreen #RoyalRumble pic.twitter.com/iEbOsoMGNh

— WWE (@WWE) January 29, 2023
2️⃣1️⃣: @ZelinaVegaWWE #RoyalRumble pic.twitter.com/Yh74pXchOm

— WWE (@WWE) January 29, 2023
We just witnessed the FASTEST elimination in the history of the Women's #RoyalRumble Match!!!@ImChelseaGreen was immediately thrown over the top rope by @RheaRIpley_WWE in a shocking moment! pic.twitter.com/jKw9DuWjBv

— WWE (@WWE) January 29, 2023
2️⃣2️⃣: @RaquelWWE #RoyalRumble pic.twitter.com/BY0Qv5lqSj

— WWE (@WWE) January 29, 2023
2️⃣3️⃣: "Michin" @MiaYim #RoyalRumble pic.twitter.com/KLRCF6EpHO

— WWE (@WWE) January 29, 2023
2️⃣3️⃣: "Michin" @MiaYim #RoyalRumble pic.twitter.com/KLRCF6EpHO

— WWE (@WWE) January 29, 2023
2️⃣4️⃣: @LaceyEvansWWE #RoyalRumble pic.twitter.com/8Ty1RYZfca

— WWE (@WWE) January 29, 2023
2️⃣5️⃣: @McCoolMichelleL #RoyalRumble pic.twitter.com/g4p4q8UUqt

— WWE (@WWE) January 29, 2023
2️⃣6️⃣: @indi_hartwell #RoyalRumble pic.twitter.com/ZlSTlKtLxy

— WWE (@WWE) January 29, 2023
2️⃣7️⃣: @SonyaDevilleWWE #RoyalRumble pic.twitter.com/2KLKFxzriK

— WWE (@WWE) January 29, 2023
2️⃣8️⃣: @ShotziWWE #RoyalRumble pic.twitter.com/hfs8Krp0gH

— WWE (@WWE) January 29, 2023
2️⃣9️⃣: @WWENikkiCross #RoyalRumble pic.twitter.com/sKEWraxWsM

— WWE (@WWE) January 29, 2023
3️⃣0️⃣: Nia Jax #RoyalRumble pic.twitter.com/PlQp8XJeHp

— WWE (@WWE) January 29, 2023
SHE'S NOT LIKE MOST GIRLS … AND SHE'S BACK!!!

Nia Jax is entrant number 3️⃣0️⃣ in the Women's #RoyalRumble Match! pic.twitter.com/9s5BKpvmhP

— WWE (@WWE) January 29, 2023
RIPTIDE TO NIA JAX!@RheaRipley_WWE wows us all in the 2023 Women's #RoyalRumble Match! pic.twitter.com/0WydgHhhnQ

— WWE (@WWE) January 29, 2023
#RoyalRumble just became RHEA RUMBLE!@RheaRipley_WWE has won the Women's Royal Rumble Match from the number 1️⃣ spot and now … MAMI IS GOING TO #WRESTLEMANIA!!! pic.twitter.com/5zWrk4QwKN

— WWE (@WWE) January 29, 2023
Rhea Ripley Wins WWE Royal Rumble 2023