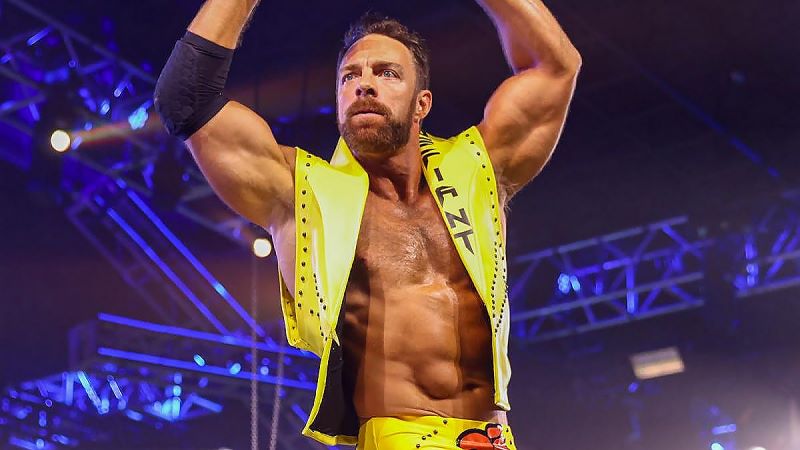 LA Knight Talks Sharing The Ring With Undertaker – LA Knight made an appearance on Chris Van Vliet on Insight to discuss a wide range of topics.
During it, Knight spoke about sharing the ring with The Undertaker on WWE RAW 30 this past week, where Taker grabbed him by the throat and tossed him to Bray Wyatt, who laid him out with Sister Abigail.
"Well, I'll tell you what, he was about this close to get the slap right in the mouth, but I decided to spare him. But I'll tell you the truth. It's funny because you always hear the cliché when you're standing in that ring, and that bell tolls. You know, it's chills. And I'm like, sure. Once that hit, it was chills, it was pretty wild. But at the same time to be standing there and doing my thing, and to be very recognised. That audience was right on top of everything I had to say even with The Undertaker in the ring. So I mean, that's a big feather in my cap as far as I'm concerned. And at the same time, you know, looking at a guy who's undoubtedly a legend, Hall of Famer, crazy, crazy night leading into this Royal Rumble."
LA Knight Talks Working With Bray Wyatt
LA also spoke about working with Bray Wyatt for the past few weeks. Knight and Wyatt will wrestle in a Pitch Black match at the Royal Rumble.
"Well, for sure. Because look, here's this big anticipated return. Everybody's like, oh well Bray Wyatt is coming back, ain't that's special. And for me. I'm looking at LA Knight's here, and people were worried about Bray Wyatt. That's fine. That's cool. I get that. But then he walks in on my territory. If you remember the very first interaction, I didn't go talk to him. I didn't go look for him. He came looking for me. So I don't know, in a sense, it's like, okay, well, people have this big grandiose idea of him, they think he's amazing. And he's this and he's that, whatever he is. I'm just thinking he ain't LA Knight. So at that point, it's like, alright, well, I'm gonna stand here across the ring from this guy, and I'm gonna look him in the eyes, and I'm gonna be way, way bigger than him. And I ain't talking physically, we're talking figuratively in the sense that I'm going to be to a level that if he's going to walk into my arena, I'm gonna make sure I'm the one that people remember. I want to make sure that I'm the one that people think about, I'm going to make sure that I'm the one that shines above and beyond as bright as I can."
On him sounding like The Rock:
"Well, you know what's so funny is as I go online, you know, and Twitter might be the worst thing in the world, the amount of people I've been compared to and said that I am is astounding and every day I'll see a new one. I'll just be like, 'Wait, who?' So yeah, it's not surprising. Sometimes you would just hear my voice or you'd hear his voice and it would be tough to tell who was who until the person's face came on screen and you're like, oh, yeah. But I don't know. I don't think otherwise there's a whole lot alike. It's just my normal speaking voice. But like, I don't think that, once I actually get amped up or anything like that, I think I kind of lose it at that point."
On the difference between LA Knight and Eli Drake:
"To be honest, there really isn't. They are one and the same. The funniest thing is a lot of times, again, from social media, they are like, 'Oh I miss Eli Drake.' I'm like, 'You dummy, it's the same thing. It's the exact same thing. LA Knight is Eli Drake. Eli Drake is LA Knight.' So you know, look, use what brought you to the dance. I know what brought me to the dance and I'm doing a little dancing with it. That's what I'm doing right now. So the idea that anybody thinks it's any different just because they changed some letters around?"
On if there's a difference between LA Knight and Max Dupri:
"Oh boy, who? Night and damn day. Very much so. We couldn't be more opposite ends of the spectrum."
On the change from Max Dupri back to LA Knight:
"There's an undeniable thing there where it's like you get told that well, you know, if you want to go legit, maybe you should think about trying this or that. In my head, I'm like alright, let me just go ahead and do what I need to do to get ahead here, and so that's what I do for a minute. But at some point, eventually I got to come to terms with the fact that I can't be anything other than myself." 
LA Knight Talks Sharing The Ring With Undertaker