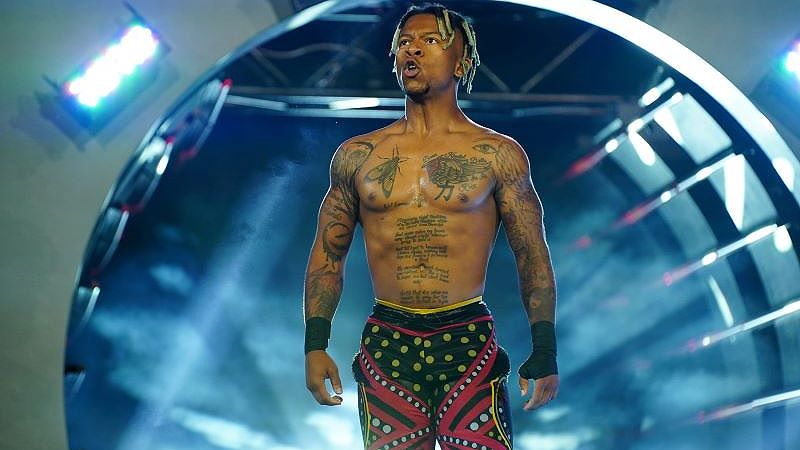 The wrestling community is criticized in one way or another, be it by individual performers, promotions, or even wrestling in general. Sometimes it is justified, but sometimes, unfortunately, it is not. Still, today we would like to talk specifically about criticism of specific wrestlers, who, more often than not, do not deserve such treatment. At the same time, people who badmouth these performers refuse to think critically. Instead, they make either their own unproven and simply stupid claims or someone else's opinion that they have heard elsewhere, which is to their liking, regardless of whether it is adequate.
So, let's look at the most common cases of unwarranted cheating in wrestling. If you want to participate directly in the game, then online cricket betting in India is worth your attention.
In our list, you can see:
Leo Rush;
Bailey;
Young Bucks.

Leo Rush
It's a hilarious and absurdly strange situation with Lio. Surely those who don't follow independent promotions know Lio Rush from that ill-fated Powerbomb "no-sell" from the ladder to the table.
Wrestling fans are somewhat reverent about the "no-sell" in wrestling because it can make you fly off your chair from a surge of emotion during the match, and it is from it that the quality of the fight can suffer greatly. Katsuyori Shibatu and Tomohiro Ishii are considered masters of this aspect of match construction. The saddest part is that although not everyone can handle this technique well, there are a lot of people who use it. Unfortunately, this time Leo "couldn't do it. However, what's the big deal? Did one moment like that hurt pro wrestling in any way? Or has Rush become repetitive? Of course not, but the community couldn't take the news lightly and started throwing a lot of insults and accusations of "killing wrestling" at Leo. What made things worse was that after Emma quit WWE, Rush posted a not lovely tweet about Leo, teasing her about leaving. Then another barrel of garbage was poured on Leo from fans and various wrestlers.
Young Bucks
Young Bucks is probably one of the most controversial teams of our time. This conclusion can be made because the Jackson brothers are often subjected to criticism, which, in most cases, is challenging to call reasoned or at least adequate. From the average wrestling fan to Jim Cornett, many dare to express their displeasure with Matt and Nick. What are the brothers so often disliked for?
Well, of course, leaving aside the obvious points about the abundance of spots in their matches and the lack of any psychology, the Bucks are often blamed for allegedly killing the legitimacy of the "Superkick" technique, often going overboard with the comedy of their fights, and, again, "killing modern wrestling."
First of all, I would like to say that the notorious spot wrestling is not something wrong. We live in a time when wrestling is incredibly versatile. We have Lucha libre, which originated in Mexican promotions. We have American wrestling, which is now the most popular in the world. And, of course, we have British (although it's not much different from the usual American) wrestling, which began to gain popularity long ago. In principle, the list could go on. Given that fact, it's easy to conclude that what Young Bucks usually shows is also quite entitled to exist because it is not (and never will be) the only kind of wrestling.
Bailey
Bailey is one of the most prominent examples of how the main roster can disgustingly treat NXT talent. A better example is probably only Semi-Zane.
It's apparent to almost every sane person that the yellow brand is doing a much better job than the core. And it's not even about the quality of the fights, but the wrestlers' use. Anyone who was even slightly into women's wrestling on NXT remembers that great storyline of Bailey and Sasha Banks for the Women's Championship. From some of the best women's matches in history to equally memorable promos. That's where the revolution was, not at the base, where the girls didn't care. At that point, Bailey became the true female face of NXT, adored by almost everyone.
Even the end of the underdog story didn't ruin the character or the storyline itself. Usually, when stories like this end in triumph, things soon descend into hackneyed bookers as ideas trivialize. On the other hand, Raine Bailey didn't, as we got a good match with Naya Jax after that, as well as great bouts with Asuka, which also came with a decent storyline.
After his debut at the base, Bailey was going more or less well for Bailey at first. Then that one was shown as a weak face, unable to beat Charlotte for the title on her own; after that, she was used as fodder to elevate Alexa Bliss to the top of the women's division.
And as befits an "understanding" community, the criticism of the Hugger's Lover came during the disgusting use by the bookers. The claims were often based on the fact that Bailey's mick-skill was relatively weak, and her charisma didn't show.
The problem wasn't even that everyone weak on micro and charisma (hello Cesaro, who a considerable fan base wished (and still does) for a world title push, but that if you look back at everything that happened with Bayley in NXT, you'd be stupid to say that she deserved that position because of her poor micro-skill and charisma. Did her ability on the mic prevent her from reading good, emotional promos? Did her lack of proper appeal keep viewers from believing Bailey's character and cheering for him with all her might? Did all of this prevent her from engaging in great storylines and fights?
Zack Saber Jr.
Outside of WWE, there aren't many wrestlers who get undeserved criticism. It is mainly because the viewers there are pretty sensible about who to root for and who not to root for and because there are far fewer terrible wrestlers than in WWE. However, there is still one person who has made it to the top, thanks to the condemnations in his direction. The criticism of Zack Saber Jr. reminds me something of criticism of NJPW or just individual wrestlers with specific styles of wrestling. Saber belongs to just such a group. The lack of understanding of particular styles, in general, is one of the main problems of the wrestling community. Often believing that they, the critics, know best, they judge the British wrestler for his boring matches, his chemistry, pain, and other classic English wrestling stuff, and the fact that watching his fights makes you sleepy.
If we talk about the pluses of Zak's style, it's not just a flat clinch and painful half-hour wrestling itself, but it is a speedy, full of reverses, tricks "out of nowhere" action, unfortunately not everyone can show. However, if you take G1 Climax 27, you can find many suitable matches. Against Kota Ibushi, against Tomohiro Ishii, against Hiroshi Tanahashi, against Yuji Nagata, and so on. Even the IWGP Inter-Continental Title bout with Tanahashi was decent, even if it involved some overbooking.