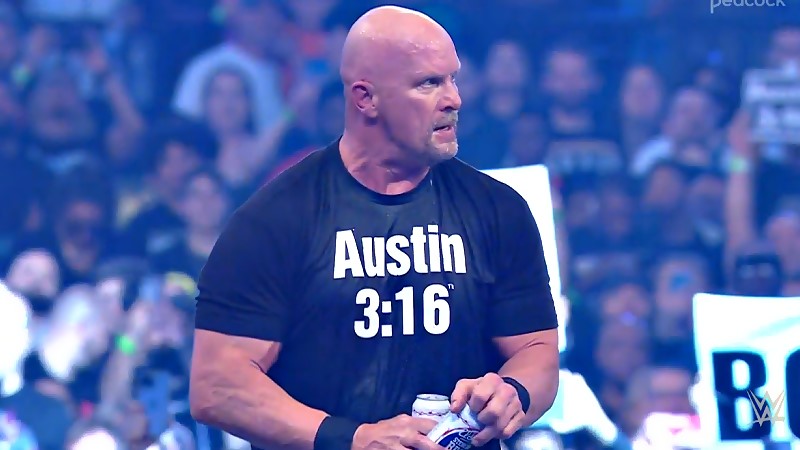 Kevin Owens and Steve Austin closed Night One of WrestleMania 38, with Owens admitting to Austin that he tricked him in the build-up to tonight's event.
Owens didn't want to talk, rather, he wanted to challenge Stone Cold to his first match in 19 years. Austin said that he had his first match in Dallas and then asked the crowd if he should have his last one in Dallas as well. After a roaring 'Hell Yeah,' Austin called for a ref and a No Holds Barred Match was underway.
Austin dominated Owens early on, stomping mudholes and walking them dry in every corner. The fight then went to the outside, where Owens regained some control, but Austin fought back, throwing KO through a table. All along the way, Steve Austin made sure to stop for plenty of beer breaks. The two men then went into the crowd and onto the stage before finally re-entering the ring for the final stretch. After Austin kicked out of a Stunner from Owens, he delivered one of his own after Owens hit himself in the head with a chair after it bounced back off of the ropes. With that Stone Cold Steve Austin won his first match in nearly two decades.
After the bell, Austin celebrated with a couple of cases of beer, even bringing his brother into the ring for a drink. Owens was escorted out to the back by Dallas police as Austin celebrated with a lot of beer. Austin grabbed the mic and said it's good to be from Dallas, Texas because that's the bottom line, Cause Stone Cold Said So.
Austin invited Byron Saxton into the ring so they could drink and so he could give Saxton the stunner.
In some related news, Wrestling Stats & Info reports that the stunner delivered to Byron Saxton at the end of the night, was the 30th Stone Cold Stunner that Austin delivered at WrestleMania in his career.
Steve Austin Wrestled In A No Holds Barred Match At WrestleMania 38