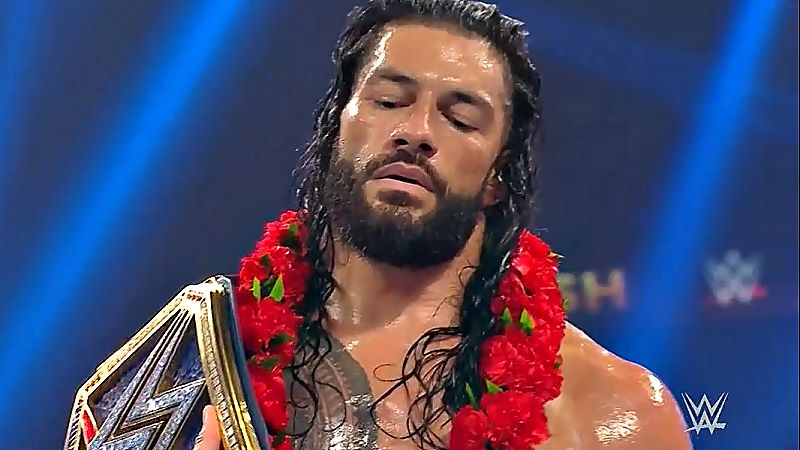 Roman Reigns opened up about his decision to step away from WWE for several months in 2020 during the COVID-19 pandemic while speaking to ESPN.
Reigns was scheduled to challenge Goldberg for the Universal Championship at WrestleMania 36 in 2020. Reigns, who is a leukemia survivor, made the call to pull himself from the match, Braun Strowman replaced him against Goldberg. Also, Reigns' wife Galina was also pregnant with twins.
Reigns stated his conversation with Vince McMahon about stepping away "wasn't a good one." He noted that WWE didn't have enough info about the virus and didn't have a proper protocol for protection so he thinks he made the very smart choice of stepping back and seeing where things went.
When Reigns did make his return in August 2020, he aligned with Paul Heyman before winning the Universal Title. He came back with his new "Tribal Chief" heel character.
ESPN wrote that "both Reigns and Heyman said they might not have returned to WWE unless they were given permission by WWE CEO Vince McMahon to execute this story in a mostly unscripted fashion."
Reigns stated about the "Tribal Chief" character: "I just kept going back to 'power.' I just want to be viewed as the most powerful superstar of all time, when it comes to WWE and sports entertainment. I just really wanted to convey this portrait of strength. Almost like a Mafia-style power. Not only is it respect, but they fear me."
Reigns stated that while he does have a writer, it doesn't necessarily mean that he wants to use what was suggested or even look at it.
Reigns will meet WWE Champion Brock Lesnar in a winner take all title unification match at WrestleMania 38 night two this Sunday.