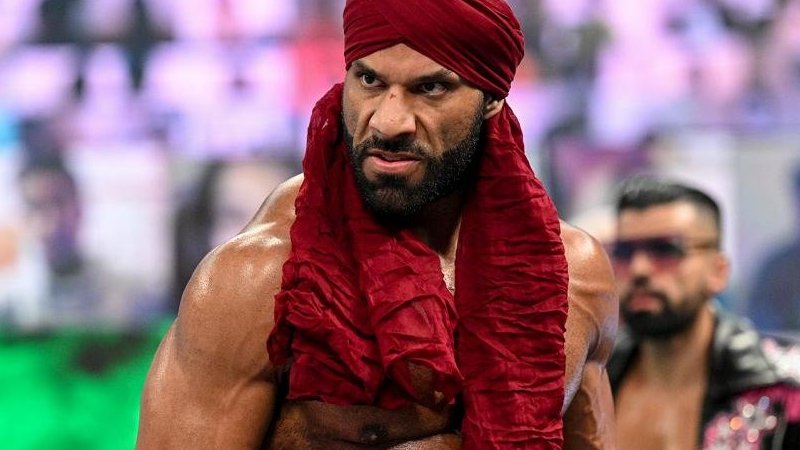 Jinder Mahal spoke with AJ Singh of "The Wrassingh Show" podcast. The following highlights were sent to us:
What does the Andre the Giant Memorial Battle Royal mean to you, and how do you feel about the match taking place on "WrestleMania SmackDown," instead of the actual Wrestlemania PPV?
"Yeah, I would love to be on WrestleMania itself but unfortunately, I mean there's so many, so many big matches. It's a little bit difficult to get on. Hopefully, next year I get on but this year we have the 'Andre the Giant' memorial battle royal. It's actually very big. It's big for me, I've been wanting to to win the Andre battle royal since the very first one, which I was in! If you look at all the past winners.. I mean there's some big, big names – everyone from Baron Corbin to Big Show to Cesaro, and I think when it's all said and done, when I retire, it would be a great accomplishment to have – WWE champion, United States champion, hopefully Intercontinental champion, hopefully tag team champion and also Andre the Giant memorial battle royal winner.
If it comes down to you and Shanky in the Battle Royal, do you expect Shanky to sacrifice himself for your sake?
"So Shanky has been avoiding me all week because he knows that I'm going to ask him to possibly sacrifice himself but actually, you know what? I probably won't, because just as badly as I want to win, Shanky wants to win it himself!
Also, he's young in this, in WWE and winning something like 'Andre the Giant' battle royal will launch his career. So if Shanky wins, I would be just as happy as if I won!"
What can fans expect from the returning Veer Mahaan, who will be making his highly anticipated return on the RAW after WrestleMania? Do you expect to meet him as a friend or foe, the next time you share a ring?
"I would hope we meet as friends [laughs]. So Veer has been coming for months and months but if you look on Veer's instagram or his twitter, you can see the transformation that he's made. He has been working out very hard, dieting. The veer Mahaan that you've seen with me on RAW, when we were on RAW about six months ago, Me, Veer and Shanky – is completely different! I've been watching all of his matches, he's completely changed, completely changed his move set, his aggression, his body! So I'm actually very looking forward to Veer's debut and he's going to impress a lot of people and he's going to be a serious, serious threat on RAW or on SmackDown. I believe he's going to be on RAW, hopefully but hopefully, Veer remembers all the tips, advice that I gave him and we stay friends!"
When can fans expect WWE to return to India?
"Yeah, hopefully we return with WWE very soon. Unfortunately, because of covid situation, we haven't been able to come but I think we're nearing the end of it, hopefully. Hopefully, everybody's safe and healthy and we could come back."
How do you feel about Triple H's retirement?
"As far as Triple H, I mean uh honored to be able to share the ring with him. I believe that was probably one of his last matches [ Jinder vs Triple H in New Delhi, India] that he's had and I'm just glad that he has his health and he's in good spirit and what an awesome career, spending so many years, so many top-level matches, so many WrestleMania main events! Just an iconic figure in WWE. Not only what you see in television but backstage, super, super helpful. [Triple H] Launched so many careers, helped so many people, was an honor to share the ring with Triple H."
Post WrestleMania 38, what plans do you have for yourself and Shanky? Do you want to go for the tag team titles or perhaps, the world title again?
"So my goal is to become a grand slam champion! In doing so, I need to win the intercontinental champion, which is Ricochet. I need to beat Ricochet essentially, right now. And then also the tag team championship, which will either be the USOS or Rick Boogs and Shinsuke Nakamura at Wrestlemania.
We'll see but definitely, I want to win the tag team championships. I've been working with Shanky, getting his body right, telling him how to diet, helping him in the ring.. So hopefully soon!"