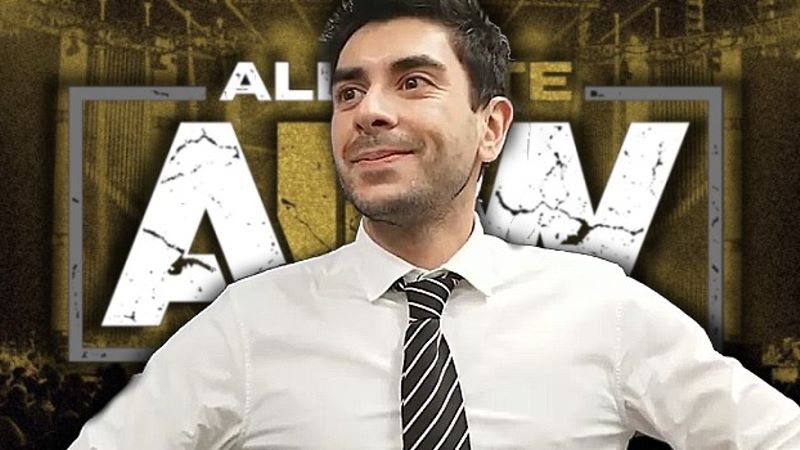 As noted, Tony Khan is set to make another "huge announcement" regarding AEW during tonight's episode of Dynamite.
While fans await what the news could possibly be, an update from PWInsider gives some advice on how viewers might want to approach the news. It's noted that the "hardcore fans" will really enjoy what is announced but tempering expectations is also necessary.
Since the announcement was first advertised last week, many reports have emerged that point towards a possible AEW – NJPW supershow. Dave Meltzer added that since he heard of the AEW/NJPW Supershow rumors, he asked AEW about them. While AEW did not confirm the show to Meltzer, they did not issue a denial at that time either.
During this year, AEW and New Japan stars have both teased working against each other. In January, Kazuchika Okada brought up publicly his desire to wrestle CM Punk, as well as fellow AEW star Bryan Danielson.
CM Punk responded to Okada's comments by tweeting at Okada the address for the United Center, telling Okada to see him there.
New Japan's upcoming show in Washington D.C. has also begun forming and looks to feature a number of unconfirmed AEW/NJPW crossover matches, including Jon Moxley vs. Hiroshi Tanahashi, Minoru Suzuki vs. Brody King, and Eddie Kingston vs. Tomohiro Ishii.
There's also been talk of Tony Khan possibly announcing a TV deal for Ring of Honor (ROH), or a streaming deal for AEW content.
In an interview with Scott Fishman of TV Insider, the AEW boss teased his latest news by stating that it's unique and different from anything the company has promoted before.
"I think this surprise is different than anything we've promoted before," said Khan. "We've had a lot of great surprise moments in AEW. A lot of special nights on Dynamite. Without giving too much away, I think this is a unique announcement. I'm excited about this as anything we've worked on.
When asked about his thought process about promoting an announcement ahead of time, Khan explained that he believes this announcement will generate a lot of intrigue, so it deserved plenty of fanfare.
"I think there will be a lot of interest in this announcement," said Khan. "Given the amount of intrigue I think it will create, I thought it would be good to promote a big surprise coming to Dynamite. This is the kind of announcement that deserves a lot of fanfare."