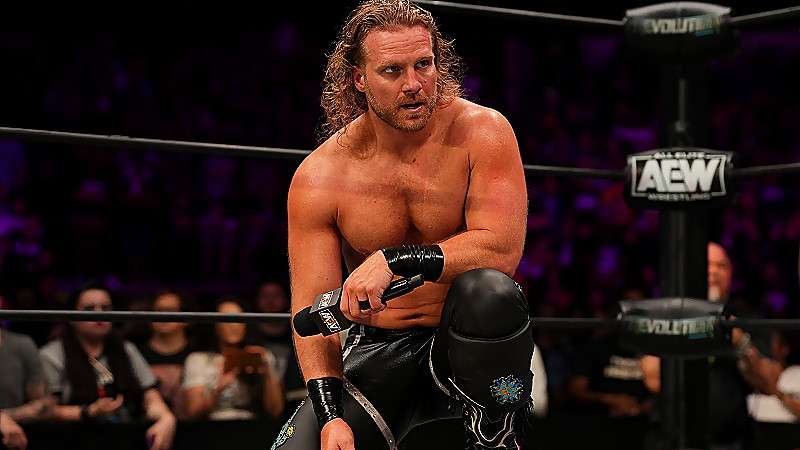 AEW Champion "Hangman" Adam Page was on "Insight with Chris Van Vliet" this week to discuss his wrestling character, his wrestling mentor, and what AEW match he is most proud of.
Page was asked how much of a difference is there between himself and his wrestling character:
"All of me is the character," Page said.
"It's very weird and difficult to do, but it is also cathartic, like this is sh*tty, but this is me."
"I have never been a perfect person, but I just put it out there," he continued.
On when the first time he realized he could make a living in the wrestling business:
"When I started out with ROH, I was not making a living from it, and that took a while. I was teaching during the week and wrestling on the weekends, but the money started to add up."
"Once I knew I was joining Bullet Club and I was going to start touring with New Japan, I kind of knew then. I wasn't making enough for a living, but my deal would be up at the end of the year. If I'm going to Japan, I will get some sort of a salary and make a living. This was in April or May of that year," Hangman shared.
"So I wrapped up the school year and would tell them I would be done. Thank God for the salary or I would have been done."
Page said he didn't really have a mentor in wrestling:
"I don't really think I have had a mentor. I would say that I looked up to The Young Bucks while I was in Japan."
"So I learned a lot from them in some ways and from Kenny Omega, but I have never really had a mentor in wrestling."
On which AEW match he is most proud of:
"Probably the 60 minutes with Bryan, mostly because I wrestled for 60 minutes. I thought I might die," he said. "60 minutes is a long time to do anything. I thought I might perish but I got through it."
"But then there is also the match with Kenny against The Bucks, and winning the title. Those are the three."