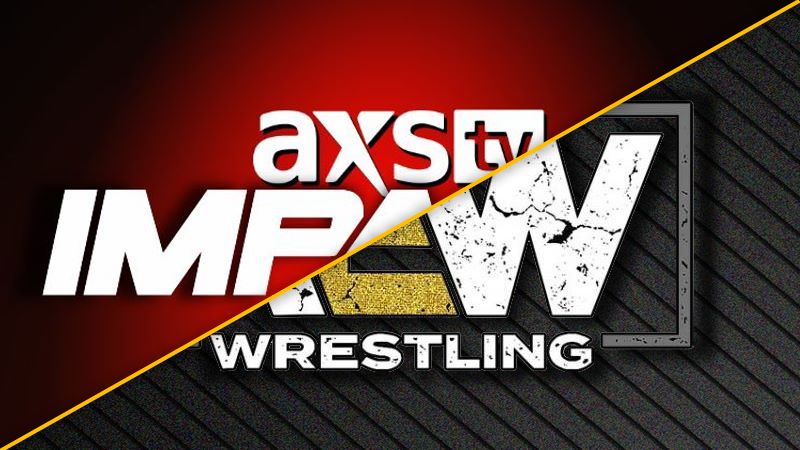 Impact Wrestling Results – April 22, 2021 – D'Lo Brown and Matt Striker welcome fans to Impact Wrestling! The reoccurring question that will be asked throughout the night is: Which athletes will gain momentum heading into Rebellion on Sunday? We kick things off with a tag team match!
Decay (w/Rosemary) vs. The Good Brothers
Crazzy Steve and Karl Anderson kick things off. Crazzy Steve plays some mind games with Anderson just before sending him over towards the corner. Anderson throws Steve back into the same corner. Anderson charges towards Steve, and he decks him with a heavy uppercut. Black Taurus is in for Crazzy Steve. Black Taurus works on Anderson's arm. Anderson baby steps his way to his corner and makes a tag to Doc Gallows. Gallows shoves Taurus' face-first into the top turnbuckle before landing a couple of forearm shots. Anderson makes his return in the ring.
Anderson holds Taurus down with a side headlock before throwing him over towards his corner again. Gallows makes a tag in. Gallows drives his elbow towards Taurus' shoulder blade. Taurus launches himself into Gallows with a breathtaking corkscrew. Steve ducks out of the corner with a rollup. Anderson pops out a two. Steve continues the onslaught with a perfect flatliner. Black Taurus comes in to keep Gallows out of the ring. He is unsuccessful. Steve gets caught by Gallows. The Good Brothers send Steve packing with their Magic Killer finisher. The Good Brothers pick up a win before their Impact World Tag Team match on Sunday.
Winners: The Good Brothers
Post-Match: The Good Brothers take a moment to thank NJPW's FinJuice for bringing this fire out of them. They look forward to reclaiming their titles on Sunday.
D'Lo Brown and Matt Striker run through what fans can expect tonight and the rest of this week, as Impact Wrestling takes over AXS TV until this Sunday.
-Looking at the historic main event that is set to take place in three days, Matt Cardona, Trey Miguel, Shera, Gia Miller and James Storm think Rich Swann will bring home the AEW World Championship, as well as retain the Impact World Championship.
– Violent By Design is gearing up for their eight-man match at Rebellion. Eric Young reiterates that the world does not belong to guys like James Storm. It belongs to VBD. Tonight, Young will see himself in action against Eddie Edwards, who will also be part of this eight-man collision on Sunday.
Susan (w/Knockouts Champion Deonna Purrazzo) vs. Tenille Dashwood (w/Kaleb)
Susan is not happy to see Kaleb taking pictures at ringside. It starts to distract her. The bell rings. Both women go for a knuckle lockup. Susan plants a toehold which turns into a cover. Tenille kicks out. Tenille traps Susan into a pin. Susan kicks out. Tenille nudges Susan with a Dashwoogie. Deonna Purrazzo distracts Tenille, causing a blindside for her, but an advantage for Susan just before the commercial break.
Just as the show is coming back from the break, we see Suan throwing midsection shots on Tenille in the corner. Susan puts Tenille in a Full Nelson. Tenille breaks free with two big elbow shots to the midsection. Susan traps Tenille with a rollup. Tenille kicks out. Susan goes after Kaleb again for taking pictures at ringside. She briefly takes his phone away and throws it back out. Tenille catches Susan with an impressive tie-up on the ropes! Tenille sends Susan away with her Spotlight Kick for the pinfall victory!
Winner: Tenille Dashwood
Post-Match: Tenille Dashwood asks the Knockouts Champion Deonna Purrazzo if she just saw her annihilate her friend. She invites Purrazzo into the ring. As Purrazzo makes her way in, Tenille informs the champion if it weren't for her, "The Age of Virtuosa," or the Knockouts division for that matter, would exist. Tenille promises she'll change Purrazzo's championship status on Sunday. Purrazzo storms out of the ring.
Backstage: Brian Myers takes his blindfold off and says he can see right through his former friend, Matt Cardona. He is ready to conclude their decade-long rivalry.
– Havok says she sees Rich Swann winning the main event on Sunday, whereas Rohit Raju and The Good Brothers believe Kenny Omega will be the new face that runs Impact.
– Ever since Trey Miguel came back to Impact, Sami Callihan tried to take him under his wing. Now that Trey has rejected Callihan's offer, all hell will break loose in their Last Man Standing match on Sunday. Callihan guarantees that after their match, Trey will never walk again.
Shera (w/Rohit Raju) vs. Jake Something
Shera gets the best of Jake Something just after the bell sounds. Shera tosses Jake Something into the corner and rams his shoulder into the midsection of Jake. Shera comes off the ropes with an elbow drop for just a two count. Shera keeps his offense up with several knee strikes before smashing Jake's face into the top turnbuckle. As the referee pushes Shera off Jake, Rohit Raju lands a cheap shot on Jake while he's hung up on the ropes.
Shera eats a big boot in the corner. Jake clobbers Shera with a series of right hands before landing a massive lariat that turns Shera inside out. Jake knocks Shera off his feet with a shoulder tackle, followed by his Black Hole Slam. Jake looks for the cover. Rohit runs in and distracts the referee from making the count. Shera hoists Jake up with a massive power slam for the victory.
Winner: Shera
– Everyone at Trey's wrestling school is rooting for him to prevail over Sami Callihan. Trey spends some time at his school getting ready for his big fight on Sunday.
– We take a look at Ace Austin, TJP and Josh Alexander's performances as of late. On Sunday, Austin will defend his X-Division Championship against the former champion, TJP, and Alexander.
Before he makes history this Sunday, we hear from the Unified Impact World Champion, Rich Swann!
Swann begins his monologue by reflecting on Kenny Omega's disrespectful attack during their press conference last week. Swann says if Omega wants to put his hands on him before Sunday, now is the time to do it.
Omega and Don Callis appear on the screen. Callis sadly informs Swann that they're not there tonight to have a match. Omega asks, how bad is it going to be if he adds another belt to his collection? He finds Sunday to be a night that will work in his favor. Just before concluding his message, Omega tells Swann to enjoy his last three days as champion.
Omega and Callis disappear off of the screen. The lights go dark, and Moose's music hits! Moose is back!
Moose begins by saying he is not there to hurt Swann; rather, he's there to congratulate him. Moose is there to give him some advice heading into his career-defining match. He says if Swann could go through him as he did at Sacrifice, there is nothing that's going to stop him from dethroning Omega. Moose wishes Swann luck and advises him not to lose his titles. If he does, there will be ultimate consequences. Swann promises he'll retain and bring him the AEW World Championship home. But what he looks forward to the most is pinning Moose again.
– Deonna Purrazzo, Josh Alexander and Willie Mack are rooting for Rich Swann to bring home all the gold on Sunday.
– We see another hype package for Taylor Wilde's return.
Kiera Hogan (w/Tasha Steelz) vs. Jordynne Grace
Jordynne Grace darts out and hoists Kiera Hogan up. The powerhouse throws the Knockouts Tag Champ towards the corner before hitting a big spinebuster in the center of the ring. Jordynne looks for a cover. Hogan kicks out. Jordynne hoists Kiera up in the torture rack position. Kiera breaks free. Kiera sends Jordynne into the corner and lands several side attacks. Tasha Steelz comes in and breaks up the pin after Jordynne sends Kiera crashing to the mat with a beautiful muscle buster.
Winner By DQ: Jordynne Grace
Post-Match: Fire 'N Flava continue the ambush on Jordynne Grace. All of a sudden Rachael Ellering's music hits! She charges down to the ring and evens the odds for Jordynne. Jordynne announces that Rachael is her partner for their Knockouts Tag Team title match on Sunday. Fire 'N Flava are livid.
– In Japan, the Impact World Tag Team Champions, FinJuice, are sick and tired of hearing The Good Brother's excuses. They find it comical that the former champions believe they'll reclaim their titles on Sunday. FinJuice tells them to keep on dreaming because they are ready to shut them up and retain their hard-earned titles.
– With their once-in-a-lifetime match just approaching in less than three days, we take a look at how this all began. They recap the highs both Rich Swann and Kenny Omega have had before coming into this match. Former Impact World Champions Eddie Edwards and Sami Callihan refuse to let Omega succeed over Swann.
And now, the main event!
Eric Young (w/Violent By Design) vs. Eddie Edwards (w/James Storm, Chris Sabin & Willie Mack)
Eddie Edwards holds the upper hand at the beginning of the match. Edwards focuses more on the technical aspect of it with a nice belly-to-belly suplex that turns into another side headlock. Their match will continue right after the break.
Coming back from the final break, Young throws Edwards out of the ring. Edwards is in the middle of what could have been a violent brawl between VBD and James Storm, Chris Sabin and Willie Mack. Young throws Edwards back into the ring and tightly wraps his hands around Edwards' face with a chinlock. Young quickens the pace with a shotgun elbow for a two count.
Both men find themselves in the no man's land district. Edwards gains the upper hand with a massive superplex that sends both men crashing down on the mat! Both men trade wicked forearms. Edwards hammers down several knife-edge chops.
Young slithers out of the backpack stunner, but not the Blue Thunder Bomb! Edwards hooks the leg. Young stays alive. Edwards cannot believe it! Young hits the Death Valley Driver. Will that be enough? No! Both men trade back and forth rollup counters. Edwards breaks it up with a powerbomb for just another two count! Edwards soars through the ropes with a well-executed dive. VBD and Edwards' allies clash on the outside. Young traps Edwards with a small package and wins the match.
Winner: Eric Young
Post-Match: All eight men continue their brawl in and out of the ring.
That concludes this week's episode.