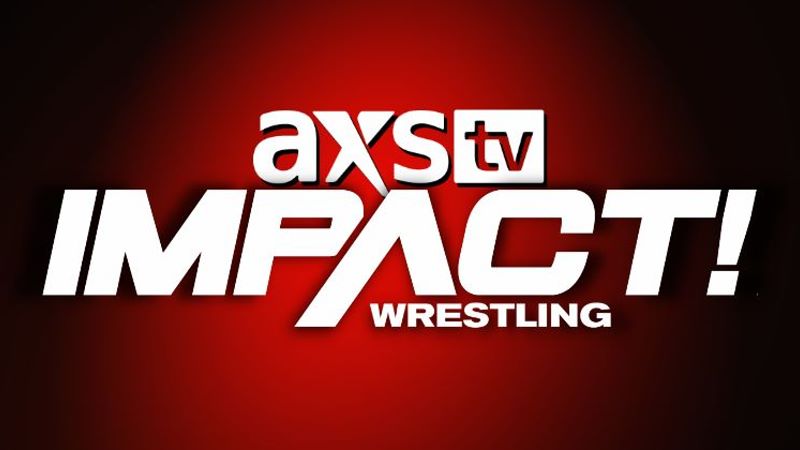 Impact Wrestling on AXS TV opened with clips from last week.
Impact Wrestling Knockouts Tag Team Champion Tasha Steelz vs. Jazz.
This was a singles match that Steelz has told me during interviews that she has been dying to have since Jazz first came to Impact. She had a big smile on her face before the bell.
They locked up and Jazz used a hiptoss. Steelz dusted herself off and they locked up again. She took down Jazz with a side headlock. Jazz used a headscissors but Steelz reversed. Jazz transitioned it into a single-leg Boston Crab. Steelz drilled Jazz as she approached and shot her into the corner. Steelz leapt at her with a forearm smash, then snapped her down with a neckbreaker. Steelz locked on a side chinlock and brought her back into the corner with a series of shoulderblocks. She went for another but missed and Jazz rolled her up for a two count.
Jazz and Steelz battled with Steelz finally catching her with a kick and nailing a Falcon Arrow for a two count. Steelz tied up Jazz in a submission attempt but Jazz slipped out and nailed a series of strikes before nailing a Samoan Drop for another two count. They battled back and forth. Jazz nailed a sit-out powerslam but Kiera Hogan got on the apron. Jordynne Grace pulled her down to the floor. Jazz blocked a kick and turned Steelz over into a STF, forcing Steelz to tap.
Your winner, Jazz!
A nice back and forth bout to give the challengers some momentum going into the PPV. Steelz looked great as always and Jazz came off like the credible badass she is.
Gia Miller interviewed ODB about her Knockouts Championship match at Sacrifice. He said she was a four-time Knocked Up champion and was going to take the title. Susan showed up and said that she wanted a match against ODB for ripping her arm sleeves off. ODB said they can fight tonight. Susan said that she'll be coming alone because she doesn't need anyone else to help her.
D'Lo Brown and Matt Striker discussed the potential of Scott D'Amore's announcement tonight and the lineup for tonight's show.
Backstage, Trey Miguel found Sam the wrestling student Sami Callihan spirited away last week. Sam told Trey he was fine and that Sami just wanted to talk. Trey tried to talk sense into him but Sam said that was everythg Sami told him Trey would say. Sam then challenged Trey to wrestle tonight, saying that Sami told him Trey would be too much of a coward to accept. Trey said he wasn't going to fight him and Sam said that Sami told him Trey didn't have the passion. Miguel reconsidered and said he was going to get his ass kicked tonight.
They aired a video feature on Moose and Rich Swann ahead of their Sacrifice PPV main event.
James Storm & Chris Sabin vs. Rohit Raju & Mahabali Shera
Sabin and Raju started and went back and forth with some nice action. Sabin nailed a suplex but only garnered a single count. Storm tagged in and they double-teamed Raju in the corner but were unable to score a pinfall. Storm manhandled Raju and tossed him into his own corner, allowing Shera to tag in. Shera and Storm sized each other up. Shera drilled him hard and sent Storm to the mat. Storm and Shera battled back and forth with big right hands. Shera drilled him in the face with a big boot. Storm avoided a move and tagged Sabin, setting up several double-team moves as they went to commercial.
When Impact returned from commercial, Raju was working over Sabin, whipping him hard into the corner. They showed footage of Raju and Shera beating down Sabin during the commercial. Shera drilled Sabin with a clothesline in the corner. Raju nailed a great cannonball in the corner for a two count. Shera continued beating him down with right hands. Sabin made the hot tag and Storm scored a big spinebuster for a two count on Shera.
Sabin tagged in and nailed a step-up DDT for a two count. Everyone battled until Storm nailed a Lungblower on Raju and the elevated him onto Sabin's shoulders for Cradleshock and the pinfall.
Your winner, James Storm and Chris Sabin!
Good tag action.
Backstage, XXL and Reno Scum argued over why they lost their match last week. Decay showed up. Rosemary said that Lawrence D couldn't get the job done. Acey told Larry they needed to get away from this. Decay challenged Reno Scum to face them at Sacrifice.
Elsewhere, Eric Young was releasing Deaner from the room he had been beaten and trapped in last week. Deaner looked like hell. EY told him that he did this for a reason because there needed to be accountability. Storm and Sabin came across the scene and asked what was going on. Young told them this was family business and it didn't concern them. Storm said that what he was doing to that man was wrong. Violent by Design attacked them and left the team laying.
Brian Myers sat down in Scott D'Amore's office. Myers wanted Eddie Edwards fired and erased from the history books so that he can have a safe working environment. He's filed legal documents. Scott said the more you have to argue, the less your case means. Scott said that Myers and Edwards can settle everything at Sacrifice in a Holds Harmless Match. Myers thought that was a submission match. Scott explained to him that it means no rules. Myers wasn't happy and walked off.
Trey Miguel vs. Sam Beale
Sami Callihan came out and joked there was a packed crowd here. He said that everyone is thinking that Trey is a quitter. The only thing Miguel has done correct in his entire career is train Sami Callihan's new protege. He has the passion Trey lacks.
Trey tried to talk sense into Beale but was rocked with a big forearm. Trey came back with a dropkick and nailed a back suplex, then tried to tie him up in a Pretzel submission. Beale immediately tapped. The idea was that Miguel snapped because of Callihan's mind games.
Your winner, Trey Miguel!
Trey went after Sami but Callihan hacked the lights and they went out. When they came back on, Miguel was alone on the stage and Callihan was in the ring, nailing a Cactus piledriver on Beale before running off.
Backstage, James Storm and Chris Sabin were shocked and disgusted at what has happened to Eric Young. Storm said you kill a snake by cutting its head off. He said they are going to go through EY's followers this Saturday. Jake Something offered to have their back and be at ringside to stop Eric Young from interfering. They agreed as long as Jake will be a man of his word.
Tony Khan and Tony Schiavone had the latest paid ad from AEW. They recapped the major events from Revolution and pushed tomorrow's TV lineup for Dynamite while pushing the replay for the PPV. Khan said that Omega is a great champion and a wrestler but he's not great at building exploding rings. They teased we'll find out why Eddie Kingston did what he did because what happened with the ring doesn't take away from what Eddie tried to do for Jon Moxley.
In an office, Scott D'Amore presided over the Impact Wrestling Tag Team Championship match for Sacrifice this Saturday. FinJuice and the Good Brothers wanted to do shots. Scott told them to bring them the contract after and left. They did a shot and The Good Brothers mocked them for only doing one shot. Dave said he was a Finlay so of course he can do more shots. They signed as they kept doing shots and then got into a brawl.
Ace Austin with Madman Fulton vs. Chris Bey
They locked up with neither gaining the early advantage. Some nice back and forth reversals and mat work. Austin nailed a bridging suplex for a pinfall. Austin nailed a knee strike and slammed him for a two count. Bey come back, tossing Austin to the floor and hitting a great tope con hilo to the outside. Some really crisp action early on. Austin came back to hit a flip dive to the floor, then tossed Bey back into the ring.
Austin nailed a leaping kick for a two count. Bey came back with a Code Red for a near fall. They battled back and forth. Austin hit a great looking springboard senton off the top for a two count. Austin missed The Fold. Bey ducked a leaping knee strike. They battled for positioning with each competitor blocking and evading the other. Bey was elevated to the apron outside and kicked Austin. He ascended to the top but Austin drilled him with a kick to the side of the head. He grabbed the stunned Bey and went for a superplex but Bey blocked it. They battled on the top.
Austin grabbed Bey and went for a double underhook superplex but it was blocked. They crashed off the top to the apron and outside as Impact went to commercial. When they returned, the competitors were back in the ring firing forearms back and forth. Austin nailed a Alabama Jam on Bey for a close two count. The battle continued Bey blocked a rana off the top but Austin blocked the Art of Finesse. Bey came back to hit a vertebreaker for a close near fall. The announcers sold it as if Austin getting out was a true shocking moment.
Bey was elevated to the outside but sprung up with a DDT. He went for the Art of Finesse but Austin rolled out to the floor. Madman Fulton got in between Bey and Austin, who was out in the floor. Austin recovered and leaped over Fulton as Fulton bent down, nailing a kick to the face. Austin tossed Bey back into the ring as TJP sat down on the entrance stage watching the match. Fulton chased him off, which distracted Austin and allowed Bey to nail an Ace Cutter and hit the Art of Finesse for the pin.
Your winner, Chris Bey!
Real entertaining match.
Back at Swinger's Paradise, TJP went to join the games when Josh Alexander showed up. Alexander said that he'll be waiting for the next title shot after Sacrifice. TJP wasn't happy.
Backstage, Rohit Raju wanted Mahabai Shera to explain why he cost him another match. He said he brought Shera back from India and this is what he gets. Shera grabbed him by the throat and threw him against a wall, saying he doesn't owe Raju anything. He stomed off, leaving Raju on the floor.
Susan vs. ODB
Susan tried to get ODB to dress more moderately and trash talked her. ODB pulled her face into, well, a motorboating. ODB drilled her with forearms across the chest in the corner. ODB nailed a Bronco Buster in the corner and then slammed Susan backwards with a Fall Away Slam. They went to commercial and upon the return, Susan went for a low blow, which as you might imagine, didn't work out so well.
ODB grabbed her but Susan nailed her in the eye and began mounting offense with body shots. It didn't last long, unfortunately for her. ODB missed a charge in the corner. Susan locked on a full nelson, then shifted to a sleeper. ODB drove her backwards into the buckles but Susan held on and snapped her backwards to the mat by her hair. Susan poured ODB's flask out, which infuriated the veteran.
ODB kicked her and nailed the TKO, scoring the pin.
Your winner, ODB!
Knockouts Champion Deonna Purrazzo and Kimber Lee hit the ring and attacked ODB, which the announcers said was proof of a set-up. Jazz and Jordynne Grace hit the ring to even up the odds. Grace nailed Lee with a big spinebuster. Tasha Steelz and Kiera Hogan hit the ring and attacked Grace and Jazz. They then all turned their attention to ODB, hitting her with big moves. All the babyfaces were left laying as the villains stood tall.
They ran down the lineup for Sacrifice.
In his office, Scott D'Amore was telling someone that they didn't think they were going to get it done, but the deal is signed. TNA Champion Moose came out to the ring and demanded Scott come to the ring to tell him the news face to face. They went to commercial. When they came back, Moose said he would hijack the show if Scott didn't come to the ring.
Scott finally came down and said he was sorry for making him wait. Scott said that before he makes the news official, he has to bring out Impact Wrestling Champion Rich Swann to the ring. Swann came to the ring and faced off with Moose. Scott said they would be facing each other at Sacrifice but for the last year, Moose has been claiming he's the TNA World Champion. The title has a long lineage, but he doesn't believe Moose picking it up and saying he's the champion makes him the champion. Two Worlds Champions are two too many. It's going to be a TNA vs. Impact Unification match at Sacrifice with only one champion left standing.
Scott then said the winner of the Sacrifice PPV will headline the Rebellion PPV on 4/24 and that Champion will face AEW World Champion Kenny Omega in a title vs. title match.
Backstage, Don Callis was on the phone with Kenny Omega and said that everything went down just as they planned.