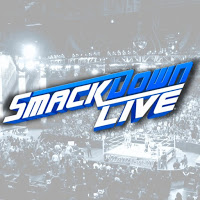 Tonight's WWE SmackDown opens up with a look at Becky Lynch winning the SmackDown Women's Title at Hell In a Cell.

– We're live from the BOK Center in Tulsa, Oklahoma as Tom Phillips welcomes us. He's joined by Corey Graves and Byron Saxton.
– We go right to the ring and The Miz is already out for another must-see episode of MizTV. He welcomes us and says he has some big breaking news for us. He shows us the promo for WWE Super Show-Down with Miz vs. Daniel Bryan with the winner earning a shot at the WWE Champion. This was previously announced by WWE. Miz rants on how Bryan is not on his level and fans boo. Miz says he's superior to Bryan. He goes on about his recent wins over Bryan and says he will do the same in Australia, then he will move on to something more deserving of his talents – to face Samoa Joe or AJ Styles for the WWE Title. But that is in three weeks and tonight he has a special guest, who he had to call in a lot of favors for. Miz says this person rarely appears on SmackDown but when they do, they make headlines. Miz asks the fans to stand up and welcome back to SmackDown, one half of the hardest hitting couple in WWE… Maryse.
Miz and Maryse kiss before he has her take a seat, welcoming her. He asks how it was easy to beat Bryan and Brie Bella on Sunday night and Maryse goes on about how weak Brie is. Miz says he doesn't believe Bryan is invested in their relationship any longer. Maryse says Brie only married Bryan so she could stay relevant in the company. Fans boo them. Miz says Maryse is just speaking the truth. He goes on about how Bryan and Brie have a marriage of convenience but that backfired on them when they faced a couple with real love and real talent. Miz asks Maryse what's next now that she conquered Brie and proved she hasn't missed a step. Maryse says she has some breaking news and for now, this is her last night on SmackDown. Fans cheer. Miz ends up yelling at the fans for booing his wife. He says he will give us something to boo about when he beats up Bryan tonight. Miz calls Bryan out. The music hits and out comes Bryan to a pop.
Bryan says Miz can talk about him all he wants but this is what he gets when he talks about his wife. Bryan hits the ring and brawls with Miz. Bryan with a running kick, sending Miz into Maryse in the corner. Maryse goes down. Miz and a referee check on her. EMTs come out next to check on Maryse as Bryan apologizes to her. Miz is fuming as Maryse tries to recover. Maryse gets up but she's laughing at Bryan. Miz comes from behind and goes for a Skull Crushing Finale. Bryan struggles. Maryse grabs Bryan from the apron and holds him for Miz to hit. Miz charges but Bryan moves and Miz knocks Maryse off the apron. Bryan comes back and sends Miz out of the ring to the floor. Bryan's music hits as he leads a "yes!" chant.
– Still to come, Andrade "Cien" Almas vs. AJ Styles. Also, the championship coronation for Becky Lynch.
– We see The New Day backstage, searching the backstage jungle it looks like. We go to commercial.
Backstage:
We are back and Daniel Bryan is asked about thwarting Miz and Maryse's plan? Daniel says if Miz calls him out, he is up to something. We know that Miz is a coward. He knew something disgusting was going to happen. Daniel says he did not expect to see Miz stoop so low and fake an injury for his wife to get the advantage over him. Daniel knows Miz' tricks. He will not only punch MIz in the face in Australia, he will punch his chance for a WWE Championship match.
Kofi Kingston vs. Cesaro
We go to the ring and out comes The Bar, Cesaro with Sheamus. Greg Hamilton does the introductions. Out next comes SmackDown Tag Team Champions The New Day, Kofi Kingston with Big E and Xavier Woods.
Kofi takes the mic and they brag on retaining over Rusev Day at Hell In a Cell. Woods mentions WWE Super Show-Down where they will defend against The Bar. Woods and Kofi poke at Big E for his terrible, somewhat offense Australian accent. Big E claims The IIconics said it was cool. They enter the ring and Big E mocks The Bar with his Australian accent. Cesaro calls them clowns and knocks them for recycling old jokes that aren't funny. Sheamus says they are jokes and The Bar will gladly take the titles from them, finally elevating the tag team division. They don't just set the bar, they are The Bar. Kofi and Cesaro get ready to go at it as we go to commercial.
Kofi with a drop kick as the bell rings and he kicks Cesaro. Kofi floats over and hits a cross body for a near fall. Kofi with a leaping clothesline and then he sets for the Boom Drop but Cesaro escapes the ring to talk to Sheamus. Kofi teases a suicide dive but bounces off the ropes and stays in the ring. Cesaro takes a pancake from Byron and rips it up. Kofi with a baseball slide and then they return to the ring with Cesaro clipping Kofi. Cesaro wraps Kofi's leg in the ropes until the referee warns him. Cesaro with kicks to the hamstring.
Cesaro puts Kofi's leg in the ropes but Kofi escapes and gets a near fall with a sunset flip. Cesaro with a European uppercut and then he kicks Kofi and drops an elbow on the knee. Kofi kicks Cesaro to try to get him to let go of the leg. Cesaro with a slam that sends Kofi's leg into the ropes. Kofi goes for a rollup and gets a near fall. Cesaro sends Kofi's leg into the ropes and he applies a single leg crab.
Kofi gets back to his feet and he gets on Cesaro's shoulders for a victory roll and a near fall. Kofi with a rollup for a near fall. Cesaro with a European uppercut for a near fall. Cesaro with a head butt to the lower back and then he drops a knee on Kofi's injured leg. Kofi kicks Cesaro to get free and then he hits an enzuigiri that staggers Cesaro but he stays on his feet. Kofi with a boot and punches but Cesaro sends Kofi into the corner and Kofi with a pendulum kick.
Kofi goes to the turnbuckles and Cesaro with a drop kick to stop Kofi. Cesaro sets for a dead lift gutwrench superplex but Kofi stops Cesaro. Kofi with a tornado DDT for a near fall. Cesaro charges at Kofi and goes over the top rope when Kofi drops down. Kofi uses the ropes for momentum to hit a plancha. Kofi with SOS for a near fall. Cesaro goes for a European uppercut but Kofi with a counter. Cesaro with a Gotch Style Neutralizer for the three count.
Winner: Cesaro
Backstage:
Lana, Rusev and Aiden English are backstage. English apologizes for the loss at Hell In a Cell and says he feels good about Rusev's chances tonight. Rusev agrees because English won't be in the match. English says Hell In a Cell wasn't his fault as he tried his best. Rusev says we all have to pull our weight and if that is the best he can do, it's not good enough. Rusev and Lana walk off. English turns to a staffer and starts ranting about Rusev Day was his idea and how everything is Lana's fault, that she should be more of a wife and not a manager. English turns around and Lana is standing there. He apologizes and she tells him to stop because she's going to tell Rusev. Lana storms off and English begs her not to.
We go to commercial.
– Tom Phillips was going to talk about something from Hell in a Cell, but we go to the production truck where Randy Orton is giving someone a back rub. Randy wants to know what is taking so long. He is told it takes a while to pull up the footage. Randy asks the employee if he knows what happens when you piss him off. Randy tells him to stop with the screwdriver spot. Randy is told that he is hurting the employee and Randy does not care. Randy wants to see the next image. He wants to know what he feels when he sees this. Is he uneasy and sick to his stomach. Randy says everything he did to Jeff Hardy will pale in comparison to what he does to his next victim. The announcers talk about the match from Sunday and wonder how depraved Randy really is.
– Tom talks about the controversy over the WWE Championship match and how person it was (but not personal enough for a match in the cell). We look at AJ tapping out while the referee is out of position to see the tap.
Backstage:
AJ Styles is in the interview area. He is asked about how he almost lost the title. AJ says after everything Joe put him through, the worst thing that could have happened was Joe walking out of Hell in a Cell as champion. Lady luck smiled in his direction and he is still champion. It will happen one more time in Australia. No Count outs, no disqualifications. Anything goes. Before he gets to Australia, he faces Andrade Almas tonight and he has to focus on Almas. Almas took him to his limit the last time they wrestled. He will get focused so he can win tonight.
– We are back and Lana has to tell Rusev something but Rusev wants to focus on his match. Rusev tells Aiden to do the honors. Rusev does not want to hear from Lana.
Shinsuke Nakamura vs. Rusev for the United States Championship
Rusev and Nakamura try for kicks to get an early advantage. They lock up and Nakamura with a waist lock but Rusev with a standing switch. Rusev works on the shoulder and kicks Nakamura in the ribs. Nakamura with a kick to the back and Nakamura tells him to COME ON. Nakamura with a knee and he sends Rusev into the turnbuckles. Rusev with a bear hug and overhead belly-to-belly suplex. Rusev with another suplex for a near fall.
Nakamura hits Rusev from the floor and hits a running boot to the head for a near fall as we go to commercial.
We are back and Nakamura with a front face lock while Aiden and Lana have a discussion on the floor. Rusev goes for a suplex and Nakamura with a knee to stop him. Aiden starts a Rusev Day chant on the mic. Rusev with a slam and both men are down. Rusev with a boot when Nakamura charges into the corner. They exchange punches and Nakamura iwth a knee. Rusev with a knee and kicks followed by clotheslines and a round kick.
Rusev with a running hip into the corner followed by a running spinning heel kick. Rusev sets for the Accolade and Machka Kick but Nakamura moves. Rusev with a kick for a near fall. Rusev with shoulders in the corner and then he Irish whips Nakamura but misses a splash and Nakamura with a kick. Nakamura with boots to the back of the head and then he puts Rusev on the turnbuckles and goes for the knee but hits the turnbuckles. Rusev sets for a suplex to the floor but Nakamura lands on the apron. Rusev sets for a belly-to-back suplex but Nakamura with a rake of the eyes. Nakamura with a knee from the turnbuckles to send Rusev to the floor.
Nakamura sends Rusev into the ringside barrier before returning to the ring. Nakamura sets for Kinshasa but Rusev with a Machka Kick and both men are down. Rusev tries to get to his feet and Aiden tells Rusev to CRUSH. Rusev yells at Aiden and Nakamura recovers and gets the three count with a rollup.
Winner: Shinsuke Nakamura
After the match, Nakamura leaves with his title as the music hits. Lana checks on Rusev in the middle of the ring and he's not happy. English snaps and decks Rusev with the mic. English unloads on Rusev as fans boo. Lana looks on and she's upset. English sings, "Happy Rusev Day!" before dropping the mic. Lana screams at him to leave and he does. She checks on Rusev again as English backs up the ramp to boos.
– Still to come, Becky Lynch has her championship coronation. Also, Styles vs. Nakamura in a non-title match. The announcers plug WWE 2K19 and lead us to the recent Phenomenal trailer. Back to commercial.
– We are back and told that the finals of the Mixed Match Challenge will take place at TLC.
Back from the break and out comes Andrade "Cien" Almas with Zelina Vega. WWE Champion AJ Styles is out next for this non-title match.
AJ is finishing up his entrance before the bell rings when Almas attacks him with a cheap shot. Almas unloads and beats AJ down as Vega hypes him up. Fans boo Almas as AJ recovers on the mat. The referee checks on Styles to see if he can go as fans chant for AJ. AJ says he's ready to go and the bell rings. Almas immediately decks AJ and beats him into the corner. AJ fights out as fans pop. AJ stops for a breather and Almas floors him with a big boot. Almas with a tilt-a-whirl backbreaker for a close 2 count.
Almas with a kick and then he works on the arm and sends AJ shoulder first into the turnbuckles. Almas with a cross arm breaker in the ropes and the referee warns Almas. Almas sends AJ shoulder first into the ringside barrier. Almas sends AJ back into the ring and he gets a near fall. Almas with an arm bar. Almas with a knee in the corner. AJ with a satellite DDT and both men are down. Almas with a back elbow for a near fall.
Almas chokes AJ in the ropes. Vega slaps AJ while the referee was out of position. AJ with an ushigoroshi and both men are down. AJ with a flying clothesline into the corner followed by a snap mare and flying forearm. Styles sets for a Styles Clash but Almas with a back body drop. Almas goes up top for the double moonsault but Styles gets his knees up to stop Almas. Styles is sent to the apron but Styles with a forearm and then he sets for the Phenomenal Forearm but Almas stops AJ and has him tied up in the ropes. Almas goes up top and hits a double stomp.
Both men are down on the floor. Almas returns to the ring while the referee continues his count. Almas kicks AJ off the apron and we go to commercial.
We are back and Almas goes for a running knee into the corner but Styles moves and Almas goes over the top rope to the floor. AJ with a sliding knee on the apron. AJ sends Almas back into the ring. Styles with a slingshot orearm and he gets a near fall. Almas grabs the ropes to stop AJ from applying the Styles Clash and Almas drops AJ on the top rope. Almas with a springboard drop kick. Almas with a running double knee strike in the corner for a near fall.
Almas sets for the hammer lock DDT but AJ with an escape into a jackknife cover and a Styles Clash for the three count.
Winner: AJ Styles
After the match, Samoa Joe attacks AJ from behind and sends him to the floor. Joe tells AJ that he knows the truth and he will never be safe. AJ avoids being sent into the ring steps and he sends Joe into the steps. Joe with a rake of the eyes and he goes into the crowd. AJ returns to the ring and poses on the turnbuckles with the title belt.
– Naomi and Asuka walk in the back as we go to commercial.
Asuka vs. Billie Kay
We are back and Billie Kay and Peyton Royce are in the ring and they insult Tulsa but Billie says she was insulting Naomi and Asuka. Billie and Peyton comment on their dance skills.
Asuka with strikes and Billie backs into the ropes. Peyton distracts Asuka and Billie sends Asuka into the ropes and gets a near fall. Billie with a cravate. Asuka with a rollup for a near fall. Asuka with a hip attack and then she runs into a boot from Billie for a near fall. Billie tries to pick up Asuka but Asuka with an Asuka Lock and Billie taps out.
Winner: Asuka
– Becky Lynch's Championship Coronation is next. We go to commercial.
In the Arena:
We are back and Paige is in the ring with the celebration table and carpet in the ring. Paige introduces the new Smackdown Women's Champion Becky Lynch. We see photos of the match as Becky makes her way to the ring.
Paige presents Becky the title belt that she walked out of the ring with on Sunday night.
Becky says this is nice and it took two long years but she is back where she belongs. Becky says this is her show and this is her title. There will be no more being left off the magazines, pay per view posters, or the morning talk shows. Becky says she doesn't need balloons or the division she built around the ring. All she needs is Charlotte Flair. Becky asks if Charlotte isn't out here because she doesn't want to steal her spotlight for a change.
Charlotte Flair makes her way to the ring.
Paige tells Charlotte and Becky that they are not going to do anything tonight.
Charlotte says she is not here to fight. Charlotte says she is not here to steal Becky's spotlight. She says she is here to show the respect that Becky could not give to her at SummerSlam. Charlotte says she wants to look Becky woman to woman to tell Becky she was the better woman on Sunday. You paid a steep price to win that title. You threw away more than a friendship. She says she cannot wait to stand across the ring from you in front of 60,000 people when she gets her rematch in Australia. You took two years to get that title back but you could lose it in one night.
Becky tells Charlotte she stopped listening. Becky says that you said she could not win, but this title says otherwise. This title says that you did not walk out of Hell in a Cell as champion. Becky says she knew that Charlotte was trying to steal the spotlight on the biggest night of her career. Becky says that Charlotte can touch her and raise her hand tonight.
Charlotte says she is not going to do that.
Becky says that Charlotte can put the title around her waist.
Charlotte says she wanted to show Becky respect but she was hoping for a little bit of what Becky was inside her. Charlotte congratulates Becky sarcastically.
Becky says that she just wants Charlotte to call her queen. Becky calls Charlotte a bitch and Charlotte attacks Becky.
They go to the floor and Charlotte is sent into the ring steps and then over the announce table. Becky sends Charlotte into the ringside barrier and then they go back into the ring. Charlotte applies DisArmHer. Becky with an exploder.
Becky grabs the title again and leaves while Flair recovers on the mat. Becky stands on the stage and raises the title as her music hits while Flair looks on. We go to replays. SmackDown goes off the air with Becky staring back at Flair in the ring.
---
FOLLOW US ON YOUR FAVORITE SOCIAL MEDIA. WE ARE ON FACEBOOK, TWITTER AND G+!
---
LATEST NEWS var numposts = 5;var showpostthumbnails = true;var displaymore = false;var displayseparator = true;var showcommentnum = false;var showpostdate = false;var showpostsummary = true;var numchars = 100;