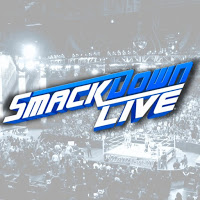 We are live from the Bon Secours Wellness Arena in Greenville, South Carolina. Charlotte Flair makes her way to the ring to start the show. She is followed by Becky Lynch. Out last is the Smackdown Women's Champion Carmella and she is the one not dressed to fight.

Carmella says what is almost as absurd as Paige making her defend the title in a Triple Threat Match is Paige forcing her to come out for this face to face to face. Carmella says she is tired of your faces just like she is tired of being punished for being such a great champion. Carmella says everyone is thinking 'poor Becky Lynch' because she does not have a chance to win. Carmella suggests that Becky should become a clown again because that is the one thing that she is better than Charlotte at.
Becky asks if Carmella wants her to say that she did not want Charlotte in this match and that is true because Charlotte is so good. Becky says she was dreaming about dismantling Carmella but now her new dream is beating Carmella and Charlotte.
Carmella asks how hard is it to beat Charlotte since she did it twice. Charlotte has won every title, she ended Asuka's undefeated streak, and she won the first Hell in a Cell Match. Becky, you were the first Smackdown Women's Champion but that was because Charlotte was on Raw.
Charlotte says it is over. The manipulation ends at SummerSlam. You know you cannot hang with any of the women in the division so you have to do anything to keep the title. To beat Asuka, you had to dig up James Ellsworth. Do you know why people do not respect you? It is because you are a Diva living in a Women's Division Era.
Carmella says she is a Diva and she is damn proud of it. Carmella says she has something that you two will never have. Compare her beauty to both of yours. Compare her body to yours. Compare her charisma to yours. Carmella reminds them that she is the champion and you are not.
Paige's music plays and she makes her way to the stage. She says her job as General Manager is to create the best competition for SummerSlam. That is why Charlotte got her opportunity for Sunday. She wouldn't have gotten the opportunity if she hadn't beaten Carmella. The WWE Universe owes Carmella some gratitude. Paige says all three of you are going to steal the show at SummerSlam. As your General Manager, it is also her duty to create the best competition for Smackdown. Why wait until Sunday?
Carmella, some might say what you do best is talking, so run along to the commentary table. Charlotte and Becky will show what they do best and that will be in a tag team match. She introduces their opponents and out first comes Mandy Rose. Sonya Deville is out next. We go to commercial.
Becky Lynch and Charlotte Flair vs. Mandy Rose and Sonya Deville

Sonya and Charlotte start things off and Charlotte with a snap mare. Sonya with a single leg take down and side head lock. Charlotte with a head scissors and Sonya with a cover. Sonya with a waist lock but Charlotte escapes. Sonya misses a series of kicks. Charlotte with chops and Becky tags in. Both with a double monkey flip to Sonya. Becky with a snap leg drop and snap elbow drop. Becky with a twisting leg drop for a near fall. Mandy tags in and she kicks Becky and follows with a punch. Mandy with an Irish whip and Becky floats over. Becky with a waist lock.
Mandy with a leg trip and a cartwheel. Mandy with a drop kick but Becky bridges out of a cover and hits a drop kick. Charlotte tags in and they hit a double hip toss. Charlotte gets a near fall. Mandy escapes a slam attempt and pulls Charlotte to the mat by the hair. Sonya tags in and Mandy with a snap mare. Sonya misses the sliding knee and Charlotte with a kick and fallaway slam that sends Sonya to the floor.
Becky tags in and hits a forearm off the apron. Becky gets a near fall. Charlotte tags in and Sonya with an Irish whip but Charlotte does the Flair flip and then hits a rollup for a near fall. Sonya with a kick. Mandy tags in and Sonya and Mandy kick Charlotte. Sonya tags back in and Charlotte with an O'Connor Roll but Mandy with a blind tag and drop kick.
Mandy sends Charlotte into the turnbuckles and kicks Charlotte. Sonya tags back in and they hit a double suplex. Charlotte kicks Mandy and clotheslines her. Charlotte with a front face lock and she tags Becky into the match.
Becky with a rollup for a near fall. Becky with a backslide for a near fall. Mandy holds on to the ropes on an O'Connor Roll attempt. Becky with a drop kick for a near fall. Sonya kicks Becky when the referee sends Charlotte back into the corner. Mandy gets a near fall. Sonya kicks Becky when Mandy distracts the referee. Mandy with a reverse chin lock. Sonya tags in and connects with knees and a snap mare. Sonya with the sliding knee for a near fall. Sonya with a body scissors.
Becky leans back to get a near fall. Sonya runs Becky into the corner and connects with shoulders. Mandy tags back in and she chokes Becky in the ropes. Mandy with an Irish whip but she misses a charge into the corner. Becky with a side kick. Mandy slams Becky and Sonya tags back in.
Sonya with a body scissors. Becky with an enzuigiri and both women are down. Mandy tags in and she tries to knock Charlotte off the apron but fails. Becky with clotheslines and a drop kick. Becky with a kick and European uppercut followed by an exploder and flying forearm. Becky drop kicks Sonya when she tries to interfere. Becky sends Sonya to the floor. Mandy with an inside cradle for a near fall. Becky puts Mandy in DisArmHer and Mandy taps out.
Winners: Charlotte Flair and Becky Lynch

After the match, Carmella poses on the announce table with the title belt.
– We see comments from Miz and Maryse. Miz asks Maryse if she has enjoyed Miz and Mrs. Miz says that they have huge news. Miz says the show has been picked up for a second season. We go to commercial.
Backstage:
We are back and Charlotte and Becky talk about their victory and Charlotte says that Becky didn't have to do it all herself. Charlotte wishes Becky luck on Sunday and Becky says she won't need any help. Becky and Charlotte do their tea thing
The Triple Threat vs. The Bludgeon Brothers
Harper and Rowan attack two before the bell and send them to the floor. Harper and Rowan with a double crucifix bomb to the third. Harper and Rowan deal with the other two on the floor. They do a Super Collider and then slam one onto the other. Rowan slams Harper onto the two on the floor. Harper and Rowan send one face first onto the one who survived the carnage on the floor. Harper and Rowan with a Doomsday Device.
Winners: The Bludgeon Brothers
– It is time to take a look back at Miz and Daniel Bryan from the first season of NXT as we take a look at Episode One of Daniel Bryan and The Miz.
Miz says eight years. That is how long he has been dealing with Daniel and his holier than thou ego. Daniel says his career started in 2010 in NXT and it was a little different than it is now. We see some of the fun things that the first season did. Daniel reminds us that the show was split into Rookies and Pros. Daniel says even though he wrestled for ten years, he came into WWE as a rookie. His pro was Miz. Miz reminds us that he was in the WWE for five years and he had achieved so much. Miz mentions his time on The Real World.
Daniel mentions Miz' stigma as a reality star. Daniel says Miz thought he knew better than everyone else back then and he would take short cuts. Miz wants respect so badly but he doesn't want to put in the hard work. Miz says you respect your veterans and absorb things like a sponge. Miz says he was Daniel's ticket to the top and all he had to do was shut up and listen. Daniel says that Miz wanted him to be just like Miz so that is why it failed.
We see Daniel's elimination. Miz mentions that Daniel didn't win a single match and that is what happens when you don't listen to your pro. Miz points out that the great Daniel Bryan never won a match on NXT. Miz says that Daniel didn't have the talent. Daniel says that he lost every match with Miz as his mentor but when he got to face Miz on Raw, he beat Miz. Daniel says he realized he did not need The Miz, but the Miz needed him.
The New Day vs. SAnitY
We go to the ring and out comes SAnitY – Eric Young, Alexander Wolfe and Killian Dain. Back to commercial.
Young and Big E start things off. Young with a waist lock and Big E with a back drop to escape. Young with a kick and elbows to the back of the head. Big E with a belly-to-belly suplex for a near fall. Kofi tags in and Kofi with a leap frog back senton for a near fall. Kofi runs into a back elbow but Kofi with a series of kicks. Wolfe pulls down the ropes and Kofi goes over the top rope to the floor and hits the announce table. Kofi is dropped onto the apron by Wolfe. Wolfe gets a near fall. Dain tags in and he kicks Kofi.
Dain works on Kofi's neck and sends him to the mat. Dain puts Kofi on the turnbuckles and Kofi kicks Dain off and then leaps over Dain. Kofi tries to make the tag but Dain with a drop kick to stop Kofi's momentum. Dain with a crossface to Kofi. Dain with a fisherman's suplex and then he tags in Wolfe who hits a forearm off the turnbuckles for a near fall.
We go to commercial.
We are back and Dain goes for a clothesline but Kofi holds on and floats over into a DDT. Woods and Wolfe tag in and Woods with a super kick to Young on the apron. Woods with a running forearm or two followed by a thrust kick and then he sends Wolfe into the ropes and hits a hesitation drop kick to the back. Woods is sent to the apron but Woods with an enzuigiri and then he hits a tornado DDT. Young breaks up the cover with an elbow drop from the turnbuckles. Dain knocks Big E and Kofi off the apron.
Young tags in and he hits a Death Valley Driver onto Wolfe's knees but Woods kicks out at two. Dain tags in and he kicks Woods in the chest. Woods lands on his feet on a belly-to-back suplex attempt. Woods with chops. Woods knocks Wolfe down on the apron but Dain with a cross body for a near fall. Big E with a belly-to-belly suplex to Young. Wolfe with a bicycle kick to Big E. Kofi with Trouble in Paradise to Wolfe. Kofi goes up top and hits a trust fall onto everyone on the floor. Woods tags in and they hit Up Up Down Down on Dain for the three count.
Winners: The New Day
– We take a look at Part Two of Daniel Bryan and Miz… Talking Smack.
We see Daniel Bryan announce his retirement from wrestling in 2016.
Daniel says that speech was one of the hardest things he had done. He had done so much, winning at Wrestlemania 30 and coming back to win the US title the next year. Miz says that of course Daniel Bryan had to retire because of the risks he took. Daniel says he knew he would probably end his career early because of the style in the ring but he was not going to take short cuts.
Daniel says he thought he was a good GM. Miz says Daniel Bryan was the worst GM ever. Miz was the Intercontinental Champion and he was hardly on television. We see some of the moments from Talking Smack. Miz says that he had to tell Daniel the truth. Miz says he was expecting to be knocked out after his comments on Talking Smack. Daniel says he had no choice but to leave the studio. Daniel says he wanted to go somewhere else to wrestle but he told Vince McMahon he would honor the rest of his contract. Daniel says he wanted to punch Miz in the face.
Miz says Daniel was hiding behind his injury and contract. Would Daniel have been fired for being a man? Daniel says Miz made a calculated effort to get under his skin and then Miz stole his moves. Daniel says he chose to be silent and it kept him up at night. It led to his desire to come back again. Miz says that Daniel was finally confronted with the truth that he knows Daniel Bryan's moves and strengths better than Daniel Bryan. The truth is that he is not on Daniel Bryan's pro but he is superior to Daniel Bryan.
– Still to come, Jeff Hardy returns to action and more hype for SummerSlam. We go back to commercial.
Backstage:
We are back and Paige knocks on Samoa Joe's door and Joe goes into the hallway. Joe wants to know what's up. Paige says that she knows that Joe knows that AJ will be in the ring tonight and Joe had the opportunity to address the fans but you refused. Joe says he is shy. Paige wants to make sure that Joe is professional and that she will not have to take any actions to prevent Joe from doing anything. Joe says that Paige came to him to face AJ because Joe is unpredictable. Joe says he will promise that he will continue to do whatever he wants whenever he wants to do it. AJ and the WWE Universe will have to deal with his consequences. Joe says he can sit in the back and enjoy what Paige is doing.
– Aiden English is in the ring while we take a look at what happened over the last few weeks with AIden and Lana.
Aiden cannot speak because he is so overcome with emotion. Aiden says he will make amends because he let down his friends. He says he will make Andrade pay because he fights for Rusev Day.
Aiden English vs. Andrade Almas (with Zelina Vega)

Aiden with a shoulder tackle for a near fall. English with a rollup for a near fall and then Almas goes to the floor to discuss strategy. Aiden follows after Almas and they go back into the ring. Almas misses a pescado but lands on his feet. Aiden with a kick. Vega distracts Aiden and Almas with a kick in the ropes and follows with a back breaker and elbow. Almas with an arm bar. Aiden with punches but Almas with a knee. Aiden with an inside cradle for a near fall. Almas hip tosses a charging English into the turnbuckles.
Aiden gets up when Almas sets for the running double knee strike and Aiden with a clothesline. Aiden goes up top and hits a frog splash for a near fall. Almas drops English on the top rope and hits a spinning back elbow followed by a running double knee strike and hammerlock DDT for the three count.
Winner: Andrade Almas

After the match, Zelina Vega says since you like catchy phrases and useless holidays. Mark your calendars because Sunday will be the end of Rusev Day. El Fin de Lana Day. Vega says she will expose Lana for what she is… dead weight that is dragging down her husband.
Rusev's music plays and he makes his way to the stage with his wife Lana. Rusev says you are acting like you two just won the Powerball. Andrade, your luck runs out this Sunday. Zelina you will learn why Lana is the best, Lana Number One. Lana says together they will crush you because this year SummerSlam falls on what day… RUSEV DAY.
Backstage:
Paige is with AJ Styles and she wants AJ and Joe to stay professional so they do not jeopardize the Smackdown main event. Paige reminds AJ he is the champ and people look up to you. AJ says he made his wife a promise and he will keep it. We go to commercial.
– We are back with the final part of the Trilogy of segments about Daniel Bryan and Miz with a look at the in ring return of Daniel Bryan.
Daniel says he never thought he would be able to return to the ring. He says it was the greatest day of his career to be able to come back. Miz says so what, he unretired. Who cares. Miz was the heart and soul of Raw so he didn't care about Daniel on Smackdown. Daniel says he stepped down from Smackdown General Manager but he had one more move to do. Daniel says he could have let Miz stay on Raw and let their issues fade away but he would not let it go. Miz says he has nothing to prove to Daniel Bryan. Daniel has done nothing since returning. Miz says it is too late for Daniel to prove anything to him. Miz says that he is not Daniel's PROVE IT match, he is Daniel's MADE IT match. Miz says his nightmare of carrying Daniel for eight years is over and you will have to admit that Miz is better than him.
Daniel says Miz may have surpassed him. He has a reality show and a big home and celebrity friends. Daniel says that is not why he came back. He fought to come back because he loves wrestling. After all of the talking, taunting and crap between them, there is only one thing to do. That is get in the ring one on one, at SummerSlam, to finally shut you up.
Jeff Hardy vs. Shelton Benjamin
We go back to the ring and Shelton Benjamin is waiting. Jeff Hardy is out next to a pop. Back to commercial.
The match is joined in progress and Benjamin with a sleeper. We see Benjamin hitting a super kick during the commercial break. Benjamin with a knee to the chest. Benjamin with a rollup for a near fall. Hardy gets to his feet but Benjamin returns Hardy to the mat with a reverse chin lock. Hardy with a jaw breaker. Hardy with Whisper in the Wind for a near fall. Hardy with punches and forearm. Hardy with a reverse atomic drop followed by a double leg take down and double leg drop. Hardy with a drop kick for a near fall. Benjamin misses a dragon whip but Hardy hits a mule kick. Hardy goes for the hesitation kick in the corner but Benjamin blocks it. Hardy with a neck breaker
Hardy goes up top but Benjamin with a jumping knee and superplex for a near fall. Hardy with slingblade and then he kicks Benjamin and hits a Twist of Fate followed by a splash for the three count.
Winner: Jeff Hardy
After the match, Shinsuke Nakamura's music plays and he makes his way to the ring. Hardy stops Benjamin from attacking him and Hardy knocks him off the apron. Nakamura with a knee to the back and then he sets for KInshasa. Hardy counters and hits a Twist of Fate. Hardy goes up top for the Swanton and he hits it.
We see Randy watching from the side of the stage as he stalks Jeff Hardy.
– AJ Styles makes his way to the ring as we go to commercial.
We are back and AJ is in the ring and he has something to say.
AJ says for almost twenty years, and then he is interrupted by the crowd chanting for him. AJ says he is blessed. He has been able to travel the world and face some of the best talent that sports entertainment has offered. AJ says he learned a lot but nothing more than after he won the WWE Championship. There is so much pressure to hold on to this title. Samoa Joe, you hit his pressure points. You are a mastermind. It started when you blindsided him in this ring.
AJ says when he thinks he knows Joe, Joe stabs him in the back and then he stabs him in the heart. We see what Joe said about AJ as a father.
AJ says that Joe got him where Joe wants him. You got him to lose his cool. You got AJ to talk about something private, his family. AJ says he felt as a man, a father, and a husband, he had to defend himself. AJ says he got emotional and AJ went to a place he didn't want to go. He went to a dark place where he wanted to rip off Joe's head. Then he went home and got to spend time with his wife and kids. His wife told him he could not lose his cool like that. You have to remain focused because you . . .
Samoa Joe's music plays and he makes his way to the stage.
Joe pulls something out of his jacket and he says that is a wonderful tale you are telling these people. You know that what you are saying is not true. Joe tells AJ to relax and he wants AJ to keep his promise. Joe says he holds a letter in his hand from a member of the WWE Universe and he thinks AJ should hear it.
It talks about the comments that Joe said about AJ Styles and his family and they were disgusting and made him ill. It was not because they were wrong, but because they are real. It is clear that AJ never wanted children. Maybe he never wanted a wife. AJ will do anything to stay away from his family. This person prays that he hopes Joe wins so AJ can feel what it is like to lose something that he loves the most. It is signed by Wendy Styles.
We go to credits.
---
FOLLOW US ON YOUR FAVORITE SOCIAL MEDIA. WE ARE ON FACEBOOK, TWITTER AND G+!
---
LATEST NEWS var numposts = 5;var showpostthumbnails = true;var displaymore = false;var displayseparator = true;var showcommentnum = false;var showpostdate = false;var showpostsummary = true;var numchars = 100;