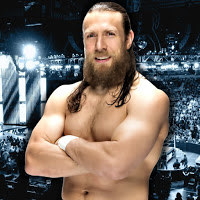 As seen below, WWE produced a great video on SmackDown General Manager Daniel Bryan after cameras caught up with him on Tuesday following the announcement that he had finally been cleared to return to the ring for WWE.

The video was filmed backstage at Tuesday's SmackDown in Dallas. Bryan revealed that he just got cleared on Monday.
"If you have this dream that you have, you fight for it and you keep fighting for it and you keep fighting for it, and then it may never come true, it might not, but it's never the end game, it's not the destination, it's the journey. It's interesting because I thought about this moment so much in the past 6 months or whatever, OK. 'Imagine what would happen if you actually did get cleared?', and it still seemed kind of like an impossibility. Now that it's here it still seems kind of unreal and I still feel kind of unprepared for it. It's hard because legitimately I just got cleared last night," Bryan revealed. "So there's still this wave of emotions and it's hard for me when I'm thinking and writing what I would like to say, that it's hard for me not to cry."
We noted before how Bryan's wife Brie Bella was trending on social media last night after Bryan's speech included praise for how Brie is the one that kept encouraging him to see specialists and never give up on getting cleared. Bryan thanked Brie several times, which started a "thank you Brie" chant in the arena. Bryan got emotional when writing notes for his promo and thinking what he was going to say about his wife.
"This is one of the reasons why I keep crying as I'm trying to write this, because of Brie. As a wife of somebody who, she's worried about… she's the person who is most concerned about me as a person, more than anybody else on this planet. To have her support and not just her support but to have her actively encourage me," Bryan said. "There were times when I'm like, 'They're never going to clear me, it's just not going to happen,' and she's like, 'You can't have that negative mindset. It always seems like it's never going to happen until it happens.' She's always said to me on multiple times, 'If it were easy for you, you wouldn't be Daniel Bryan. If it was just like, 'Oh, you walk into WWE and you're a good wrestler, here's a shot.'
"It's not the destination, it's the journey and I've found in my life the joy is in this journey. Getting to here, getting to cleared is like in someway an end but it's not the end to the journey, it's a continuation of the journey and what goes from here," Bryan continued. "Then you keep going along this journey and fighting for things that you believe in and fighting for things that you love and all that kind of stuff. So that's something I want to be an example of to my daughter."
The video ended as Bryan was headed out to the ring to open the show and discuss the big news. The show ended with Bryan getting beat down by Sami Zayn and Kevin Owens, but Bryan wasn't worried.
"I have faith in my skill and I have faith in the people that I work with and their skill. So as of right now I'm not nervous, I'm not afraid, I am really just excited. One of the things that I've always been able to do is I've always been able to get calm before I go out to wrestle, and really try to appreciate the joy of wrestling," Bryan said. "I'm hoping that when I come back, that will still be there, that I'll still be able to go out there and not be trepedacious, and just enjoy. Like, hey this is something that I've loved to do for my entire adult life."
---
FOLLOW US ON YOUR FAVORITE SOCIAL MEDIA. WE ARE ON FACEBOOK, TWITTER AND G+!
---
LATEST NEWS var numposts = 5;var showpostthumbnails = true;var displaymore = false;var displayseparator = true;var showcommentnum = false;var showpostdate = false;var showpostsummary = true;var numchars = 100;