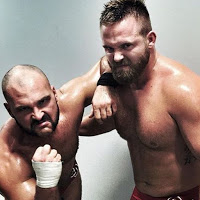 – Below is the latest "Canvas 2 Canvas" featuring Ric Flair. Next week's subjects will be The Hardys.
– During a fan Q&A on Facebook, Kurt Angle was asked if he had any funny Eddie Guerrero stories, Kurt responded about the time the two of them fought:
"Eddie and I had a love/hate relationship. We loved each other, but fought like brothers. I remember one time we got into a fist fight. He tried to leg dive me, a move you do in Olympic Wrestling. I hipped down on him and started choking him out. Later, JBL asked Eddie 'Why would you leg dive an Olympic Gold Medalist?.' Eddie smiled and said 'Because I'm a dumb a–.' Lol."
– On Instagram, Johnny Gargano wished The Revival well as they move to the main roster to work on Raw. In the caption he said, "Too Sour Me" and showed some pictures of the group doing the reverse hand signal that wrestling fans typically see from the days of the nWo, and more recently, The Bullet Club. In the caption, Gargano wrote:
"#TooSour me, Top Guys. Go take care of Monday Nights. We'll hold it down on Wednesdays."
---
GET EVERY NEWS 24/7 FOLLOWING US ON YOUR FAVORITE SOCIAL MEDIA. WE ARE ON FACEBOOK, TWITTER AND G+!
---