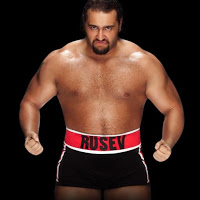 – 2K announced the WWE 2K17 Hall of Fame Showcase is now available as downloadable content for the PlayStation 4 and PlayStation 3 computer entertainment systems, Xbox One and Xbox. The Hall of Fame Showcase, available for $9.99 and also included as part of the game's Season Pass, enables access to the following playable matches:

* Cactus Jack and Diamond Dallas Page vs. The Fabulous Freebirds (Jimmy Garvin and Michael "PS" Hayes) (WCW Saturday Night 1992);
* The Fabulous Freebirds (Buddy Roberts and Michael "PS" Hayes) vs. Kerry and Kevin Von Erich (WCCW 1986);
* Ivory vs. Jacqueline (SmackDown 2000);
* Sting (gold and black tights) vs. Ric Flair (Clash of Champions 1988);
* Sting (n.W.o. Wolfpac ring gear) vs. Bret Hart (WCW Halloween Havoc 1998);
* Papa Shango vs. The Godfather (Dream Match);
* Big Boss Man (with Albert) vs. The Big Show (Armageddon 1999).
WWE 2K17's Hall of Fame Showcase for Windows PC players will be available for download in the near future. You can check out a trailer for the new DLC in this video.
– As seen on WWE programming, Rusev has been wearing a faceguard while working his matches, but not wearing it at WWE Live Events.
Dave Meltzer speculated on Wrestling Observer Radio today that he is wearing it as a precaution, in case he took an accidental shot at his broken nose on television. WWE does not allow blood on TV and if he took a shot in the face, bleeding could occur.
Cody Rhodes wore a similar faceguard a few years back when he worked with the company, however his was gimmick related. That's not the case with Rusev.
– Below is an updated list of upcoming WWE pay-per-view dates:
Fastlane: Sunday, March 5
WrestleMania 33: Sunday, April 2
Payback: Sunday, April 30
Backlash: Sunday, May 21
Extreme Rules: Sunday, June 4
Money in the Bank: Sunday, June 18
SummerSlam: Sunday, August 20
Survivor Series: Sunday, November 19
Royal Rumble: Sunday, January 28, 2018
WrestleMania 34: Sunday, April 8, 2018
---
GET EVERY NEWS 24/7 FOLLOWING US ON YOUR FAVORITE SOCIAL MEDIA. WE ARE ON FACEBOOK, TWITTER AND G+!
---