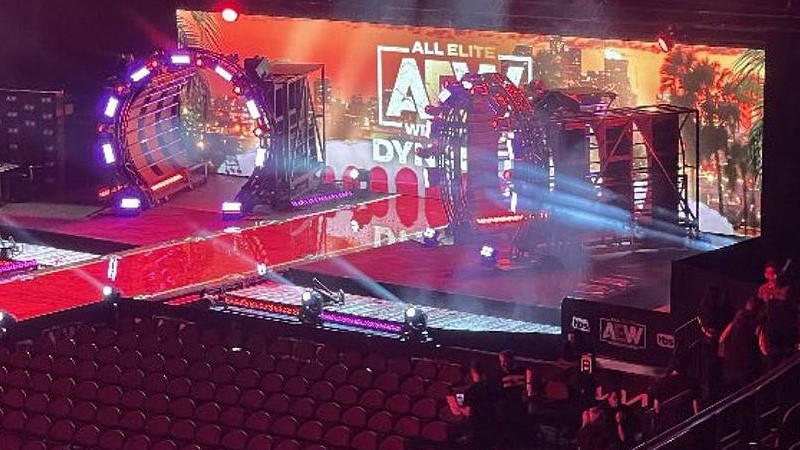 Backstage Talks on 10/4 AEW Dynamite Dealing With Technical Issues – Wednesday's episode of AEW Dynamite grappled with a few technical challenges. One notable issue was a brief audio blackout during a segment featuring Adam Cole and Roderick Strong for viewers in the United States who were watching on TBS. Thankfully, this issue was resolved, and the segment was later replayed with sound.
It's important to note that this was a technical problem on the TBS side and not an AEW-related issue. Interestingly, international markets didn't experience the same audio disruption, as the segment aired smoothly there.
Additionally, there were some scheduling discrepancies with the show's listed air times, which created confusion among viewers. These scheduling issues may have caused disruptions for those trying to tune in at the specified times.
While speaking on Wrestling Observer Radio, Dave Meltzer and Bryan Alvarez talked about the problems.
Alvarez: "There were, in fact, technical issues and DVR issues. And because of the DVR issues or the technical issues, we had more DVR issues as there was a segment early on with Adam Cole and Roderick Strong, and we could not hear a thing. And I watched it. And that was it."
Meltzer: "This was a TBS because I believe in Canada and I know for sure on FITE they heard it fine. Well, it was not it was not an issue from the building. It was an issue somehow on TBS where they didn't get the sound of that segment and replayed it later, so we did get the sound later."
Alvarez: " Well, they showed this segment and you couldn't hear a word. And when it was over, I was like, I have no idea what happened there. So then, about ten minutes later, Excalibur goes, 'Well, we hear he didn't get to see that on television. So we're going to replay it for you and we're going to get an overrun as a result.' So they replay it. And quite frankly, I mean, we didn't miss much. We didn't miss a lot. And then they go back to the show and then because they had the added time, for people like me that watch it. At this point, it's set for two hours and one minute. I have no idea what happened at the end of the show with Edge and Christian because it went long because of a technical issue. "
Meltzer: "There's a bunch of other problems which happened, and there were a number of cable companies, not all and I don't even know, even most, but certainly Charter, certainly Dish Network. I think there was some Verizon that for whatever reason, and I have no idea what this is other than it was a problem at TBS. Obviously, there's been a lot of problems at TBS. They listed the show from 4 to 6 Eastern Time. And so everyone who normally gets, normally DVR'd it missed the show. And I got a lot of between Twitter and emails, I got a lot of responses from people. The rating may still do okay because it's Edge's for or adding Copeland's first show back, but it may not because whatever the number of people who usually watch live is about 7,075% of the people who watch on the same day and the rest are watching DVR later that day. So of those, probably a good 12%, I'm going to guess, the DVR had the wrong show and didn't get to watch. And there's this problem. For whatever reason, I don't understand why this problem will exist on several other shows, including next week's Dynamite, which is listed for the wrong time in their listings. Maybe it has to do with baseball. I don't know. I believe I don't know about Rampage, but I know that. The Tuesday show is listed wrong and I believe that no Collision is actually starting an hour earlier for real this week because of baseball, I believe. So it's 7 to 9 and they probably don't get an overrun this week because if they're they got a sport coming right afterward. So anyway, if you have a DVR and you're one of those."
Stay tuned to WrestlingAttitude, WA.Com On Twitter and Google News for more.
Backstage Talks on 10/4 AEW Dynamite Dealing With Technical Issues