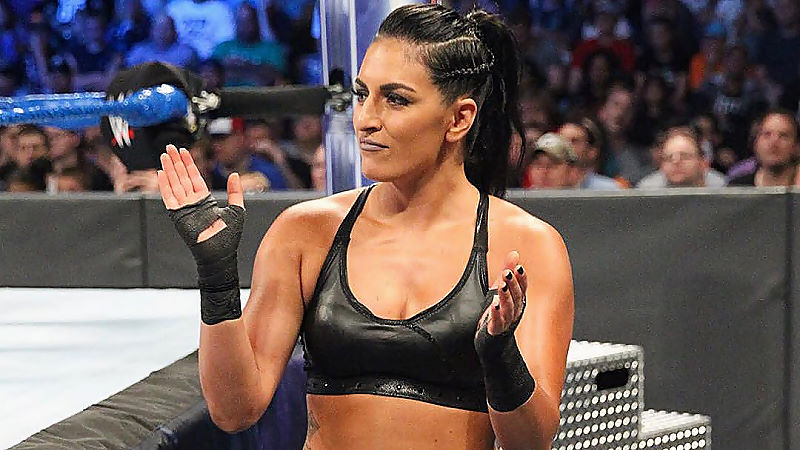 Sonya Deville Provides Injury Update – As noted earlier today, WWE Women's Tag Team Champion Sonya Deville suffered a torn ACL. The injury occurred during the July 28 episode of WWE SmackDown, where Deville and her tag team partner Chelsea Green lost to Bianca Belair and Charlotte Flair.
As seen below, Deville took to Twitter to provide an update, thank the fans and share her thoughts on the situation.
"What's up, guys? So obviously the tag team titles are cursed. I'm just kidding, but not really. Anyway, as all of you probably already know and heard, thank you, TMZ, I have torn my left ACL, last week on SmackDown in my match against Bianca and Charlotte. Obviously, I will be out for an extended period of time due to the fact that I have to get surgery tomorrow. First and foremost, I want to say thank you to everyone who has sent their well wishes, and messaged me and everything. I really appreciate it, and it means a lot."
"Obviously, you guys all know that I've been working the last eight-plus years in the WWE and in my wrestling career to obtain a title of some sort. I finally got my hands on the Women's Tag Team Titles with Chelsea. I think we've been champs for 20-something days."
"Obviously it's super bitter to say that it's come to an end due to an injury, especially being that it's my first injury in wrestling or really in sports in general. And I've been a lifelong athlete since I was five, six years old," Deville said. "Obviously, it's super disappointing. It couldn't have come at a worse time. But I don't really think any injury comes at a great time. That's kind of how the cookie crumbles."
Sonya Deville went on to describe how life often comes with plenty of ups and downs. She stated that she loves being tested. With that in mind, she believes this setback will help her come back with more motivation than ever before.
"What I will say is that my life has kind of been a journey of trials and tribulations, just how so many others have been," Deville said. "We all go through ups and downs. But something that has kind of always been part of my character and who I am is, I love being tested. I love testing my willpower and my strength, and my mental and physical durability."
"I feel like coming back from this injury, although it's unfortunate, I feel like it's gonna give me a bigger motivation and just passion for what I already love doing, and that's being in the WWE. So I love you guys, I wanted to thank you guys for all your support, and tell you that I'm gonna be back sooner rather than later. I'm gonna be ready to put my hair up and square up."
Sonya Deville Provides Injury Update