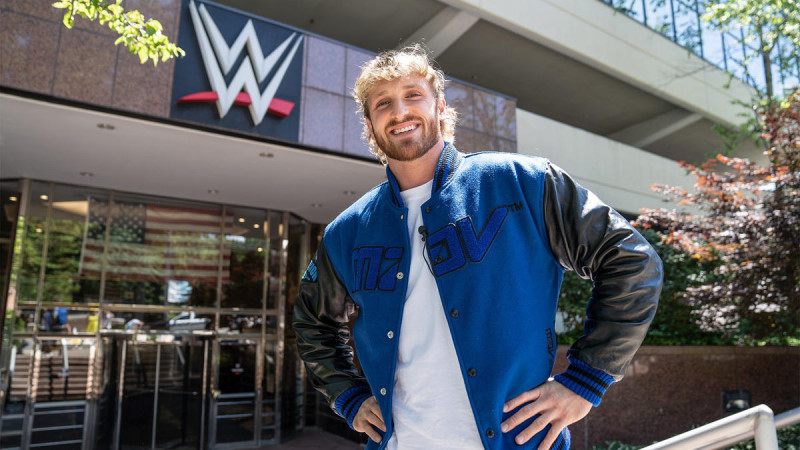 The first match of WWE's 2023 SummerSlam Premium Live Event kicked off with Logan Paul taking on Ricochet. As the match came to a close, one of Paul's buddies stepped in to help him win by secretly handing him brass knuckles, which he then used against Ricochet.
After securing the victory, Paul didn't hold back and teased Samantha Irvin, who happens to be Ricochet's fiancée, while she was announcing his win. Talking about the experience later on the latest episode of IMPAULSIVE, Paul described it as an awesome and unforgettable time. He also mentioned that he was super excited about heading to Dallas, Texas, to watch his brother Jake Paul fight against Nate Diaz.
During his chat, Paul gave props to Ricochet for making the match look good and for being a great partner in the ring. He also gave a shoutout to Samantha Irvin for her role in the show and how well she played it. Looking ahead, Paul spilled the beans on his plans to jump back into boxing in October and how he's aiming to balance both his boxing and wrestling ventures.
That SummerSlam was fun. I was really tired in there. I was exhausted for some reason and especially trying to focus on the match and perform while I'm tired and also knowing the weight of the night ahead, because that wasn't even the most exciting part of the night for me, you know? We got a f*cking flight to Dallas to get to. I literally exited the ring, still sweating, huffing and puffing, into the S.U.V., onto the jet to Dallas, made it with time to spare. It was a night to remember dude.
I think we (Paul & Ricochet) got the most viewed social clip as well. Well not 'we'. I was in it. Samantha Irvin, the ring announcer, who was my opponent's fiancée, I was kind of taunting her. Beforehand, I was like, 'You're gonna be saying Logan Paul's the winner after I beat your man' and there's a video of her announcing me winning the match after. 'And your winner is Logan Paul' and she has just a look of torture and sadness, despair on her face but is still delivering the energy of a ring announcer and I think that clip got like 30 million-plus views or so. People really responded to our match and Ricochet is so good. The guy's so good. He made it easy to look good and it was a fun match, and I'm interested to see how this conversation continues and my WWE career story arch happens with this boxing weaving in, you know? Because I wanna hop back and forth. I don't know if it's ever been done.
Logan Paul's WWE SummerSlam 2023: Praise For Ricochet & Samantha Irvin