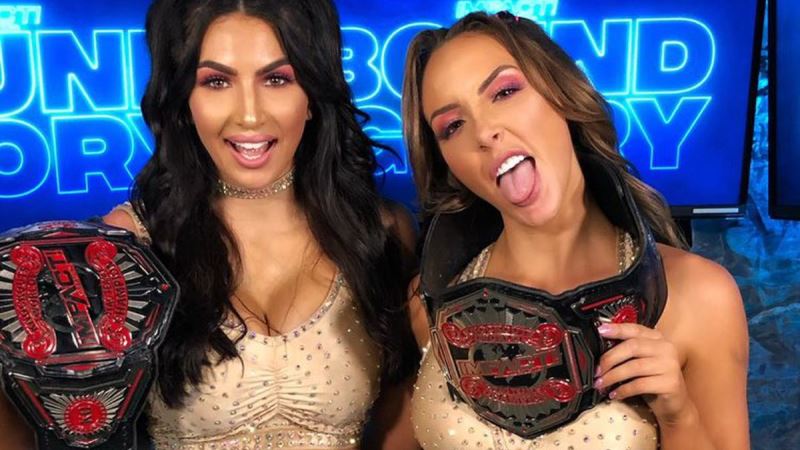 Jessica Mckay Discusses The Iinspiration Stint With Impact Wrestling – In April 2021, Billie Kay and Peyton Royce, formerly recognized as The IIconics, bid farewell to WWE after an extensive six-year stint with the company.
In a surprising twist later that year, Kay and Royce emerged in the realm of IMPACT Wrestling, adopting the monikers Cassie Lee and Jessica McKay. Renaming themselves as The IInspiration, the duo made an immediate impact by securing the prestigious IMPACT Knockouts Tag Team Championship on their inaugural night within the company.
During a recent interview with Nick Hausman of Haus Of Wrestling, Jessica McKay (previously known as Billie Kay) provided insight into The IInspiration's decision to join IMPACT Wrestling post their departure from WWE.
"It just felt like the right step to make. It was something that we had spoken about together. There are a lot of things that have to come together to make something work, and IMPACT just came together. It was the right time for us, it felt good, we liked their schedule, it being a little bit more relaxed because we had been at home out of the wrestling bubble for a little bit and we knew that we wanted to try and maintain that balance. We had known all of the girls in the locker room, never worked them inside of the ring so it was just an exciting time for us. We also just had a fun time rebranding and evolving our characters. I remember Cass came over one day and I said, we can do this and this and this and it was kind of like getting the ball rolling, and she's like, oh, what about this? It was just really fun. We had kind of lost that fun and we hadn't teamed up for so long, so it was kind of like re-sparking our love for tag team wrestling at the moment."
In April 2022, the duo announced that they'd be stepping away from the world of professional wrestling. McKay and Lee last competed at the Rebellion pay-per-view that year.
Jessica Mckay Discusses The Iinspiration Stint With Impact Wrestling