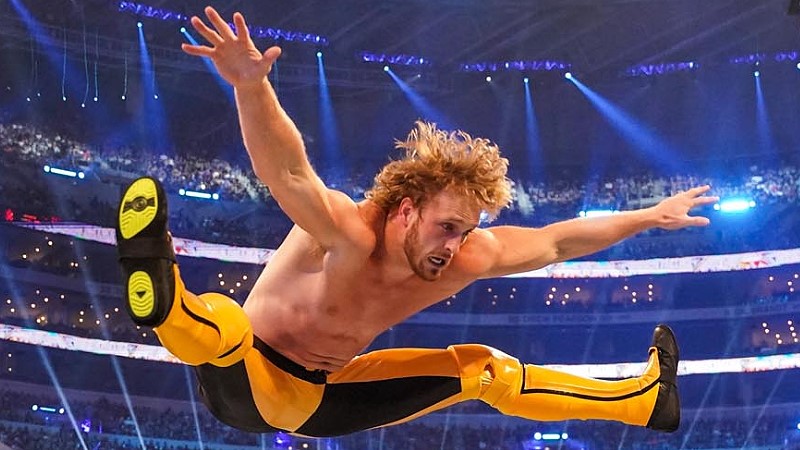 Logan Paul Shows Off Nasty Wounds After WWE Money In The Bank – Saturday's WWE Money In the Bank opened up with Damian Priest winning the MITB Ladder Match to secure the MITB briefcase, which contains a contract for a guaranteed title shot of his choosing, at any time and place, good for up to one year. The match also included Logan Paul, Ricochet, LA Knight, Butch, Santos Escobar, and Shinsuke Nakamura.
At one point towards the end of the match, Paul and Ricochet were going at it up high on a ladder until Knight tipped them over. They landed on the top rope, and then used a botched Spanish Fly to crash through a table down below on the floor, which Paul and Priest set up earlier in the match. Paul smacked the table with his face, and was immediately checked on by officials. This was the last we saw of Paul and Ricochet in the match. The bad landing left fans shocked.
Fightful Select notes how word from within WWE is that almost everything on the Money In the Bank show went as planned, with the exception of the spot with Paul and Ricochet. With that said, it was noted that even they recovered well.
Paul took to Twitter and posted a photo of several rough looking welts on his back. He captioned the photo with, "I like this sport @WWE"
Ricochet also tweeted after the match and seemingly referenced the brutal spot and some of the negative feedback from fans. He wrote, "I'd do it again. [man shrugging emoji]"
I'd do it again. 🤷🏽‍♂️

— Ricochet (@KingRicochet) July 1, 2023
I like this sport @WWE pic.twitter.com/iq6pNbuiqO

— Logan Paul (@LoganPaul) July 1, 2023
Logan Paul Shows Off Nasty Wounds After WWE Money In The Bank