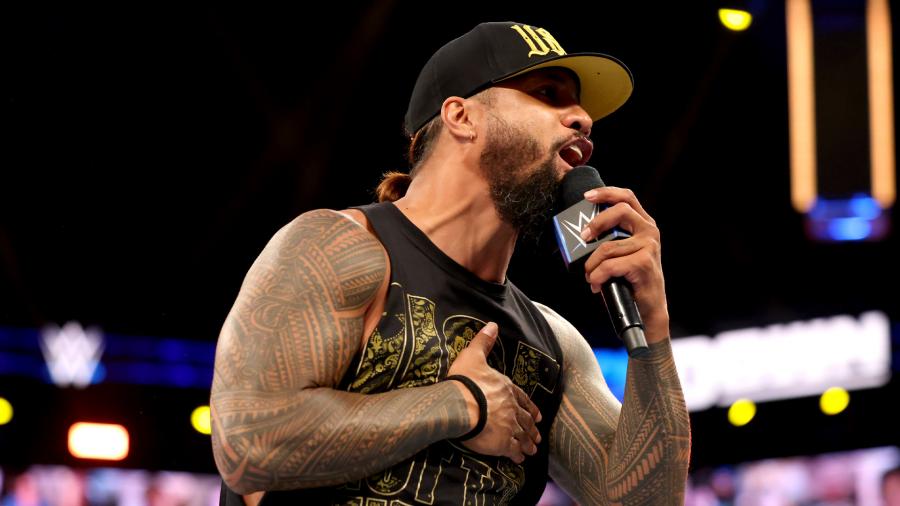 Jimmy Uso Superkicks Roman Reigns at WWE Night of Champions – The ongoing issues within The Bloodline continued today in the WWE Night of Champions main event as Kevin Owens and Sami Zayn retained the Undisputed WWE Tag Team Titles over Solo Sikoa and Undisputed WWE Universal Champion Roman Reigns.
After a fairly back & forth match between the two teams, The Usos ran down from the crowd and attacked Owens to save Reigns. However, this led to an accidental double superkick to Sikoa, which brought an angry Reigns into the ring. This led to to Jimmy Uso turning on Reigns, and telling Jey Uso he should've done this a long time ago.
The following comes from our live results:
"Owens clears off both announce tables now. Jimmy Uso and Jey Uso attack Owens to save Reigns now. They knock Owens over the table and bury him under it. The Usos go in the ring with superkicks to Sami. They go for a double superkick but Sami ducks and they take out Solo. Everyone is shocked. Reigns rushes back in and The Uso apologize. Reigns with a right hand to Jimmy. Jey pleads now and Reigns yells at him, then mushes him back and tells him to get out of the ring. Jimmy superkicks Reigns from the side to a huge pop. Jey yells at his brother and says he's got to be better than that. Fans chant "one more time!" as Jimmy yells at his brother, telling him he's doing what Jey should've done a long time ago. Jimmy then nails another superkick to knock Reigns over from his knees. Jimmy says it's all about he and Jey now, no more Reigns. Jimmy says he would've never treated his brother like that. Reigns is down on the floor now. Jey wants to check on him but Jimmy says they have to go. Solo rolls back in the ring as Jimmy ushers his brother up the ramp. Jey yells for Roman, calling him Joe. Owens runs back in and nails a Stunner to Solo, then Sami hits the Helluva Kick for the pin but there's no referee. A referee rushes in to count the pin as Zayn and Owens retain. ….. After the match, Zayn and Owens celebrate to a big pop as the music hits. Jey is shocked on the ramp, asking Jimmy what did he just do. A shocked Reigns recovers at ringside as Heyman looks on and Solo tries to recover. We go to replays. Zayn and Owens continue celebrating. A furious Reigns gets up to walk out while Sami taunts him from the ring, saying he will never get his hands on the Undisputed WWE Tag Team Titles. WWE Night of Champions goes off the air."
Reigns, who hit 1,000 days as champion today, will be on next Friday's SmackDown to celebrate his championship milestone, but there's no word yet on what is planned for The Bloodline moving forward.
Below are several shots of today's main event from the Jeddah Super Dome in Jeddah, Saudi Arabia:
The Head of the Table is on his way to collect more belts! 😤

🏆 @WWERomanReigns 🏆@WWESoloSikoa@HeymanHustle#WWENOC pic.twitter.com/ZVpzR57g2O

— WWE on BT Sport (@btsportwwe) May 27, 2023
The Champs are here! 🏆 🏆@FightOwensFight@SamiZayn#WWENOC pic.twitter.com/0MO60uovfW

— WWE on BT Sport (@btsportwwe) May 27, 2023
Tell 'em @SamiZayn! 🗣️#WWENOC pic.twitter.com/7hozXfhXy2

— WWE on BT Sport (@btsportwwe) May 27, 2023
Heyman is going through it 😬#WWENOC pic.twitter.com/DGVn5mGKph

— WWE on BT Sport (@btsportwwe) May 27, 2023
WHAT A MATCH!#WWENOC pic.twitter.com/VdWfdUy3pI

— WWE on BT Sport (@btsportwwe) May 27, 2023
Oh no……#WWENOC pic.twitter.com/ZHvrkjvinW

— WWE on BT Sport (@btsportwwe) May 27, 2023
Mr. 1️⃣0️⃣0️⃣0️⃣#WWENOC pic.twitter.com/vymiyu5lyo

— WWE (@WWE) May 27, 2023
😲😲😲#WWENOC pic.twitter.com/EZITCmsHKe

— WWE (@WWE) May 27, 2023
The Usos are here and they just took out Solo!#WWENOC pic.twitter.com/hkv8lM0deP

— WWE on BT Sport (@btsportwwe) May 27, 2023
JIMMY WHAT DID YOU JUST DO???!!!#WWENOC pic.twitter.com/zmkr9MdzlG

— WWE on BT Sport (@btsportwwe) May 27, 2023
"I'm doing what you should've done a long time ago!" – Jimmy to Jey#WWENOC pic.twitter.com/zQ7MjFfeK0

— WWE on BT Sport (@btsportwwe) May 27, 2023
OMGGGGGGGGGGG#WWENOC pic.twitter.com/Bd7uzBsia5

— WWE on BT Sport (@btsportwwe) May 27, 2023
The referee just got speared by @WWERomanReigns!!#WWENOC pic.twitter.com/UW8oIQamfi

— WWE (@WWE) May 27, 2023
WHAT JUST HAPPENED?!?!? 😲😲😲😲😲😲#WWENOC pic.twitter.com/WH00MPpTjl

— WWE (@WWE) May 27, 2023
We are ALL Jey Uso! 🤯#WWENOC pic.twitter.com/62Y3ElI15e

— WWE on BT Sport (@btsportwwe) May 27, 2023
Jimmy did it. He finally snapped. Unbelievable scenes!

🤯 🤯 🤯#WWENOC pic.twitter.com/5S88PBAPPR

— WWE on BT Sport (@btsportwwe) May 27, 2023
Himmy Uso (No Typo)#WWENOC pic.twitter.com/7J7ilTuX3j

— WWE on BT Sport (@btsportwwe) May 27, 2023
Jimmy Uso Superkicks Roman Reigns at WWE Night of Champions