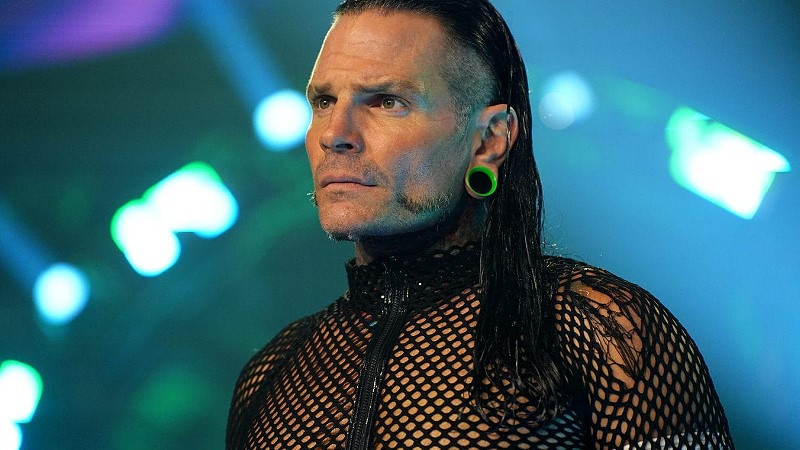 Jeff Hardy Injured at AEW Double or Nothing? – The Hardys (Jeff & Matt) & Hook defeated Ethan Page & The Gunns at the AEW Double or Nothing event from Las Vegas, Nevada.
This was the pre-show match, marking Jeff's first in-ring match in over a year due to his DUI arrest and suspension from AEW last year.
While speaking on Wrestling Observer Radio, Dave Meltzer speculated Jeff may have suffered a knee injury in the bout when he fell off the top rope. It's unclear whether he actually suffered an injury or was doing a really good job of selling.
"I think Jeff might have hurt his knee because right before, right before the spot where he fell off the ropes, I thought that. I thought that he had hurt his knee, then he climbed the ropes right afterward and just fell off the ropes and that was it. And then he laid on the ground, for a long period of time. And then he came back, and he did the finish. He was limping a little bit on the finish when he did the move where he jumps off mats back and everything like that and then the finish ended up being A Twist of Fate by Jeff Hardy and Matt Hardy and then The Red Rum by Hook. Ethan Page took all those moves and Ethan Page submitted and I thought the match went too long. But I mean, aside from Jeff falling off the ropes, it was a decent match, some people thought it was even a good match, but it was, it was fine. The crowd wasn't super hot for a lot of it. I mean Hook got cheered. Jeff Hardy got cheered a lot. The Hardys, when they came out to the music, cheered a lot. And you know, that was pretty much it. I don't know what happened with Jeff other than the knee injury apparently or something, whether it was just a short-term thing or what. But the falling off the ribs was pretty blatant and kind of scary in a way, just like tumbled right down and he just laid on his back for a long time," Meltzer stated.
Stay tuned to WrestlingAttitude, WA.Com On Twitter and Google News for more.
Jeff Hardy Injured at AEW Double or Nothing?