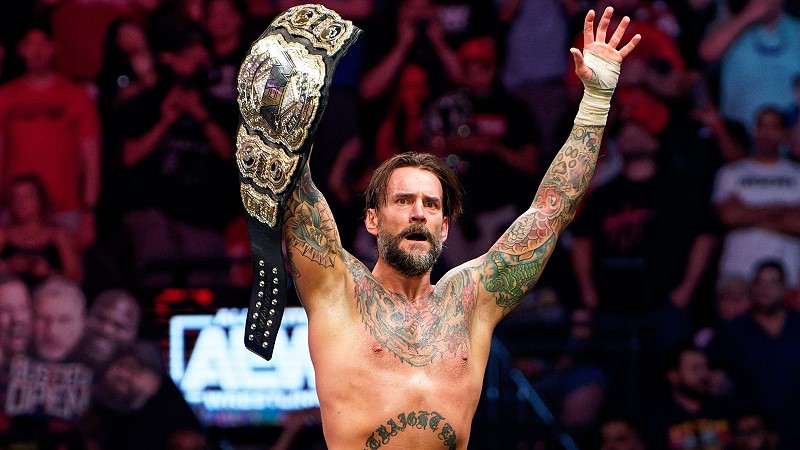 Backstage Talk On CM Punk AEW Return – CM Punk is likely not far from being medically cleared to compete again following the triceps injury suffered at AEW All Out last September, but there's still no word yet on if AEW President Tony Khan has decided on bringing Punk back.
Punk has said he wants to wrestle again. It was noted by the Wrestling Observer that Khan is legitimately in a really hard position when it comes to Punk. Khan is also is in a contract year and with Warner Bros. Discovery cutting way back due to financial issues, it's still possible that the network could just pick up the AEW option for one more year at a much higher price point, but these factors all play into the decision to bring Punk back or not.
It was noted that bringing Punk back and not putting him on top likely will not make him happy, but putting him on top will likely upset those who carried the company while Punk was away. Furthermore, it's not a given that Punk will draw very well if he does come back. Then you also have the talent that don't want Punk back unless he makes amends. It's likely that the best thing for everyone would be for Punk to try and apologize to smooth things over, but it remains to be seen if that is an option, which is part of why the situation is to tough. It's also possible that some wrestlers will leave AEW over a Punk return, but it was speculated that Chris Jericho and Jon Moxley will not leave due to their long-term contracts.
On a related note, there has been an incorrect Punk rumor going around, according to the Wrestling Observer's Dave Meltzer.
It was reported this past week, via The Observer's Ryan Fredrick, that Adam Page was originally scheduled to defeat Punk at Double Or Nothing in late May 2022, in the match that saw Punk capture the AEW World Title from Page. It was noted that Punk got the Double Or Nothing finish changed after the infamous "worker's rights" promo that May.
The story claimed that AEW President Tony Khan went to Los Angeles and "literally sat" on the porch of Punk's home in Los Angeles, booking out the summer creative plans with Page nowhere close to being in the mix because Punk wasn't going to work with him. "No way they were going back to him at any point," it was said.
In an update, the new report from Meltzer notes that Khan changing the finish to Punk vs. Page is not true. It was said that Punk was always set to win the Double Or Nothing match. Khan reportedly wanted the AEW World Title on Punk months before the return to Chicago, and that was not Punk's doing or pressuring.
For those who missed it, you can click here for Punk's recent response to a fan who wants to see him retired.
Stay tuned to WrestlingAttitude and WA.Com On Twitter for more.