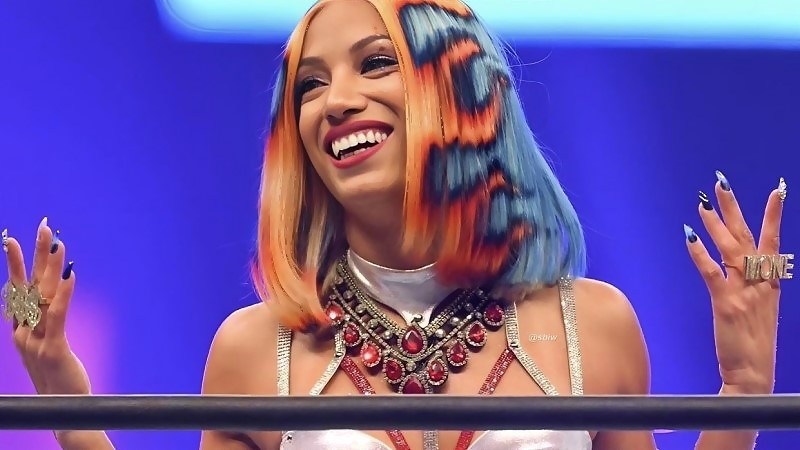 Mercedes Moné Releases New NJPW Doc – Mercedes Moné has released a new mini-documentary that includes behind-the-scenes footage from her NJPW debut at Wrestle Kingdom 17 last month at the Tokyo Dome in Tokyo, Japan. The full video can be seen below.
Moné released the documentary less than 24 hours before she challenges IWGP Women's Champion KAIRI at the NJPW Battle In The Valley pay-per-view from San Jose, CA later tonight. Some of the scenes from the doc include Moné meeting IWGP United States Heavyweight & AEW World Trios Champion Kenny Omega, spending time with Naomi, checking out the empty Tokyo Dome, getting her Ribera Steak House jacket, and more. There's also footage of an emotional Moné discussing various topics.
Moné said the following in the doc, revealing her emotions before the big debut and how her friends were supporting her, what she was thinking while away from WWE, also revealing how she received messages from WWE Chief Content Officer Triple H and WWE Vice President of Global Talent Development William Regal:
"I've never been this excited in so long. It's the craziest nerves ever. It's like in my arms, in my heart and my gut and my stomach, it's everywhere. And New Japan just keeps saying, but you were in WWE, you got this. Like, no, it's different, it's so different, it's so fucking different. I know I shouldn't be nervous, but it's so different. And I want to make it different, that's why it's different for me. Pam (Bayley) Facetimed me last night at midnight and we talked and I kind of broke down and I might break down again because I can't believe this is happening and I can't believe my friends are traveling all the way over from the United States to come see me. Trinity is going to be landing in a couple of hours. Pam is going to be coming tomorrow, straight after RAW, she's coming here. Sarona (Tamina Snuka) called me right after last night as well because she felt my energy and it was two in the morning and she called me to take a shot with me and wish that she could be here and it's so crazy that it's really fucking happening.
I can't fucking believe it. And also at midnight, I got a very nice text from Triple H. And it's still crazy and I got an amazing text from William Regal this morning. Man, I can't believe how many people support me in this and I'm so happy, I've never felt so fucking happy. I've never felt this nervous in so long and I'm so fucking excited, I'm so nervous and I'm so happy. I really can't believe this is real, but it is and I've been having the craziest déjà vu for the past month that I've already done this and I've already lived this. Tomorrow is going to be everything. I really can't wait, I am so excited for this chapter in my life, in my career, I'm really excited and nervous to even see my own potential. I've been dreaming nonstop of all these possible matchups that I get to have. And the fact that my first match will be against Kairi, and to really help kickstart this women's division for New Japan Pro Wrestling, which has never been done before. Currently, Kairi is the IWGP Women's Champion and the moment that they announced that title, I knew instantly in my heart like, that's what I want.
And this whole time since I've been gone from the WWE, I've been really struggling of what's next, what am I going to do in wrestling, who am I? I've been a character for like 10 years in that company, so it felt like such a death and it's just been such a long journey trying to figure out who I am after the WWE, and now it's finally coming together. I get to be even more than that character, Sasha Banks, who I'm so fucking thankful for. She was everything I wanted to be as a kid, but now I get to be Mercedes Moné and she is everything who I am now. I'm evolving from a boss to a legit CEO, which is what I am in real life. I am the president of my own estate and I am so fucking excited to begin this next chapter and this next character and this next journey. I'm just ready, I'm ready to go, I've been so itching for this date for like a month and a half. And what's crazy is, I still haven't even signed the New Japan contract yet, it's not even finalized, it's tomorrow. Ah, it's been a crazy, crazy experience dealing with them, with the language barrier, but tomorrow's the day and I can't wait to see my friends and I even told Terry-San, who I've been dealing with in New Japan. He sent me a really beautiful text saying, your WWE great performances have been proven, New Japan Pro Wrestling is still minor company than them, have fun as usual. FTR, Bayley, Naomi, Kalisto, Chad (Karl Anderson), and KENTA are all your WWE friends and are here to support you. I just have the greatest friends, my, God, I can't, I'm so lucky. Who the hell flies to Japan just to watch me debut? That's so awesome, I can't believe it, I'm so loved."
Mercedes Moné Releases New NJPW Doc