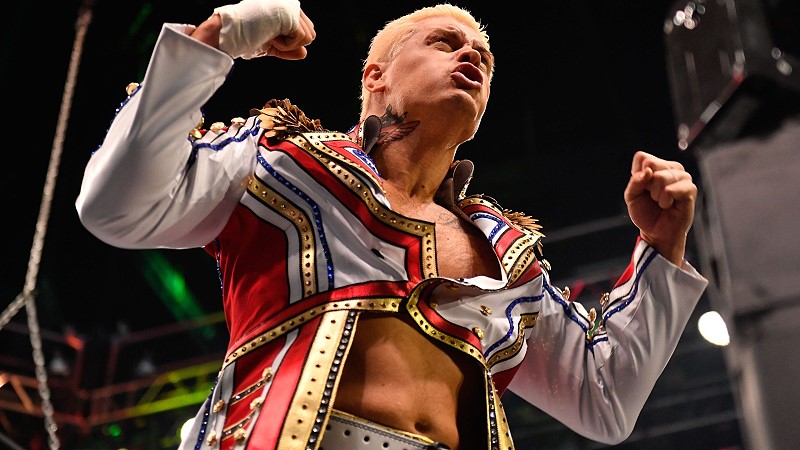 Cody Rhodes Working On Special Weight Belt Design For WrestleMania 39 – Cody Rhodes has become synonymous with wearing a wrestling weight belt, and he's got a special one cooking for The Showcase of the Immortals.
The American Nightmare spoke with Peter Rosenberg on HOT 97 about a custom weight belt he's having designed for his upcoming showdown with the Tribal Chief at the Showcase of the Immortals. Check out highlights from his chat below.
Says he is working on a weight belt design for an upcoming WWE premium live event (most likely WrestleMania):
Small spoiler I guess, I was trying to come up with this idea for a weight belt for a very specific P.L.E. or pay-per-view, whatever you wanna call it where I wrote everybody independent promotion I worked at on it, because that was the most important thing I did was this connection with these fans and getting to know them and grassroots and that became really my bread and butter.
Looks back on his performance in the 2013 Money In The Bank matchup, which was referred to as the 'Losers Club Money In The Bank':
Would I love to be on top and punch the ticket again at (Lincoln Financial Field) in Philly? One of my favorite wrestling towns and if you're from Philly, you know why. Because of Money in the Bank where everyone decided to choose me for this 'Losers Club Money in the Bank' that they called it internally which was… But, I may not, you know? You may never know.
Cody Rhodes Working On Special Weight Belt Design For WrestleMania 39
Stay tuned to WrestlingAttitude for more.